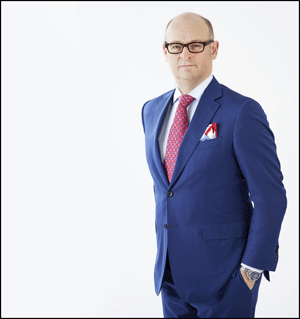 While some Canadian law firms are engaging in end-of-year mergers, McMillan LLP is expanding its own services to clients by launching a public affairs arm.
McMillan announced today it has created McMillan Vantage Policy Group, a national full-service public affairs consultancy offering services to Canadian-based and international clients.
"Obviously, the traditional law firm model is under some pressure, that's not news to anyone, but I think there are some paths to pick to respond to that," says Tim Murphy, co-chair of the aboriginal, government relations group at McMillan. "Some have picked the international merger/be part of 4,000 lawyers option and we've taken the independent Canadian business approach. To make it work, you have to be innovative and that means driving new and different solutions all toward driving value for clients."
It's another in a series of announcements the firm has made this year about how it is adding to its menu of services for clients. In August, McMillan announced it was partnering with IBM to offer a pricing platform to clients.
"This is part two, which is to diversify the range of services offered to clients in a range of sectors and be responsive to what we're hearing from them," he says.
Murphy also hinted that the firm will release another significant announcement by the end of the year, but it won't be merger related.
Working through its offices in Ottawa, Toronto, Montreal, Calgary, Vancouver and Hong Kong, McMillan Vantage Policy Group will offer government relations counsel, policy and regulatory analysis and strategic communications to private-sector clients.
"[Hong Kong] is a market where there is significant investor interest in Canada from China and that is one thing they need to get a handle on; it's not just the legal environment but policy and political environment and we help provide those answers," Murphy says.
Murphy, who was co-chairman of Ontario Premier Kathleen Wynne's last election campaign and chief of staff to former prime minister Paul Martin's Liberal government, said the firm realized it had "bench strength" in terms of those with a high level of experience in government with the public service.
"We felt we needed to put a structure around it and have a package we can offer the clients to help them on the legal side as well as public affairs and policy/communications function," he says.
In addition to Murphy, members of McMillan Vantage Policy Group have counselled prime ministers and premiers and held political office.
The team is politically diverse, from across the country and includes Murphy, Charles Chevrette, Timothy Cullen, Stockwell Day, Dwight Duncan, Mary Flynn-Guglietti, Annik Forristal, Richard Jones, Robin Junger, Richard Mahoney, Mark Resnick, John Reynolds and Mike Richmond. They are joined by Robyn Osgood, who will lead the strategic communications practice of the consultancy.
Collectively, they have experience in areas such as energy, transportation, health care, telecommunications, indigenous affairs, manufacturing, financial technology, agriculture, infrastructure, trade, financial services, aviation, procurement and communications at the federal, provincial-territorial and municipal levels.
A key feature of the new consultancy is the McMillan Vantage Advisory Board chaired by McMillan Vantage managing director Richard Mahoney. Its members include former federal and provincial cabinet ministers, deputy ministers, party leaders and campaign chairpersons, as well as media and issue management experts. Advisory board members will vet proposed client strategies and communications, simulating the scrutiny clients often face as they deal with stakeholders such as governments, regulators, shareholders, customers and the media.
"Our clients lead national and international corporations, and many operate in complex regulatory environments," said Murphy, also managing director of McMillan Vantage. "They expect sophisticated public affairs counsel that advances key issues and priorities, reducing the risk to which their organizations are exposed."
Clients will benefit from an integrated approach to public affairs, strategic communications and legal counsel thanks to McMillan Vantage Policy Group's affiliation with McMillan LLP, says the firm.
"Whether it is helping navigate environmental regulations, advising on a merger or acquisition, consulting with First Nations/Métis/Inuit groups or creating and executing an advocacy campaign, our goal is to provide clients with strategic thinking and executive-level counsel that deliver long-term success," said Mark Resnick, McMillan Vantage managing director.