One of the firm's newest partners explains why she never joins 'the easy crowd'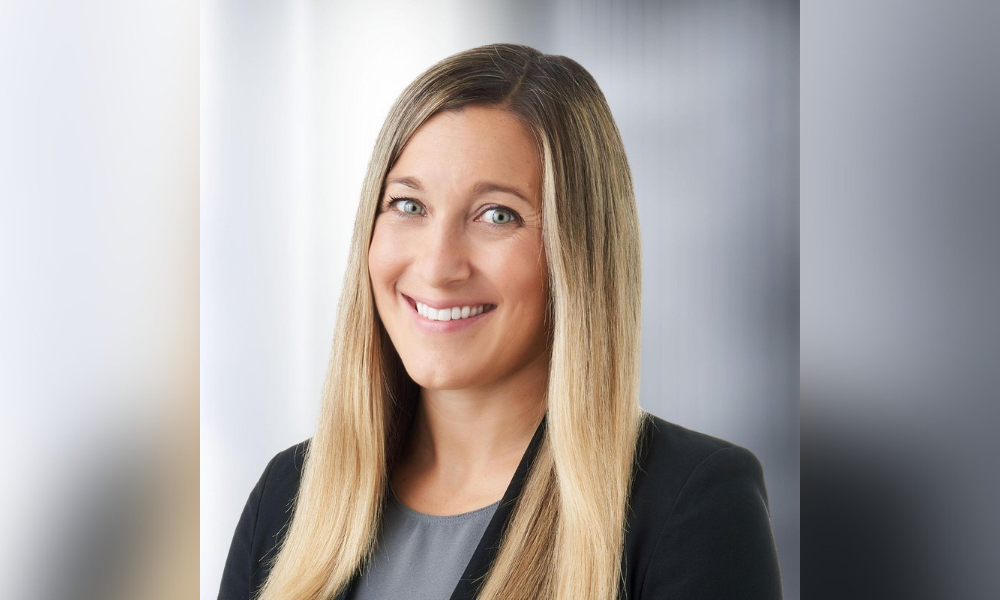 This article was produced in partnership with Stikeman Elliott LLP.
From a young age Meghan Stewart knew she'd be a lawyer one day. And while she can't pinpoint exactly when or why she decided that would be her career path, she attributes it to her parents' constant commentary growing up.
"Every time I made my case for more dessert or negotiated to stay up past my bedtime, they'd tell me I should be a lawyer — I did like to argue every point," Stewart laughs. "That idea just stuck in my head."
From movies and her love of John Grisham novels, Stewart imagined passionate speeches to judge and jury amid high-profile criminal cases, but as she got older she became interested in business and realized there were lawyers that never saw the inside of a courtroom. While completing a Bachelor of Commerce at McGill University, her interest in becoming an M&A lawyer was sparked.
Stewart enjoys the variety of her practice and over the years she's worked on transactions in many different industries such as entertainment, transportation and healthcare to name a few. This makes the job a lot more interesting, but it also requires continuous learning and a willingness to "really dive in and do research up front to gain knowledge of the client's industry and understand the potential issues at play before you begin working on the file."
"M&A lawyers are typically viewed as generalists — we know a little about a lot of different things — and a big part of our job is to act as quarterback and coordinate and tap into the expertise of others," Stewart says. "Thankfully, we always work in teams and have access to experts in specific areas such as tax, intellectual property or employment."
Good analytical skills and the ability to keep track of many moving pieces — and staying calm and organized while doing so — is also critical to success, as is keeping in mind the importance of your reputation as a lawyer and a professional. One of the most important pieces of advice Stewart received early on is that the legal corporate world is small — you could be working opposite someone who may become a client or colleague down the road.
"Treating people with respect seems obvious, but when you're facing a particularly challenging issue on a deal, things can get heated," she says. "During those moments, you've got to take a few deep breaths and remain level-headed."
Lawyers often get caught up in the details, but if there's a deadlock on a particular point it's important to look at the bigger picture. What is your client attempting to achieve? That focus helps you be creative and come up with a course of action to move things forward, Stewart says, adding that being a strong advocate and obtaining the best possible outcome often means knowing the right questions to ask in order to better understand the critical elements of the deal for the client — and making sure that those are achieved.
Stewart also realized early on that young lawyers — especially young female lawyers — should not be shy to speak up without waiting for an invitation and can't be afraid of getting the answer wrong because "you need to use your voice and ask for clarification in order to learn and grow professionally," she says.
Stewart credits her professional success to the confidence she's gained by using her voice, as well as her commitment to hard work. Ultimately there's no room for ego in this practice, she notes: you have to roll up your sleeves and work as a team to get things done efficiently and effectively. Being an M&A lawyer also means working very closely with clients and developing strong, trusting relationships. You're often providing advice and guidance on deals that can be transformational for a company – for example, a family-owned business that is selling to a private equity firm or a strategic acquisition that causes a company to double in size. As a trusted advisor, you're there to help the client determine how best to execute the deal and to advise on any risks that may be identified or other issues that might arise. Stewart enjoys being a part of these defining moments for a company, and over her career she's been involved with many interesting transactions.
One that stands out to her is the sale by Guy Laliberté of his majority stake in Cirque du Soleil. While meetings and management presentations were a bit unusual — the conference room overlooked a practice facility, where trampolinists were doing flips and landing on the window sills — this deal was particularly challenging as it involved equity and asset sales in various jurisdictions, making it the first deal Stewart worked on that was truly international. In addition to the typical coordination with specialists in specific subject areas, this deal also involved collaborating with legal counsel in many different countries.
Another noteworthy transaction Stewart was involved in was the joint-venture partnership between Hydro-Québec and Dana Incorporated with respect to TM4, which, prior to the transaction, was a wholly-owned subsidiary of Hydro-Québec. This deal was interesting because it involved a balance for Hydro-Québec between partnering with a company who could assist in accelerating TM4's growth while ensuring that TM4 maintained its headquarters and centre of excellence in Quebec and strengthened its activities in the province. The considerations in this transaction were unique from those where the buyer is acquiring 100% of the target, making it an interesting learning opportunity.
Engaging and challenging deals aside, it's the intangible moments of human connection that stand out most vividly to Stewart, even against major achievements such as being called to the bar, closing her first deal and being named partner. From clients expressing gratitude after a deal closes to laughing with colleagues at the end of a challenging week, the relationships she's built as she progressed in her career are the most memorable. As she joins the ranks of Stikeman Elliott LLP in her latest career milestone, she's "looking forward to working and connecting with some of the smartest lawyers in the legal profession."
Coming aboard as partner in the Corporate Group "was an excellent opportunity for me," she says. The firm is often the first call for businesses working in and with Canada, handling a significant share of the country's high-profile mergers and acquisitions, both domestic and cross-border. The lawyers are passionate about what they do and have a great culture, which is important because M&A lawyers work very long hours — especially over the last year amidst record levels of M&A activity in Canada — and teamwork is critical to the overall success of the deal. But, Stewart adds, being successful also means knowing when to take a break.
"In our line of work, there are some days or weeks where balance isn't easily achievable," she says. "But even on those days, a quick 30 minute workout or break with your favourite TV show can help you reset, refocus and actually be more productive."
As Stewart embarks on the next chapter in her career, she's reminded of a quote by entrepreneur, author and motivational speaker Jim Rohn: "Don't join an easy crowd; you won't grow. Go where the expectations and the demands to perform are high." In that regard, Stikeman Elliott provides the perfect environment to continue to develop her practice, build relationships and, most importantly, keep her negotiating skills sharp — because it looks like Stewart has another budding lawyer on her hands.
A few months before the pandemic started, Stewart became a mom to an "incredible, determined and strong-willed little girl" with whom she now finds herself debating the merits of wearing pants in public or arguing about extra helpings of dessert.
"I'm negotiating with my daughter more on a daily basis than I do in the deals I work on," Stewart laughs. "My love of negotiation with my parents has now come full circle!"