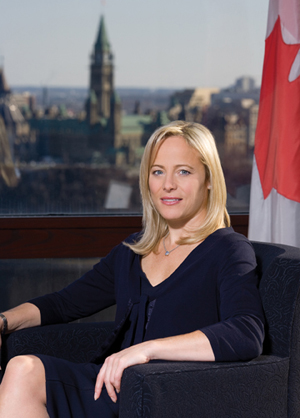 Competition commissioner Melanie Aitken announced today that she will leave her position on Sept. 21, 2012.
Aitken was appointed in 2009 and was the main force behind transforming the way the Competition Bureau operated and raised its profile in the minds of Canadians.
Called a formidable force at the bureau, competition lawyers were often critical of the way she seemed to push straight legal parameters in favour of championing the "little guy" and used the platform to spend more time focused on consumer issues as opposed to the bureau's established mandate.
She kept lawyers busy with what some say was a high degree of unpredictability.
"She made things very difficult to predict. A touchstone of the bureau has been predictability and that's important so you can advise clients so they know what to expect, but there was a large element of unpredictability with her as she took personal interest in certain files," says one senior competition lawyer with a large national law firm.
In her time at the bureau, Aitken took on issues such as the real estate industry over its multiple listing service and Visa/Mastercard's loyalty card program.
Interest now turns to who her successor will be, the course he or she will chart, and whether the government decides to choose someone with a similar approach.
Aitken has held a variety of senior positions at the Competition Bureau since joining it in 2005 as assistant deputy commissioner of competition and was appointed senior deputy commissioner in May 2007. She served as interim commissioner from Jan. 12, 2009, to Aug. 4, 2009, when she was appointed as commissioner for a five-year term.
Prior to joining the bureau, Aitken was a commercial litigation partner at Bennett Jones LLP. From 2001 to 2003, she worked as senior counsel at the Department of Justice on secondment from her partnership at Davies Ward Phillips & Vineberg LLP in Toronto.
In the meantime, the bureau announced last week that Kelley McKinnon would be joining it as senior deputy commissioner of the mergers branch for a two-year period beginning on Aug. 7, 2012. She'll take a leave of absence from Gowling Lafleur Henderson LLP, where she is a partner and head of the firm's securities litigation practice.