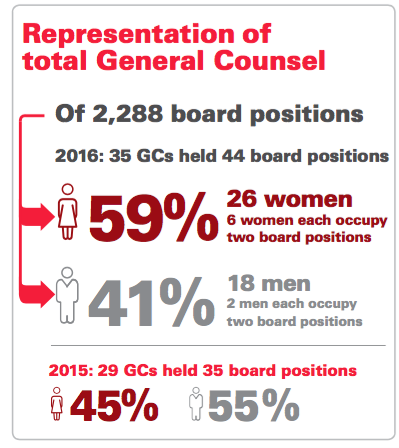 More women general counsel are landing positions on Canadian public boards compared to their male counterparts, according to a report on opportunities for legal professionals on boards.

Of 2,288 board positions in Canada in 2016, 35 general counsel held 44 board positions. Of those, 26, or 59 per cent, of the board positions held by GCs were women (six women each occupy two board positions), and 41 per cent were held by men. That's up from 2015 when 45 per cent were held by women GCs, according to the "Blakes Board Report: Opportunities for Women General Counsel: The Canadian Public Company Landscape for Legal Professionals on Boards."

In fact, the report shows women GCs have achieved and exceeded gender parity on board representation, which does not exist among lawyers in general (where women hold 23 per cent of board positions) or board members generally (where women hold 20 per cent of board positions.)

In late 2016, Blake Cassels & Graydon LLP initiated a study to look at the involvement of general counsel and lawyers on the board of directors of Canadian publicly listed companies that comprise the S&P/TSX Composite Index. The results are based on 2016 proxy data that includes key fields such as board member name and biography, current employer ad title and company industry classification.

Most of the board positions held by women GCs are in banking, insurance and the energy sector — all very regulated industries where GCs would have considerable experience in areas attractive to boards.

Last year at this time, Trudy Curran, former GC of Canadian Oil Sands, decided she was moving on from the GC role and began pursuing board positions.

At the time, Curran said it was a natural progression for a GC like herself, motivated to expand learning and skillsets, to seek out board positions.

"In my view, the move is to take the next step and apply my skills in a board-director context. I think if you're a general counsel, you're used to not being the boss and, therefore, more apt to take into account other people's views and have a consensus-building approach," she says.

Today, Curran serves on three boards: Baytex Energy Corp., Dominion Diamond Corp. and the Alberta Securities Commission. She is also on the Kids Cancer Care Foundation of Alberta and a member of the executive committee of the Calgary Chapter of the Institute of Corporate Directors.

Alison Jeffrey, senior adviser, strategic initiatives and client development coaching at Blakes, says the increase in the number of women GCs on boards reflects a growing recognition that women GCs have the background and expertise necessary to fill roles on boards.

"I do think what we're seeing is that GCs are very much solidly in the C-suite and that the breadth of their role in terms of their input on strategy, and certainly operational contributions at that level, combined with the ever-increasing focus on risk management in highly regulated environments, are really elevating the value that the CEOs see in their GCs," says Jeffrey.

Many GCs also serve as corporate secretaries and that means they are conversant with what is happening in boardrooms.

"It's all a combination of those things together with the increasing dialogue to put more women on boards," says Jeffrey. "Their value proposition as a strong board member is starting to be realized.

"When you combine regulatory knowledge with the large complex transactions they are seeing, and leading from the legal perspective, I think that insight combined with trying to achieve business objectives in a very complex and intensely competitive environment — that is putting them front and centre and showcasing their business capabilities."

But simply being a lawyer is not the first consideration for boards when considering a GC as a candidate.

"GCs on boards will unanimously say when they presented their own value proposition [that being a] lawyer was last on the list," says Jeffrey.

"You have to think very carefully about how you are presenting your credentials. How are you framing the experience and expertise they are looking for? Some even recommended that they looked at the proxies for the company to figure out what the core things the company is concerned about then looking back into their own experience and lining it all up," says Jeffrey.

In terms of increasing the number of women on boards, Jeffrey says a big part of the challenge is the way board positions are filled — often through the networks of the directors already on the boards themselves.

"It's a bit of a self-fulfilling prophecy if you're drawing from networks that are your own. So, if you're a 55-year old white male, what's the network you're drawing from? It likely won't include a lot of senior women," she says.

In some cases, there isn't clarity in companies at the C-Suite levels as to what executives are permitted to do in terms of serving on other boards. In some instances, they are very much encouraged to go out and serve on a public company board or not for profit.

"GCs on boards have said it makes them better at their job and that's why many CEOs who encourage their GCs to participate on boards recognize the value the company gets back in exchange for the participation they are having on other public company boards. They are better in their job for what they are seeing and learning," she says.

If you're looking to join your first board, the advice is "play to your passion" — it's an investment of time and giving that time won't seem as onerous if you are truly engaged in what the organization or company is doing.