A generic version of an anti-inflammatory combination drug used for those with various forms of arthritis will now be made available for the first time in Canada and in fact the world, and for less.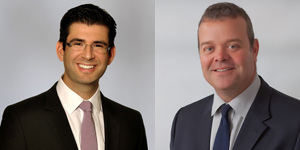 Considered a major win in Federal Court, last week lawyers for Mylan Pharmaceuticals emerged the victors in
AstraZeneca Canada Inc v. Mylan Pharmaceuticals ULC
. It is the first ruling on the validity of the Vimovo formulation patent anywhere in the world.
The naproxen-esomeprazole combined drug is used for patients with arthritis who might have some risk of side effects with their stomach.
The drug is used for osteoarthritis, rheumatoid arthritis and ankylosing spondylitis — a form of spinal arthritis. It is one of the most heavily prescribed class of drugs on the market.
While separately naproxen and esomeprazole were already generically available, some patients might be prescribed two pills to take but not always follow through to take them together. Now they can get what they need in one pill and for less cost. The generic version should be on the market imminently.
Similar patents are currently being litigated in the United States.
Although naproxen and esomeprazole are both generic drugs in Canada, the Vimovo patent enabled AstraZeneca to charge a higher price for its combination product.
Mylan was arguing that the formulation patent was obvious in view of the prior art and what was out there, while AstraZeneca was saying the formulation was inventive.
The court found the combination formulation to be obvious given prior art and common general knowledge.
Bradley White, partner at Osler Hoskin & Harcourt LLP who led the case for Mylan, says the two components of the drug — naproxen and esomeprazole — were already genericized products.
"What the patent in this particular case covered was a formulation that combined these two products together into a single dosage and it was that formulation they asserted was inventive," he says.
"The fact these two components were already generically available, it really seemed like a formulation patent that had been put in place that would permit the brand company to charge brand prices for something that to some extent was already being done."
The case turned specifically on the expert evidence filed in this case, says White.
In the decision, Justice Alan Diner wrote: "I agree with Mylan that this combination was an example of illustrating the prior art."
"Overall, it's clear the courts favoured our evidence," says White. "We were saying all these various elements of this particular formulation were known in the prior art and, therefore, it would have been obvious to the person to bring the various pieces of the prior art together along with common general knowledge to arrive at the invention."
It is common for patent holders to try to combine their drug with another drug and see if there is a way to extend their patent protection.
"In this case, we had a very decorated clinician who said these drugs are being combined in the clinic all the time and there isn't really anything special about putting them together," says Nathaniel Lipkus, partner at Osler who was on the team with White for Mylan.
AstraZeneca argued the way it formulates the drug is special, but through the evidence, Mylan was able to demonstrate the way AstraZeneca did it was something that had already been done before.
"When you added it all up, there wasn't an inventive contribution," says Lipkus.
He says one of the things judges have a difficult time doing is stepping into the shoes of the scientist confronted with this problem.
"Our formulators did a great job helping the judge step into those shoes and explain that 'we know how to formulate these drugs together and there are pre-existing formulations that look exactly like this, just with different drugs' and the judge was clearly persuaded by that evidence," says Lipkus.
There is still an opportunity for AstraZeneca to commence an infringement proceeding against Mylan upon launch of the generic version of the drug.