Lawyer with Community Legal Services Association will focus on diversity, inclusion, access to justice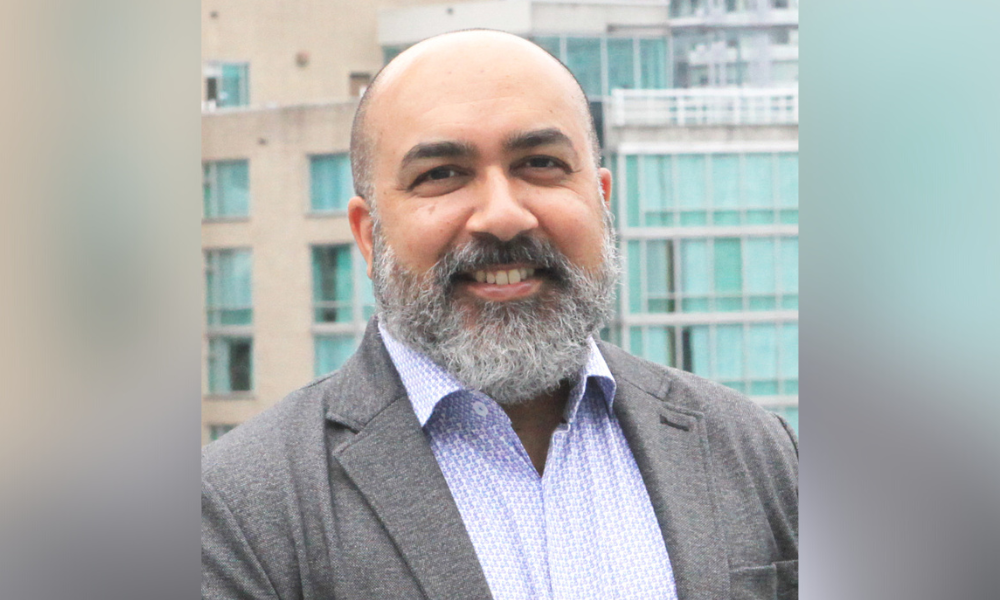 The new president of Canadian Bar Association, BC Branch, Aleem Bharmal, says his background as a human rights lawyer fits perfectly into his new role, as he focuses on issues of diversity and inclusion and access to justice.
"The values and issues I have been dealing with at the bar association align very well with my values and my day job," says Bharmal, who took over as the new president earlier this month. That day job is practising human rights law at the Community Legal Assistance Society (CLAS) Human Rights Clinic, where he has been for almost twenty years. He also served as CLAS Executive Director for over twelve years, from late 2007 to the end of 2019.
Bharmal says his human rights law background helps guide CBABC as it pushes forward on issues of equity and diversity. "I hope to inspire others to continue to work our promotion of these causes and the cause of access to justice."
The new CBABC president, raised in Toronto, says it took a few years as a lawyer to find his niche in human rights law. He went to the University of Toronto with the idea of studying actuarial science but realized it wasn't for him and ended up getting an undergraduate degree in philosophy.
"I sold the idea of switching to philosophy by telling my dad (an actuary) that it was good training for law school. Which it was."
He also had an early ground-floor taste of human rights issues soon after he graduated from law school at the University of British Columbia and was called to the bar in BC in 1995. That's when he went to Rwanda, where he worked as a human rights officer with the United Nations High Commissioner for Human Rights in the mid-1990s. That was after armed Hutu militias massacred members of the Tutsi minority ethnic group.
"It was a life-altering experience," Bharmal says, adding that part of his job was to ensure that once the hostilities ended, the Tutsis didn't exact revenge on Hutus with their own human rights abuses.
Following his return to Canada, Bharmal was called to the bar in 1997 and practised at a small general law firm located in Toronto's iconic Flatiron building. While there, the operator of the building's ancient manual elevator sang opera to Bharmal and fellow passengers.
He then spent four years at a large Bay Street firm practising corporate law, introduced to the "world of high pressure, billable hours and hierarchies." Ultimately, he says he was unsatisfied and "wanted to get back to doing more fulfilling work in law." He learned of an opening for a human rights lawyer at CLAS through contacts and has been at the organization since.
"That's where I became a fierce advocate on issues such as housing, income security, workers rights, and mental health," Bharmal says.
Bharmal has made an impact not only in his high-volume legal practice but also in ground-breaking human rights cases, such as: R.R. v. Vancouver Aboriginal Family Services (involving an Indigenous mother who says the agency unfairly denied her parenting rights); Dignidad Migrante Society v. Golden Eagle Blueberry Farm (involving female foreign workers from Guatemala); and Brar v. BCVMA and Osborne, defending individuals facing racial, sexual, and other forms of discrimination.
The latter case, involving veterinarians from India who said their provincial regulator was discriminating against them, set a record for the greatest number of hearing days – 356 – before the province's human rights tribunal decided in favour of his clients in 2015.
Bharmal's work with the CBABC over the last 27 years has also been recognized. He was awarded the CBABC President's Medal in 2016 and appointed to Queen's Counsel (now King's Counsel) by the British Columbia attorney general in 2019.
He has served as national equity committee chair and was on the national board of directors in 2010. At the local level, he has served as chair of the BC social justice section and co-chair of the BC human rights section. While on the CBABC board of directors, he chaired the access to justice, equality & diversity, policy and advocacy, nominating, member services and engagement committees.
Elected to the CBABC provincial council representing Vancouver county in 2017, Bharmal joined the board of directors and became second vice president in 2020.
Bharmal says that while issues in the legal world related to justice and equality will be a focus of his time as president, he is also very mindful of how the province will proceed on its stated goal of a single regulator that would cover lawyers, notaries and paralegals (who don't yet have a regulator).
A document outlining the proposed changes went out this week, and Bharmal says, "the profession is very engaged on this, and we will be working with members to get their feedback and advocating for protecting the independence of the profession."