CALGARY — Mentoring is among the priorities as Ridout & Maybee LLP partner Janet Fuhrer takes over the presidency of the Canadian Bar Association.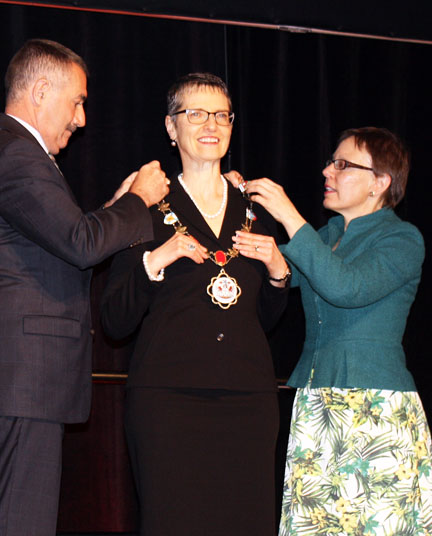 "When lawyers help lawyers, it benefits everyone," Fuhrer said after taking the chain of office from outgoing president Michele Hollins on Sunday.
Besides emphasizing the CBA's role in creating mentoring opportunities, Fuhrer also noted she'd be focusing on the advancement and retention of women in the legal profession and bolstering lawyers' relationships with clients. Her priorities, she said, include practice fulfillment, competence, and livelihood as lawyers face what she called a "sea change" in the practice of law.
"Change can be very good but it can also be disruptive," she said, suggesting she wants the CBA to play a key role in helping lawyers meet the challenges through the association's Legal Futures, Equal Justice, and Rethink efforts.
Ottawa-based Fuhrer took over the presidency at the end of a CBA conference in Calgary that focused on innovation and how lawyers could meet the challenges putting pressure on existing business models.
Other leadership changes taking effect this week include the passing of the presidency of the Canadian Corporate Counsel Association to Frédéric Pérodeau of Montreal. Pérodeau, senior director of investigation at a Quebec financial markets regulator, the Autorité de marchés financiers, takes over the role from Heather Innes. His priorities include inclusivity and cohesion within the in-house counsel community.
At the Ontario Bar Association, the new president is Brampton, Ont., lawyer Edwin Upenieks. A certified specialist in civil litigation, he practises at Lawrence Lawrence Stevenson LLP, where his areas of practice include corporate and commercial litigation, real estate matters, expropriations, and partnership and shareholder disputes. He takes over the OBA role from Orlando Da Silva, a lawyer who made his mark over the last year with his focus on mental health in the legal profession.