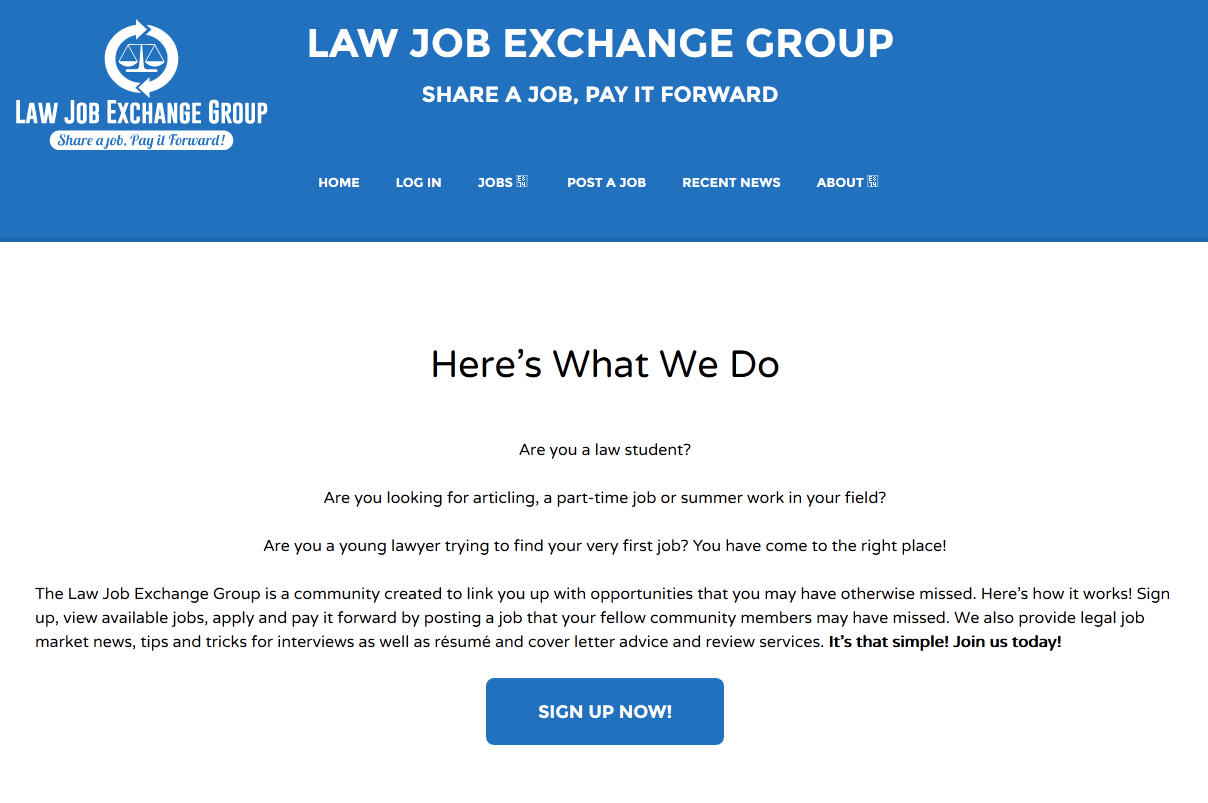 Securing an articling position in Canada is a competitive affair, but a new web site aims to ease the pressure through collaboration.
The
Law Job Exchange
, launched just three weeks ago, promises to "link you up with opportunities that you may have otherwise missed."
"The web site is all about sharing opportunities and I don't think that's something law students are necessarily used to with the competitiveness of the profession," says web site founder Nikolitsa Katsoulias. "But [students] seem to be embracing it, so I encourage them to log on and share an opportunity if they find one."
The main feature of the web site is its job postings, which visitors can only view if they are members. Members can also opt to have job alerts e-mailed to them. Jobs are primarily Canadian-based, but international opportunities have been available.
There is also a blog, where students will be able to find information on the current job market, legal licensing, the articling process, and "everyday news that affects law students," says Katsoulias.
A University of Ottawa civil law graduate, Katsoulias initially began by posting job opportunities on her own Facebook profile late last year for her friends to see. As interest in the posts grew, she created a Facebook group to keep things in one location and to make it accessible to more job-searching law students.
"Then it kind of became a big monster — a positive monster," she says.
The Facebook group, also called The Law Job Exchange, was profiled in Quebec-based law publication, Droit Inc. Almost overnight, the group's membership "exploded" from 190 to more than 1,000, she says. "After that, I thought, well, maybe I should have a web site."
Katsoulias was contacted by a Vancouver-based web designer who offered to design the site if she would help his job-searching-law-student brother with his cover letter and resume.
"So I said, no problem, sure, bring it on," she says.
Katsoulias, along with another administrator, vet every job posting to ensure credibility. They both continue to search and post jobs, but many are contributed by the site's members.
Law firms are welcome to directly contribute postings, too.
"We've actually had small and medium law firms — especially in Northern Ontario that have a hard time getting students up there — ask us to post their job opportunities on our web site," she says. "That's becoming more prominent slowly, but surely."
While response to Katsoulias' site has been primarily positive, she says she did notice some backlash in the comments left on the story Droit Inc. published about her Facebook group. Some people said her efforts were encouraging students to lower their standards by applying to smaller firms. Katsoulias feels some of these comments came from the larger law firms themselves.
"It was very shocking, to be honest, because I thought they would have welcomed the chance for students to have access to the profession," she says, adding she'll continue to post big firm opportunities when she sees them. "I think the larger firms have the exposure from a lot of the law faculties because of how the recruiting process works. But, we do post the recruiting opportunities for the larger firms, as well, because students may miss firms that they may have never heard of."
Katsoulias, who hasn't profited from the site, knows The Law Job Exchange is working because she's received thank-you messages from students who have successfully interviewed for the jobs she's posted.
Trevor Pearse, a law graduate from the University of Leicester in Leicester, U.K., was having difficulty securing articling interviews when he returned to Canada. He suspects his foreign training put him at a disadvantage when he was applying to the positions he was finding on his own — he was only able to get one interview.
But when he found Katsoulias' initial Facebook group, his luck changed. Pearse secured an interview with Robert Shawyer Family Law in Toronto.
"I was basically desperately looking for articles," Pearse says. "I was searching high and low and the great thing about it was they were posting jobs that I wasn't able to find in my own searches."
He ultimately got the job.
"It's been great," he says. "Robert, who's my principle, has been very good about trying to expose me to all sorts of different experiences. I've been in court by myself a few times, I meet with clients, I draft motions, I take out orders, and I sort of get a very wide range of experiences, which is nice."
He recommends law students struggling with their job search use Katsoulias' site.
"In fact, I have recommended it to some friends already who are still looking for articling positions," he says. "It worked for me, right?" {nomultithumb}