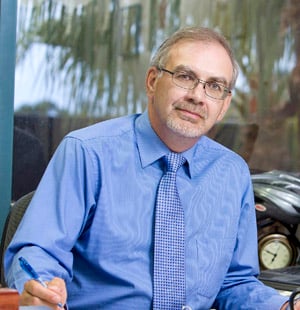 With the first law school in northern Ontario set to open next year, it seems fitting that the founding dean is from a small community himself.
Lee Stuesser, who grew up in Prince Albert, Sask., will begin his new role at Lakehead University's Faculty of Law in Thunder Bay, Ont., when it opens its doors in September 2013. He also has strong ties to Winnipeg, having been a professor at the University of Manitoba Robson Hall law school for more than 20 years. For the past four years he has lived in Australia, teaching law at Bond University.

In Australia, a law degree is an undergraduate program. Stuesser says he's looking forward to getting back into the Canadian teaching environment where law students are more engaged in the classroom.

Although starting a new law school from the ground up is a "unique opportunity," it does come with certain challenges, says Stuesser. Among those challenges, he lists: hiring the right faculty, turning a former high school building — the old Port Arthur Collegiate Institute — into a law school, creating a successful program and curriculum, and attracting the "right" students.

"We want students whose heart is in rural Canada," Stuesser tells 4Students.

"We are committed to what I call Main Street practice. So we are looking at students who are prepared to work in small-town Canada," he says. "We're not looking at turning this into just another law school where students from Toronto or Vancouver want to go and then head back to Toronto or Vancouver, that's not what we're about."

Kevin Cleghorn, a Thunder Bay lawyer and adjunct professor at Lakehead, agrees with Stuesser's vision.

"There is a lack of lawyers in northern Ontario in particular. Law school graduates tend to flock to major urban centres for the most part and there are a lot of small communities that are under-serviced in terms of the provision of legal services," he says.

One of the main reasons for opening a law school in northern Ontario is to address the lack of lawyers practising in small communities.

"Students who leave the north and head south are not coming back . . . so we're addressing some of the geographic challenges," said John Milloy, then-minister of training, colleges and universities, in an interview with 4Students last summer when the Ontario government announced it would help fund the new law school.

Stuesser says the law faculty is going to take a very practical, hands-on approach to teaching so students are as "lawyer-ready" as possible when they graduate. One of the first things he plans to do is set up a legal aid clinic.

"We're going to get [students] out in the community so that they can appreciate and enjoy the practice of law which you have in small places."

Due to its location, Lakehead's curriculum will focus on natural resources law, issues related to practising in a small firm or as a sole practitioner, and aboriginal law.

"Aboriginal law right now in rural Canada — northern Ontario and in the West — is absolutely critical, so our students need to understand that," adds Stuesser.

In its first year, the JD program is expected to have an enrolment of 55 students.