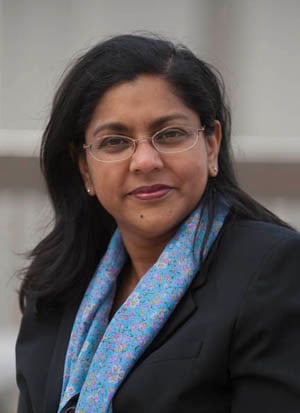 Twenty years ago I would not have thought that the founders of the Idle No More movement and the anti-rape activists in India had much in common, but along with women activists who were an integral part of the Arab Spring, as well as greater numbers of women in higher political office, it is evident both are part of a growing trend of women leading social change.

This is not because women are inherently smarter or have a particular gender-based skill, but rather because the violence of the human species has been played out on their bodies for centuries. Now, after improved access for girls and women to education and continued feminist advocacy, large numbers of women are moving beyond their fear to discover their political voice and to become defenders of human rights. Women have discovered their power — maybe not bank account power — but the power to demand change.

As academics and philosophers, even arm-chair philosophers, we tend to think of human rights as an abstract concept, but practitioners know human rights are played on the body, and in relation to where the body is located and the social, political, cultural, and physical environment of that space. The changes that are advocated for are tied to specific geographic locations. Each location has its own unique environment, problems, and possible paths for solutions.

While human rights in Canada may flow from federal and provincial legislation, several human rights solutions that support the dignity of the body and the person are implemented at the local level. As such, it is no accident that responsible local governments have become quite active in the area of human rights.

The First World Summit of Local Governments for the Right to the City took place just last month in Saint-Denis, outside Paris. Attendance was wide and varied including representatives from cities around the world. Members of civil society and academics also participated. One of the Human Rights Research and Education Centre's PhD candidates, Benoît Frate, who works in this area presented on the topic of multi-jurisdictional aspects of the right to housing in Canada.

While the title "World Summit" may sound exotic, it was meant to signal an awareness of the arrival of the connection between human rights and local governments as a global phenomenon. This summit was preceded by regional meetings of European local governments. The first one took place in 1998, and continued every two years until 2010. The 1998 meeting resulted in the creation of the European Charter for the Safeguarding of Human Rights in the City in 2000.

As explained by Frate, "the 2011 adoption of the Global Charter-Agenda for Human Rights in the City officially marked the internationalization of the movement of local governments acknowledging that human rights are also a local affair. The Global Charter-Agenda was drafted under the auspices of United Cities and Local Governments, the largest association of local governments in the world."

He notes that "Montreal is an active member of this movement of cities and that its Charter of Rights and Responsibilities was praised by many actors at the St-Denis Summit. Nevertheless, while local government action is necessary in respect to many human rights issues, it remains important to think in a multi-level perspective in order to fulfill human rights obligations on the ground."

Looking at human rights locally and from the bottom-up can offer fresh insights into current problems. It makes plain why realizing human rights for native people on and off reserve is a complex process that requires healthy local governance, and supportive co-operation from federal and provincial governments. As in the case of women in India, it highlights the need for the safety and security of the body in real and tangible ways that are aligned with how people live on a daily basis.

As we look forward to the year ahead, it will be interesting to see mothers, sisters, daughters, aunts, and nieces coming forward to speak their truths, advance their perspectives, and make their claims for human rights. New role models are being created around the world. What kinds of positive social change will take place in our communities in 10 years, in 20 years? The genie is out of the bottle. This is a trend to watch.