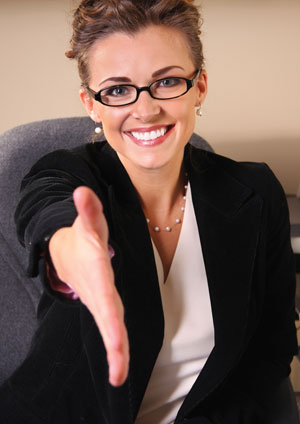 Law Student, F, 25, seeks high-interest summer position with Canadian law firm (remuneration a bonus). This smart, enthusiastic, in-debt law school student prefers law-related experiences, such as a trials or arbitrations, but is equally at home filing and researching. Seeking Big Law companion to settle down with forever (or at least through until articling).



Sometimes a good summer job is as hard to find as a red-hot love connection. You want them but they don't want you. They want you but you have your heart set on someone else. Or, after much back and forth, you both decide there's no spark and it's not going to work out.

Enter the on-campus interview (or OCI) — which is alarmingly akin to speed dating. As a law student, you have about 17 minutes with each firm to make a great impression in an attempt to get a callback for interview week. While the OCI process may seem like a tortuous exercise, it's actually a much better process of selecting candidates than the old way of doing things, say those conducting the interviews.

Mary Jackson, chief officer of legal personnel and professional development at Blake Cassels & Graydon LLP, was involved in creating the OCI system in the late 1990s. Before OCIs, students sent resumes to the firms and the firms decided from that pile who they would meet with. If you're good on paper and have good grades, well, you probably had a good shot at scoring an interview. But we all know that sometimes those who are good on paper won't necessarily make a good lawyer.

"So, basically, you just had resumes and interviews in November," says Jackson. "So you would take those resumes, and the tendency was to take the top students, and they would be your 18 to 20 people from the University of Toronto," she says. "But there would be all of these great people who you'd never meet. If you could see people's resumes and meet them, you could make a more informed view as to who would work well in your firm."

Jackson says OCIs give more students more opportunities, but the flipside is that, all of a sudden, a student is now being judged as a living, breathing curriculum vitae by many suitors in a short period of time.
Your school's career-development department can help you prepare your OCI applications (which generally have to be completed in the summer for fall 2008 OCIs) but once you've landed a few interviews, it's all about you.

The brutal truth is that it will be your CV and grades that will land you the interviews, as it's often impossible for firms to meet with every interested applicant. "There's more to it than just academic excellence, although that is kind of the gateway, if you will," says Linda Brown, a partner in the Vancouver office of McCarthy Tétrault LLP and head of the student committee. "You have to have a certain base, but the best grades don't necessarily mean the best lawyers, and we know that."

Once you've been granted OCIs, the hard part begins. You're now going to have to make a good first impression . . . over and over again.

My turn-ons include . . .
Just as we are all unique snowflakes, so too are law firms. Even if two law firms are in the same skyscraper or have similar looking lobbies, that doesn't mean you should prepare a one-size-fits-all approach to your interview. Those conducting the interviews want to know that you have read their student brochures, scoured their web sites, and even talked to former and current summer students to get a feel for the firm. So have you? Get on it.

WeirFoulds LLP in Toronto, for example, clearly states on its site that it's looking for: self-starters, high achievers, and enthusiastic individuals. "We're looking at students to see if these are the characteristics we can see," says Janine Denney-Lightfoot, director of professional development at WeirFoulds. "Students need to do their research before the interviews, find out about the firm, and be prepared to show why you're interested in that particular firm and how you're going to fit and what you can bring to the firm," she says.

McCarthy's Brown says every firm has its own dynamic and personality, and you'd be wise to know this in advance. "Because we tend to be on the bigger deals and the bigger cases, the ability to work side by side and together on a team is a really important concept for us," she says.

Don Higa, director of professional development at Calgary's Macleod Dixon LLP, says the firm gets about 300 to 350 applications a year for about eight summer spots. It's quite competitive and the first threshold is marks, he says. After that, it comes down to great rapport and being an engaging person. "Not everybody has the same personality traits and not everybody is a 100-watt bulb all the time," he says. "If you have somebody who on paper is a stellar student and is involved in things but totally comes across without humour and gives monosyllabic-type responses, that's not a person we're interested in because that's not a person we want to work with and socialize with after."

Higa says interviewers are obviously looking for good-quality lawyers, but they're also looking for people they would want to spend time with.

Jackson says Blakes is essentially looking for people who have good judgment, present well, are articulate, and connect with people. "I always look for bravery as a quality. Making sure they've done things where they have had to stretch themselves," she says. "I think a good lawyer has to make decisions all the time, so you often explore that. That's something that's difficult to ascertain in a resume — just like connecting with people is a quality that's difficult."

Jackson says she'll often try and knock the interviewee off script a little. "People come in very prepared and want to say what they want to say, and I think I spend a lot of time trying to figure out what they're not saying." This often involves exploring what's not on the resume, she says.

Again, much like dating, you know you've clicked when you feel it — you can't always explain why. It's the intangible, esoteric, and often misleading term "fit" that can make or break or you. But "a good fit" isn't the same as a "dutiful conformist," even though it's easy to confuse the two. "I don't want to send people out to hire people who are just like us. I think the word fit is problematic," says Jackson.

"I would say our firm is extremely diverse in terms of its personalities and backgrounds. We don't make people drink the Kool-Aid here. I intentionally try to hire a broad spectrum of people into each year because I think that reflects our firm and also creates a better student group," she explains. "If you pick everybody who is the same, they're not going to get along either."

My turn-offs include . . .
Okay, you're dressed in your professional but slightly conservative suit — shoes shined, hair and nails neatly groomed. You've researched the firms you're interviewing with and you're ready to sell yourself. What could possibly go wrong?

"Bragging," laughs Higa. "That is probably the one and only mistake I see, to be quite honest. It's a double-edged sword here; we're talking about you and asking you questions, but on the other hand you can't talk too much about yourself and how good you are. It's a fine line but humility and modesty are great virtues. Overselling yourself and thinking you're a big cheese are not," he says.

"It's one thing to sell yourself and show that you're engaging and smart and socially adept, and it's another to go just that one step more where you're irritating."

Interviewers know it when they see students crossing the line between bragging and being confident. "We've declined invitations back to see us because people came on a little too strong," says Brown. "The difficulty is that in the team concept that we have here there's no room for arrogance — at any level."

Brown also says that being evasive is a huge turn-off. "If somebody doesn't look me in the eye when they're talking to me, we've got a bit of a problem," she says.

If you are being interviewed by a pair of lawyers from a firm, make sure to address and look at both. Brown recalls interviewing a student once with a male partner, who was about the same age as Brown but looked older. The student completely ignored her and conducted the interview with the male partner. Not surprisingly, that student didn't get a callback for interview week.

Sometimes you can blow an interview — or fear that you will blow an interview — because you're completely racked with nerves and about to have a panic attack. Where you summer can determine where you article, which can determine where you become an associate, which can determine the rest of your life, etc., etc.

Calm down, says Jackson. "You can't let your nerves overwhelm your personality. That is the one thing: you do have to get rid of that nervousness. If you meet someone who's really nervous, that's all you notice about them."

Higa says it may help to think of the OCI as more of a social conversation, rather than a formal job interview. "It's easy to say these things, but I think people have to realize that we're normal people — some very close in age and others not so far apart in age. You have to think of us at the same level," he says. "I know it's incredibly hard to do so, if not impossible. But in terms of your mindset, you're engaging in social conversation and if you think of it that way, rather than a work interview, that may serve to quell your nerves."

"I think you have to go into it knowing that it's not a formal job interview and asking you about how you would act in a certain situation. It's not that type of interview — it's a general conversation talking about interests and experiences," Higa explains.

Finally, Jackson says if you think you've completely blown an interview, "just park it," she says. Try to move onto the next interview unphased.

"It's not the end of the world."

Just like dating, there are other fish in the sea.