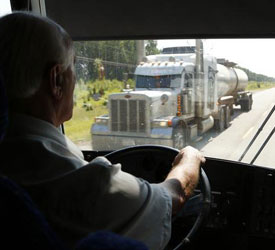 Just because a small service provider went out of business doesn't mean a joint venture between two oil giants was the root cause, according to an Alberta Court of Appeal decision.
Overturning a 2011 decision that awarded more than $5.5 million in damages to the loser in a competitive bid process, the Court of Appeal decided June 14 that a local fluid hauler was not "unduly" affected when it lost out in a bidding process. In
321665 Alberta Ltd. (Kolt) v. Husky Oil Operations Ltd.
, the Court of Appeal dismissed the civil claim that arose from an alleged breach of the pre-2010
s. 45 of the Competition Act
, which required proof that competition was prevented "unduly."
"The fundamental problem was the [trial] judge didn't understand what competition meant," says Michael Osborne, a competition lawyer with Affleck Green McMurtry LLP. "He interpreted it as meaning you have to keep the player alive in order to compete. We have an axiom in competition law, which is that competition law exists to protect competition, not competitors. In other words, we expect market participants to fail sometimes."
While s. 45 has been changed to remove the "unduly" element, Osborne says the decision will aid the legacy cases still in the system.
"I think this case is helpful and will make anyone who wants to attack a joint venture think twice," he says.
The situation arose in 1996 when Husky Oil Operations Ltd. and ExxonMobil Canada Ltd., which owned oil and gas properties in northern Alberta, contacted the two local fuel haulers operating in the area — Kolt and Cardusty Trucking — with the goal to reduce their costs. Husky and Mobil determined that a sole-source agreement would be more efficient and evaluated the two suppliers based on a number of criteria, including but not limited to price. Husky and Mobil awarded Cardusty the contract to provide fuel hauling services to both jointly and independently owned properties.
Husky was Kolt's largest customer providing 50 per cent of the company's annual revenue. After the joint contract was awarded to Cardusty, Kolt did not sustain sufficient volumes to remain profitable and ceased operations in May 1997.
Kolt sued Husky and Mobil for damages alleging the sole-sourcing agreement was a violation of s. 45 of the act. The trial judge determined the agreement between Husky and Mobil breached s. 45 and ordered the parties to pay damages "at large" of $5 million plus punitive damages of $500,000 for each defendant and interest. The trial judge also awarded Kolt $75,000 for "investigative costs" pursuant to s. 36 of the act.
Damages were established based on the estimated business profits over the subsequent 14 years. That was problematic too, says Osborne because it was assumed Kolt would have enjoyed the same revenue over the 14 years.
"It's so arbitrary," he says.
But the Court of Appeal decided fair competition did in fact take place between Kolt and Cardusty and other factors had worked against Kolt that the trial judge, Justice R. P. Belzil, didn't consider. For example, one of Kolt's main customers — Canadian Natural Resources Ltd. — stopped doing business with them and installed a pipeline to many of its facilities.
The approach by Husky and Mobil was also a form of collaboration that was common in the oil industry. Osborne says there was no evidence of the kind that might be found in a competition case. In fact, the appeal decision states there was ". . . no evidence to suggest that Husky and Mobil attempted to reduce the suppliers' profit margins, the prices they charged, or the volume of work they would provide."
Kolt also didn't move into other markets after losing out on the bid process. "When you read the trial decision you kind of shake your head," says Osborne.
The appeal ruling also states: "In our respectful view, the trial judge focused too much on the consequences for Kolt and lost sight of the true character of what Husky and Mobil were doing and how they set out to accomplish their objective."
"They didn't conspire to lessen competition unduly," says Osborne. "They were working together operating a joint asset and it made sense and was reasonable to make a joint purchasing decision and the Court of Appeal recognized that.
"There are certainly limits where you have dominant players but we expect players that are less efficient to go out of business and to be replaced by more efficient market participants — it's how it works," he says. "So in this case they replaced a cozy oligopoly where [the oil companies] were sending a little bit of work to both of them with a little competition which Kolt lost and the other guy won — how is that not competition?"
Osborne says the case is also interesting from the perspective of damages as the trial judge awarded based on future profits and investment value.
"Typically we assess damages as at the date of loss — we don't try and make adjustments for what happened before or after," he says.
Kolt also claimed $1 million in investigative costs but didn't provide any supporting records. The judge awarded investigation costs of $75,000 but the Court of Appeal disagreed, noting that just participating in litigation doesn't mean you can be compensated for investigative costs.