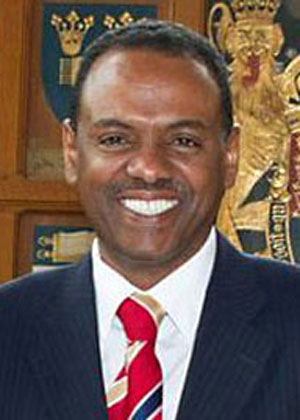 I was born in Sudan, a country plagued by civil war, which, combined with economic problems, forced many Sudanese to leave their country. I obtained my LLB and LLM in Sudan. In 2001, I thought a better opportunity could be available abroad. Therefore, Oman was my first step.

I arrived in Oman with only $200. I found a job as an in-house counsel for a leading finance company. After five years I was appointed the general counsel for another finance company. I was the first expatriate to be appointed a compliance officer.

However, the journey was not easy. Both of my parents died while I was in Oman. Their loss was the highest price I ever paid for leaving my home country as I arrived late and did not have the opportunity to say goodbye and ask for forgiveness, which are fundamental practices in many Muslim cultures.

My dream of immigrating to Canada started before I moved to Oman. It began when I met my first Canadian friend, who was a lawyer working for a major Canadian oil company in Sudan. Through him I learned a lot about Canada and fell in love with this country.

When my first child was born in Oman, I felt that my duty to seek a better life for my family along with my love for Canada could only be satisfied if I pursued my dream. I landed in Canada in September 2008. Finally, my dream came true!

I applied to the National Committee on Accreditation for an evaluation of my credentials. The NCA's assessment determined I would have to attend a Canadian law school and start from zero since Sudan is classified as a hybrid jurisdiction. I felt disappointed, however, I did not give up.

I was accepted into the Global Professional LLM program at the University of Toronto Faculty of Law in 2011. But when I learned about U of T's Internationally Trained Lawyers Program, I felt there was still hope that someday I could practise law in Canada. So I applied for a leave from the GPLLM in 2012 to make time for the ITLP. To my surprise, the GPLLM offered five new courses that met the NCA requirements in the next academic year. This meant I would be able to take four out of the five courses when I resumed my GPLLM in January 2013. Once I complete my GPLLM at the end of August, I will receive a new assessment from the NCA.

The ITLP is a unique program that prepares internationally trained lawyers for the legal profession in Canada. Particularly for professionals who were not exposed to a diverse workplace and social cultures, acquiring cultural sensitivity and understanding the Canadian workplace are true challenges. The most valuable opportunity the ITLP provided was the ability to apply for an internship position. I was successful in my application to Dentons Canada LLP.

Dentons was my first Canadian work experience. I was living my "career dream" as a student there. I was introduced to a variety of aspects of the Canadian legal profession and I received great mentoring and training in finance service and corporate law. I also learned not to undermine the importance of networking as my mentor in the corporate department turned out to be one of my former classmates in the GPLLM.

My internship was not confined to formal legal work, it included fun activities as well. For instance, I participated in a dodgeball competition, organized among law firms, for the first time in my life. When I showed the photos of our firm's team winning the trophy to my children, they smiled and looked at each other in disbelief.

I graduated from the ITLP in April. In addition to the academic courses, the program helped me develop significant professional skills.

To me, history repeats itself: If I was able to make it when I arrived in Oman as a newcomer 12 years ago with limited experience and knowledge, I can do it again in Canada.

Amain Khair is a graduate of the University of Toronto's Internationally Trained Lawyers Program.