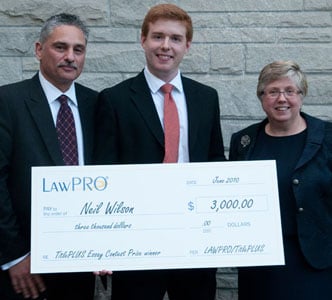 It's safe to say that Neil Wilson never expected that his real estate law professor's idea for an essay topic would land him $3000.
The Osgoode Hall Law School student's essay, "Part performance: An invaluable tool in the practice of real estate law," recently won the 2010 TitlePLUS essay contest. Sponsored by the Lawyers' Professional Indemnity Company (LawPRO), the contest promotes and recognizes outstanding legal scholarship in the practice of real estate law.
"As part of our mandate as a bar-related title insurer, we thought this was a good way to encourage interest in real estate law at the law school level," says Kathleen Waters, president and CEO of LawPRO.
"LawPRO, which owns the TitlePLUS program, is a member of the North American Bar-Related Title Insurers, and doing things like this contest is part of our obligation as a member."
The contest, which has been running since 2007, is open to law students from across Canada (except Quebec) and typically gets a lot of entries.
"We have many entries come to us from all parts of Canada, and while we don't disclose the exact number of entries, I can tell you that there is quite a few of them," says Ray Leclair, vice president of TitlePLUS. "We have five judges that read and review every submission, and the entries are ranked based on various criteria set out in the contest rules."
Wilson's winning entry examines an aspect of real estate law wherein an oral agreement for the sale of land, which would otherwise be unenforceable, may be enforced if steps have been taken towards its performance. After considerable research and analysis, he concludes "the current lack of certainty leaves the issue open to arguments on both sides, and accordingly an appreciation of the doctrine of part performance will be invaluable to both vendors' and purchasers' counsel."
Waters says it was Wilson's approach to the issue that made his entry stand out from the rest.
"I think it was a very interesting approach to an issue that many people might not even be aware of when it comes to real estate law," says Waters.
"Neil really took on this area and showed that there has been a renewed willingness by the courts to expand this document, which in turn makes knowledge of this area more useful to real estate practitioners in the future."
Wilson gives much of the credit for his essay to his real estate law professor. The essay was originally written for that class, and had he not listened to the advice of his professor, he might have ended up writing an entirely different essay altogether.
"I actually wrote the essay for my real estate class at Osgoode, and I had chosen another topic and gone to speak to my professor about it," says Wilson. "He said that he didn't think it was a very workable topic, and he's the one who suggested the topic that I ultimately wrote about. There was a lot more to work with, and that's what led me to write about it."
While Wilson says he has no immediate plans for his $3,000 prize, he is pleased to be the winner.
"Obviously, it's a great honour, and I was very excited when I got the phone call telling me that I'd won," he says. "I was actually in the library studying when LawPRO called me, so that really made my day. I was very grateful and excited to get it."