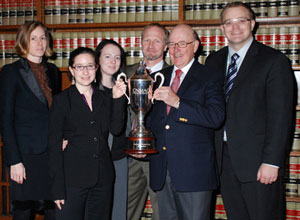 Osgoode Hall Law School nabbed the top stop in a national mediation competition and will continue on to represent the country next year in Paris.
Osgoode's team took first place at the 2nd Annual Canadian National Mediation Advocacy Competition held in mid-November.
Ontario Chief Justice Warren Winkler awarded the Winkler Cup to the winning team of Lisa Feldstein and Darren Hall, as well as teammates Sheldon Inkol and Jillian Chuchryk.
"Mediation is part of the institution of justice in this country," Winkler said in a release.
Fourteen teams from eight Canadian law schools, role-playing as advocates and clients in mediation sessions, vied for the trophy.
Experienced mediators, judges, and lawyers judged students on how well they prepared and represented their client in the mediation process.
The win guarantees the Osgoode team a spot in the 2010 International Chamber of Commerce Mediation Advocacy Competition in Paris, France.
Teams from law schools at the universities of Manitoba and Ottawa, which respectively placed second and third, will join them.
An award for the best individual performance was given to Hiyasmin Matias from the University of Saskatchewan, which also won the Louise Otis Award of Excellence in Mediation Education.