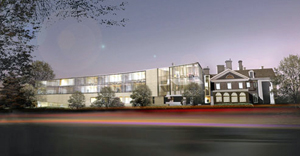 The University of Toronto Faculty of Law has officially launched its $53-million campaign for a new building.
So far more than $37 million has been raised from the University of Toronto and its alumni. Osler Hoskin & Harcourt LLP and Torys LLP have generously donated more than $2 million each to the campaign. The faculty has also received individual alumni contributions of $1 million or more from Henry N. R. Jackman, former lieutenant governor of Ontario and a former University of Toronto chancellor; John Schumacher, founding partner of East Coast Fund Management Inc.; and David Asper, former executive vice president of Canwest Global Communications Corp.
The new building, designed by Toronto architectural firm Hariri Pontarini, is expected to increase space by 50 per cent. It will include a multi-storey wing on Queen's Park Crescent, extensive renovations to the Bora Laskin law library, and minor renovations to the historic Flavelle House.
Three external reviews and student feedback revealed that the current physical facilities were hindering the faculty's research and leadership capabilities.
"Nothing is as important to the future of this incredible institution as physical renewal," said U of T law dean Mayo Moran at the launch on Nov. 29. "We are so grateful for the extraordinary generosity of the law firms and individuals who have come forward so early in the campaign to support our aspirations."