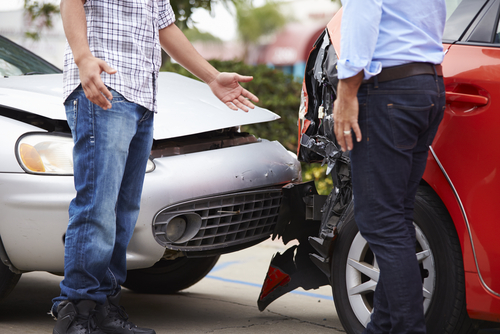 It was created, and widely adopted across North America, to reduce insurance premiums and make payments quicker in the event of an accident. Strangely, Ontario's no-fault system has the highest average premiums in the nation. But the bigger issues only show up after an accident.
"No-Fault": How it works….ideally.
It's called no-fault insurance because the question of fault for a collision is temporarily set aside, while damages and injuries are addressed.
Each insurance company pays the damage claim of its insured driver. There's no waiting for a decision as to fault or a court award for damages. And, if the other diver is eventually found to have been at fault, your insurance company waives your deductible (the up-front share of costs you pay before your insurance kicks in). So far, so good.
In cases of injury, each insurance company, again, covers of its own driver, with no waiting for a fault determination or a court decision. In Ontario, injured parties are covered for ongoing medical treatments, rehabilitation and a caregiver, if one is required. Payments to injured parties are made as treatment expenses are incurred — up to a maximum amount prescribed according to a regime negotiated between insurance companies and the provincial government.
No-Fault realities in serious injury cases
Assuming you're not seriously injured, no-fault has the advantage of being quick and easy. But you know what they say about assumptions …. It turns out that no-fault is a roll of the dice and, if you're seriously injured due to someone else's recklessness or negligence — you lose.
You lose because no-fault jurisdictions seriously restrict the amounts recoverable from your insurance company, the at-fault driver and his or her insurance company. And you lose again because there's a huge deductible on court awards for pain and suffering.
This means the more seriously you're injured, and the more you need help, the more no-fault insurance works against you. Still, a first-rate personal injury lawyer can help you navigate Ontario's complex and confusing no-fault system to achieve the best result available under the law.
In cases of serious functional impairment, the no-fault system forces you to pursue two separate legal actions. As you might expect, you have a tort case, also called a civil lawsuit, against the at-fault driver and his or her insurance company. But if you need more than the bare minimum in accident benefits, you will likely have to start an arbitration againsts your own insurance company.
Where accident benefits are concerned, your best interests and those of your insurance company are diametrically opposed.
Injury classifications and compensation caps
In Ontario, injury cases are separated into three categories: minor injuries with a $3,500 cap on rehabilitative care; serious injuries with a cap of $65,000; and, catastrophic injuries — including quadriplegia and serious brain injuries — with a lifetime cap of $1 million. Given these classifications and caps, it's clearly in your insurance company's best interests to deem all injuries minor, because downgrading your case from "serious" to "minor" potentially saves them more than $60,000. Downgrading your case from "catastrophic" to either "serious" or "minor" can save them nearly $1 million. Moreover, establishing a legal precedent for cases similar to yours could save them tens or hundreds of millions over time.
All this means that your insurance company will be very motivated to defeat your claim in court or in an adjudicative tribunal.
Caps are most damaging to children who are badly injured, as well as to anyone catastrophically injured, both of whom are very likely to exceed the $1 million cap on treatment expenses with decades left to live and cope with their injuries. The caps are also nonsensical because they're not cash awards, they're maximum re-imbursements for verifiable medical treatment expenses, as they occur.
If you seek compensation for pain and suffering inflicted by an at-fault driver, you must sue the driver (really his or her insurance company). But you need to know from the start that Ontario law says your claim for many damages will only succeed if your injuries are both "serious and permanent" and that the maximum a jury can award for pain and suffering is $366,000, no matter the extent of your disability. In a recent Ontario case, a jury delivered a $600,000 award, but the court reduced it to $366,000.
'Secret' clawback on pain and suffering
It's also important to know that, if the jury awards you less than $125,000 for pain and suffering, Ontario law includes a $37,000 deductible that goes back to the insurance company. This means that if the jury awards you $70,000 for pain and suffering, you actually receive $33,000. And the law explicitly forbids your lawyer to inform the jury of the $37,000 clawback. If your lawyer mentions this arrangement in an Ontario court it could be an automatic mistrial.
The vast, vast majority of injury plaintiffs are not malingering con artists, as currently assumed by Ontario law and the insurance industry. They're people suddenly facing extremely difficult circumstances through no fault of their own. The Trial Lawyers Association of British Columbia has said they believe no-fault caps are unconstitutional because they discriminate against the disabled, singling out personal injury victims for "uniquely disadvantageous treatment."