Intervention that ended an
unsolicited bid
for Potash Corp. of Saskatchewan Inc. by Australian company BHP Billiton Ltd. does not signal a policy change by the Canadian government, executives with two of Canada's largest investment banks said today at a Toronto event.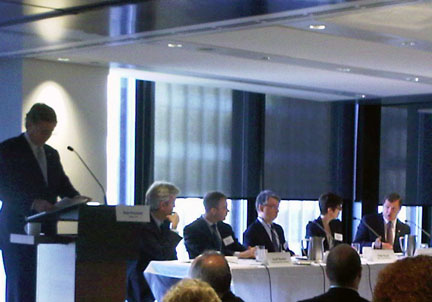 The Potash deal needs to be placed in the specific political context of provincial and federal politics as being only one of two blocked deals out of 1,600 merger and acquisition agreements approved under the Investment Canada Act, said Frank McKenna, deputy chairman of TD Bank Financial Group and a lead director of Brookfield Asset Management.
"I don't think it represents a terrible signal to the world," he said.
However, McKenna added that if more deals were blocked under the Investment Canada Act, the perspective of investors could change.
"I think it puts a lot of pressure on the government, knowing that if they block two in a row, it is going to be construed in a different way," he added, answering a question about the other major deal currently under consideration, the
merger
of London Stock Exchange Group plc. and TMX Group Inc., the owner of the Toronto Stock Exchange.
RBC Capital Markets served as advisors for PotashCorp, and its co-head of M&As, managing director Peter Buzzi, agreed with the assessment that the PotashCorp case does not signal a policy change.
"We don't believe this is the new normal," he said, adding the PotashCorp case was very specific because it dealt with a large natural resources company that has a tremendous social and political impact in Saskatchewan and Canada.
But the deal faced more issues than just politics. Other actors were against it based on the belief that the price offered per share was too low.
"It was a hostile takeover, and there was antagonism to the deal," said Buzzi.
The comments came at a Torys LLP seminar on the resurgence of mergers and acquisitions in North American and global markets .
Moderated by Torys chairman Robert Prichard, the panel also included Geoff Beattie, president and CEO of The Woodbridge Co. Ltd; Simon Brown, head of consumer products and services at Kohlberg Kravis Roberts & Co.; and Torys partner Sharon Geraghty.
The panel also discussed the M&A outlook for 2011, sovereign wealth funds' investment prospective, corporate governance in public companies, and other issues.
?