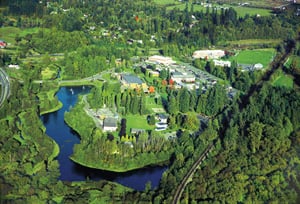 After more than three decades without a new law school in Canada, it seems that every university is vying for one.
Last September, Thompson Rivers University welcomed 75 first-year students to its new law faculty in Kamloops, B.C., and in the fall of 2013, Lakehead University in Thunder Bay, Ont., will be home to the first law school in northern Ontario.

The latest proposal comes from Trinity Western University, a private Christian university in Langley, B.C., which hopes to offer a three-year JD program to 60 students starting in September 2015. If it receives approval from the B.C. Ministry of Advanced Education and the Federation of Law Societies of Canada, it would be the fourth law school in British Columbia.

Janet Epp Buckingham, an associate professor at Trinity Western, has been involved in developing the proposal for the past five years. She says establishing a law school has been in the university's long-term plans for 20 years.

"[TWU's] real focus is on developing leadership, and lawyers are leaders in their communities," she says. "This is a step we want to take because it fits within our mission and mandate as a university."

Established as a junior college in 1962, Trinity Western is now a full university that offers several professional programs, including business, nursing, and education. It is privately funded and would require a substantial amount of funding for a new law building.

If approved, it would be the first Christian law school in Canada, which Buckingham says would bring a unique perspective to the law.

"We have a lot of students who are interested in social justice, human trafficking, and care for the poor and there are biblical principles on justice and just society that will form part of that curriculum," she tells 4Students.

Along with weaving Christian values into certain courses, students would also be able to specialize in charities and social justice or entrepreneurial law.

Ian Moes is an associate at Kuhn LLP in B.C., and a graduate of Trinity Western. He says "you'll learn all of the same basics you'll get at any other university . . . [the Christian aspect] just affects the environment in which it's taught."

Keeping in step with the recent push for more experiential learning at law schools, the university plans to emphasize practical education.

In light of the national articling shortage — currently most prevalent in B.C. and Ontario — Buckingham says TWU would have a stronger focus on skills training with a full course in practice management, a half course on the introduction to the practice of law, and a mandatory practicum component.

"The whole focus is really going to be on building skills alongside building legal analysis and understanding so that when students graduate from the law school they would be able to go into a small firm already with skills that they can use and apply," she says.

TWU also plans to hire an articling co-ordinator to encourage small firms to take on articling students in an effort to create new articling placements.

Located just an hour outside of downtown Vancouver, Buckingham says the law school would take an outwards approach by encouraging graduates to practise in smaller communities where there is a greater need for lawyers.

"There's a real problem — there are a lot of under-served communities," she says. "There really does need to be a focus in consciously encouraging people to locate in underserved areas."

She says the university has received tremendous support from the Langley community and local bar associations.

As a resident of Langley, Moes says having a law school nearby would be beneficial for students in the area.

"Geographically, it will be a huge bonus for people who want to go to a law school in the Fraser Valley area of British Columbia," he says.

The university expects to receive approval of its proposal within six to 12 months.