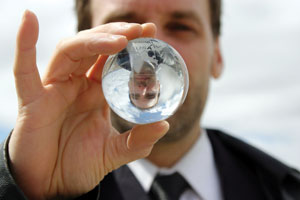 In-house counsel for Canadian-based Bank of Montreal and its U.S. subsidiary Harris Bank say the key to success is having good people on both sides of the border who work together. While U.S. and Canadian law is sometimes similar, it's often quite different, and BMO counsel say it's best to rely on one another, depending on the jurisdictional matter at hand.
When Oscar Wilde travelled from his home in England to visit the United States, he came back with an
interesting observation: "We really have everything in common with America nowadays, except, of course, language."

The quip was funny, absurd — a wilful paradox typical of the 19th century playwright's style. But it was oddly true. Things can be the same, and yet different. And this applies not only to the language of two nations, but also to their laws.

Lawyers who work in a cross-border context between Canada and the U.S. are well aware of this. The legal regimes of both countries are fundamentally alike, since they are historically based on British law.

Plus, with so many Canadian law professors being graduates of Harvard, the influence of American law on Canada is strong.

However, a lawyer in Canada who tries to navigate American law, and vice versa, will soon learn the numerous ways in which they are not the same.

"The laws are different, so that's always a problem," says Rick Mackenzie, who works out of the Toronto office of Bank of Montreal (BMO), helping manage some 60 in-house lawyers, many of whom are based in the U.S.
"Yes, there are a lot of similarities in the laws," he says. "But they're separate jurisdictions. For instance, the procedure with litigation can be quite different, so we have to rely on our U.S. counsel."

That means that BMO's American in-house lawyers often work independently.

"If there's relatively localized litigation occurring south of the border," Mackenzie explains, "for example, a retail or commercial

banking problem for Harris Bank, our American subsidiary, that would probably be managed locally in the U.S."
On the other hand, he says, large high-stakes lawsuits tend to be quarterbacked from BMO headquarters in Canada.

"If it's a very significant piece of litigation involving a large corporate client where there's hundreds of millions of
dollars at risk, the expertise available for managing that type of litigation resides more in our Canadian offices. Especially with class actions, we have a body of expertise up here that is more familiar with how to manage it."
One thing that is virtually always handled locally, though, are regulatory matters.

"If a banking issue crosses over both jurisdictions, the Canadian lawyers handle the Canadian regulatory issues, and the U.S. lawyers handle the U.S. ones," Mackenzie says, adding that there is a lot of difference in regulatory regimes between the two countries. It's a specialized area of expertise, and there's no sense in a lawyer learning the ins and outs of another country's regulations.

Kathleen Deane, deputy general counsel at BMO's Harris Bank in Chicago, agrees. "I don't think it's useful for a Canadian lawyer to try and figure out U.S. regulatory requirements, and vice versa," she says. "The key is having good people on both sides of the border who are familiar with regulatory requirements, and working closely with them."

Deane says she works frequently with her Canadian colleagues. "It works well between BMO and Harris here in the U.S. because we've got great colleagues in Canada to work with. They provide an invaluable service to us, and vice versa. When they have questions or want to discuss something, we're here, ready to talk with them and work with them. I probably talk with my Canadian counterparts on a weekly basis."

One of her counterparts is Richard Martin, in-house lawyer and managing director at BMO's Toronto office.
"If we're acquiring a bank in the U.S., it would be handled by Kathleen's team," he says. "And the regulatory aspects dealing with the Canadian approval process would be handled by us up here."

Martin notes: "Many transactions don't have true cross-border aspects to them, other than some regulatory issues. A lot of our acquisitions are entities that don't carry on business on both sides of the border."

However, he adds, some entities do in fact carry on business in both countries — securities dealers, for example. These require a more integrated legal approach.

One thing that BMO's in-house lawyers have in common, if the career experiences of Martin, Deane, and Mackenzie are any indication, is that they have a good thing going. They've all been with the company for about 20 years.

"You can have a good career in-house more so now than in the past," says Mackenzie. "Companies today have significant law departments, and there are more opportunities for career development than there used to be. And here at BMO, it's been very rewarding to see the in-house legal function grow to the significance it is today. When I joined the department, there were only five lawyers. Now we have over 60. It's been rewarding to be here from the beginning. And I'm still here."

"Working in-house is great," Deane agrees. "I love it. I went in-house back when no one was going in-house. My classmates in law school thought I was crazy. But I got hands-on experience very quickly. I was handling depositions within six months. My classmates didn't do that for years. And I remember the day I was admitted to the bar: my boss came in and gave me four files and told me I had four court calls the next morning."

One of the benefits of being in-house, she says, is that "we have the ability to get really close to the client and
understand their business, as opposed to answering a particular legal question that has been posed. We also get to see things all the way to completion, whereas external counsel are often brought in for a particular piece of a project and they never see the rest of it."

She adds that, "BMO is a great client. I get to work with some of the smartest, brightest individuals. Sometimes I pinch myself. I can't believe how lucky I am."