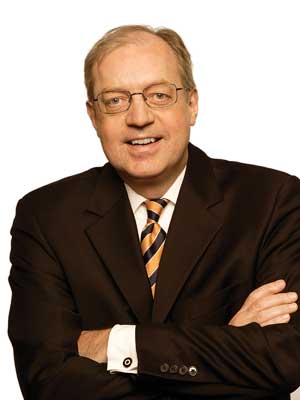 When he's not having fun at work or bringing new television and radio programming to Canadians, you can find Corus general counsel Gary Maavara helping out a cultural non-profit group or sitting on a broadcast industry committee.
Day-to-day legal work at one of Canada's most successful integrated media and entertainment companies can be as varied as the song play lists of Corus Entertainment Inc.'s 50 radio stations or the programming at its TV and movie stations.

Gary A. Maavara, vice president and general counsel of Corus, says his days "are pretty diverse."

A day's work at Corus, with its legal team of 10 lawyers and more than 10 staff and assistants, could involve a corporate acquisition, a filing with the Canadian Radio-television and Telecommunications Commission (CRTC), a libel action, or human resources issues for the company's 3,500 direct employees.

"We've got quite a cross-section of things that go on in the course of a day," says Maavara, 53.

The Canadian-based publicly traded media and entertainment company deals mainly in specialty television and radio with additional assets in pay television, advertising, and digital audio services, television broadcasting, children's book publishing, and children's animation.

Built from the media assets originally owned by Shaw Communications Inc., and spun off as a separate company in 1999, Maavara has been in his role for just under three years, following a very media- and entertainment-heavy career path.

Prior to joining Corus, he spent seven years in a variety of head office and operating roles with CanWest Global Communications Corp., as the chief operating officer of CanWest Interactive, which runs the company's consumer web sites such as canada.com as well as the Infomart and Financial Post Data Group content sales operations. He was concurrently senior vice president of specialty television of the Global Television Network.
So what brought him back to the legal side?

"I like corporate legal work, but also working at Corus is really, really fun and interesting," he says from his Toronto office. "It's a terrific company."

"Part of it's got to do with what we do. The radio business is very immediate and we have a combination of leading edge music stations. We have amongst the most progressive radio stations in Canada in terms of music development, with 96.9 CKOI-FM in Montreal, The Edge 102 in Toronto, and The Fox in Vancouver. Those are three stations which are renowned for playing the newest music in their regions. So that's kind of fun."

Corus also has its hands in talk radio stations, so Maavara says there are public policy issues that can come up.
"Radio is very local and very immediate and every day is different from the next. I have fun working on the content elements of that," he says. "If there's a major court issue, for example, like a Karla Homolka case, there's a considerable amount of legal work around tailoring the content of that because of the various court orders.

"On the TV side, it's not quite so fast but that's fun, too. We're a big broadcaster to kids and also to women, with the W Network. There's a lot of production deals and acquisition deals and development of new channels. We just got a license for a new channel for Anime [animation originating from Japan]."

He says occasionally the galleys of a book will end up on his desk, as Kids Can Press is a part of the Corus family.

"We've got a new book coming out on the Olympics, which is really interesting," he says.

Interestingly, Maavara's worked on the production aspect of five Olympic Games, including a role as the executive producer of the official film of the 1988 Olympic Winter Games and productions with the ABC, CBS, CBC, and CTV television networks. (He also worked at CTV for nine years prior to CanWest in a variety of roles including group vice president, programming; vice president sports; chief legal counsel; and vice president operations and engineering. While at CTV he oversaw the production of the coverage of the 1994 Olympic Winter Games in Lillehammer, Norway.)

He traces his strong interest and background in media, entertainment, sports, broadcasting, music, etc., to his teenage years.

"I started as a kid in Montreal, first running dances and things like that and then got involved in sports and the music business in Montreal."

He became involved in the assembly and promotion of concerts, although jokes that it was a much different game then than it is now.

"In the early '70s, those were the days where if you're doing a show with Bob Dylan, you filled up a Samsonite briefcase with cash and handed it to his manager, and he wouldn't go on stage unless you got that," he recalls.
This lead to lots of nuts-and-bolts work around TV and music, "doing whatever needed to be done." Law seemed, to him, to be the next logical step.

"I was attracted the law because there's a lot of things that related to copy write. There just seemed to be a lot of legal aspects to whether you were signing up a band for a dance or trying to use music on a show or something like that."

Maavara went to Boston University and got his bachelor of science, then returned to Montreal to work in television.

"I ended up producing a talk show in Montreal because unfortunately the producer fell ill. I was hired to be a writer and they looked at me and said you're going to have to produce these shows," he says.

"So one night [in the late '70s] we had Irwin Cotler on, who was at the time a professor at McGill, and he was representing one of the Soviet dissidents at the time and we had him on as a guest.

"He was asking me what I wanted to do and I said I was interested in law. He said 'You should go to Toronto if you want to work in the communications area of law.' So I applied and ended up at Osgoode."

While finishing up law school at Osgoode Hall Law School in 1982, Maavara had good fortune and a good time articling with Donald Sim at Sim Hughes, as it was then known.

"That was truly a fantastic experience," he says. "Imagine an articling experience where I had a video game in my office, actually two arcade games, and in the afternoon the lawyers would come in and play on the machines.
"The reason we had the machines was because we were doing some patent infringement actions. So I got a good taste of IP work through my articles."

Upon graduation, Maavara joined Borden & Elliott, as it was then known. where he practised intellectual property and communications law, with a roster of clients including CTV, several NHL clubs, and Loblaws."I just decided after five years, I really wanted to get back into television."

Despite the often long days at Corus, getting up at the crack of dawn, Maavara still finds time to spend with his wife and three children — in fact, they just got back from a trek to the Grand Canyon (where they have visited 10 times in the last 15 years).

As well, he spends time as a director of the Canadian Association of Broadcasters, the Banff World Television Festival, the Dancer Transition Resource Center, the Canadian Broadcast Museum Foundation, and the Centre for Cultural Management of the University of Waterloo.

He also sits on a variety of committees of the Canadian Association of Broadcasters including the executive committee.

So how does he manage to manage all of this?

"When you're as lucky as I am to work at what I do, I think you really have to contribute back into the community. I'm not just saying that from a Pollyanna standpoint," he says. "Groups like the ones I'm involved with really need people to get involved. Everybody's busy but you just find a way to do it."

Although the work days may be long, it generally doesn't feel like work, he says.

"The people that I work with are really fun. When I'm working I'm doing stuff that other people would consider to be like playing. You meet lots of interesting people. On-air personalities are really fun and the people that I work with, everybody's got a solid background in different areas and I bring the legal piece to the puzzle.

"There are days when I spend time reading through long leases but that's mixed with a lot of other things, too."