• labour and employment law
• on Bay Street
• in Victoria
• tax law
Practising labour and employment law
Heather Hettiarachchi
Clark Wilson LLP, Vancouver
Pros:
• This area has a significant impact on people's lives because, at its core, it deals with matters relating to a person's livelihood. Yet at the same time, it is broader than a single individual's right to earn a living.

• The labour and employment lawyer must have a sound knowledge of a number of other fields of law including human rights, privacy, workers' compensation, bankruptcy, constitutional law, and business law.

• It is very satisfying when you are able to structure a good settlement in a wrongful dismissal case or a human rights case and sometimes even restore a fractured employment relationship.

• Labour law is a very complex yet exciting area of law as you often deal with sophisticated parties who have built up a good relationship over the years. In these situations, the parties are able to quickly "cut to the chase."

• When you practise in the area of labour and employment law, a better part of your time is spent before tribunals as opposed to the courts. As a result, you are generally able to resolve matters more speedily.

• Representing your client at the bargaining table gives you good insight into different business models and industries.
Cons:
• You don't have the luxury of dealing with a single large file; you have to work on several files at the same time. This can be challenging and sometimes frustrating because you lose your momentum when you are switching back and forth the between files.

• You must keep abreast of developments in many areas.

• You have to deal with unrepresented claimants on a fairly regular basis. This is a very trying experience.

• Business lawyers often wait to seek advice on labour and employment issues until the eve of closing a large transaction.
Charlotte Willson
Heenan Blaikie LLP, Toronto

Pros:
• Labour and employment law is an exciting area of the law where lawyers have diverse practices and the work is anything but routine.

• Labour and employment law is unique in that the amount of solicitor work (i.e. providing written legal opinions) is roughly equivalent to the amount of litigation (i.e. representing clients in front of a court or an administrative tribunal).

• The issues that fall directly within a labour and employment lawyer's bailiwick are quite varied. For example, labour and employment lawyers handle matters involving employment standards legislation, union certifications, etc.

• As well, other areas of the law that are not specific to labour and employment factor quite heavily in this area of practice, such as human rights, tax, and tort law (i.e. an allegation that an employer defamed his or her former employee).

Cons:
• Despite its many positive attributes, labour and employment law is not without its drawbacks. Most notably, because the practice area is diverse, it often takes junior lawyers a long period of time to master all of the pertinent skill sets.

• Labour and employment law is not the most lucrative practice area. While lawyers in this practice area can earn very respectable incomes, those who choose to practise in other areas of the law, such as intellectual property or securities, will typically have greater opportunities to earn larger sums of money.
---
Practising on Bay Street
Lucas E. Lung
Lerners LLP
Pros:
• Toronto is Canada's largest city and the home of the Ontario Court of Appeal. Many important cases are heard in the courts in Toronto, and as a litigation associate, there is a good chance that you will have an opportunity to work on some interesting, high-profile cases.

• For young associates, the most significant benefit of working at a firm in downtown Toronto is the quality and availability of training and mentorship programs. This is not to say that you can't get good training and mentoring at smaller firms off Bay Street, but training programs at larger firms are generally more structured and better resourced.

• Your best resource is your colleagues. You will work with lawyers who specialize in many different areas of the law, so you can gain exposure to a variety of different work. Also, if you don't understand a particular concept or need advice on strategy or procedure, help is usually just down the hall.

Cons:
• The nightmare stories of Bay Street lawyers working through the night, every night, are somewhat exaggerated, but the fast-paced nature of a Bay Street practice will no doubt translate into some late nights. It is possible to achieve work-life balance, but you need to make a conscious effort to ensure you properly prioritize non-work activities.

• It is sometimes easy to get lost in large firms with hundreds of lawyers, many of whom you will never meet. As a young associate, you have to make an extra effort to ensure you establish a presence and carve out a role for yourself at the firm.

• Litigation associates at large Bay Street firms generally do not get into court as often as their non-Bay Street peers. The reality is that clients with cases worth tens or hundreds of millions of dollars do not want junior associates arguing significant motions or applications. You have to consciously seek out your advocacy opportunities, either on smaller files or through pro bono work.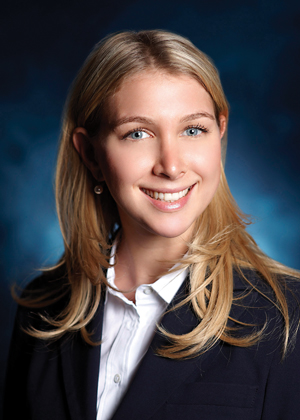 Danielle Traub
McCarthy Tétrault LLP
Pros:
• Bay Street boasts some of the most complex cases and transactions in the profession, making it a great place to learn the ropes of legal practice and the optimal training ground for young lawyers.

• Bay Street firms offer extensive resources that can be invaluable to one's practice. On a day-to-day basis, I rely on our corporate search group, the library team, our state-of-the-art technical systems, and our 24-hour document-processing team (to name only a few). This reliable support system ensures I make the most of my time without getting buried in administration.

• I was thrilled to discover that big firms also have big hearts. McCarthys has an extensive pro bono program that involves students and lawyers at all levels of practice, giving us an opportunity to use our skills to give back to our community.
Cons:
• Working in the epicentre of Canadian commerce can also have its disadvantages. Being tightly tied to the health of the economy, the workload on Bay Street can ebb and flow with economic flux.

• One in a billion, that's the feeling one might have on Bay Street. With so many people working together on so many matters, it can be difficult to find one's place. My solution was working at a firm with a true emphasis on mentoring.

• Not surprisingly, the big files of Bay Street demand true commitment. And since the billable hour is the inventory of the legal profession, pressure exists to put in one's time — literally. Thankfully, the excitement of the work often makes the time commitment worthwhile.

---
Practising in Victoria
Erik Magraken
MacIsaac & Co.
Pros:
• Victoria is a wonderful city for a legal career. With a mild climate and stunning surroundings it is a highly desirable city for both work and lifestyle.

• Victoria is large enough for an exciting lifestyle while retaining the feel of a smaller community. Being the provincial capital, there is no shortage of diverse and quality legal work as well.

• One of the biggest draws to working here is the collegial nature of the bar. The Victoria bar is close-knit and there is a real sense of community among this city's lawyers.
Cons:
• One drawback is that Victoria is a competitive market to break into. Victoria is comprised largely of small firms and sole practitioners. There is a law school generating many graduates each year. Adding the lifestyle benefits of living and working in Victoria to the mix creates an environment where many students are competing for relatively few positions.

• Students looking to break into the Victoria market should start networking with the local bar early to maximize their chances to learn about and compete for articling opportunities. Many articling positions are not advertised and are filled by word of mouth.
April J.E. Gilliland
Velletta & Co.
Pros:
• With a small city atmosphere and greater work-life balance than larger centres, Victoria is still large enough to provide opportunity despite lacking some big-city amenities.

• Victoria has many advantages: short commutes, beautiful weather (less rain than Vancouver), and less pressure for billable or long hours.

• There is a greater chance for younger lawyers to get into court, handle diverse practice areas, and take on leadership roles while learning practice-management skills they would not get in a larger firm.

• We have excellent and active Canadian Bar Association B.C. subsections that meet regularly for education and networking.

• The local bar is very collegial with several Victoria Bar Association meetings each year.
Cons:
• The most obvious one would be the lower salaries in Victoria when compared to downtown Vancouver salaries; however, this does not mean that one cannot make a decent living here.

• There is also a lack of in-person legal education courses available on the island, which can mean a trip to Vancouver once a year.

• A number of firms in Victoria do not hire articled students or younger associates. As well, there are fewer mentoring opportunities for young women lawyers with experienced women lawyers in private practice.
---
Practising tax law
David Nathanson
Davis LLP, Toronto
Pros:
• It's intellectually challenging and generally lucrative work.

• Tax law cuts across almost all other areas of law.

Cons:
• The continual and voluminous reading required to stay up to date in the field.

• The high burnout rate of lawyers in this practice area.
Heather R. DiGregorio
Burnet Duckworth & Palmer LLP, Calgary

Pros:
• Tax law is a very creative field that involves finding and creating solutions for clients with a wide range of needs. If you enjoy innovative problem solving, then you will never be bored practising in this area.

• The practice of tax law is very diverse and there are endless different areas in which you can specialize. Tax planners help businesses, individuals, estates, and charities accomplish their goals while attracting a minimum amount of tax. On the other hand, tax litigators help businesses and people resolve their disputes with the Canada Revenue Agency. No matter what type of personality you have, there will be an area of tax that interests and challenges you.

• Tax legislation is unique because it is actively used by governments as a policy tool. Economic and social objectives are achieved through changes to federal and provincial tax legislation. Following the changes and understanding the policies gives you a greater knowledge of the structure of our governing economic and social systems.

• Tax law affects almost everything that people do, and yet so few people understand it. This makes tax lawyers a hot commodity, with valuable expertise. Not only that, there is always a need for tax lawyers, regardless of the state of the economy.

Cons:
• The learning curve in tax law is very steep, and the continuous learning requirements are extensive. It can take years to build up enough knowledge to advise clients competently. If you don't have a genuine interest in the subject matter, then you won't have the stamina to stick with it.

• It can be difficult to keep up with all of the changes to tax legislation, because governments make changes every year through their budget process.