Legal Aid Ontario will see steep budget cuts under a budget released by the provincial government on April 11.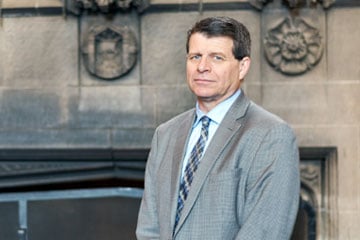 Legal Aid Ontario will see steep budget cuts under a budget released by the provincial government on April 11.
The organization, which says it provides legal services to low-income people independent of the government but uses public funds, will see a cut of $133 million in the year ahead, and the province said in the budget it hopes to save $164 million on legal aid spending each year starting in 2021. Funding for legal services for refugees will be affected by the cuts, says LAO president and CEO David Field.
"Certainly, we are still going through the numbers — we just found out yesterday — I think it is realistic to say that our refugee services will be affected," says Field. "Our priority will be to focus on client services."
Lawyers are still waiting for more details on how the budget cuts will be enacted. For example, Doug Ferguson, director of community legal services at Western Law, said on Twitter that there are no details yet on how student legal clinics will be affected.
Kate Robertson, a lawyer at Markson Law who accepts legal aid certificates, says the funding cuts may compound pre-existing problems and inefficiencies in how these systems are managed. If fewer cases receive legal aid support, it shifts the burden to the criminal defence bar and the accused to make up the difference, she says.
"As someone who has been working in the criminal justice system for years — not only as defence counsel but also on the other side of the courtroom as a prosecutor — I believe it will not save the public money to implement reform to Legal Aid Ontario's budget," she says. "It simply adds to how much the public needs to pay resource courts — that includes court staff, judges and the amount of time that police services needs to devote to criminal litigation. . . . It will also slow down and clog courts in a system that is already heavily backlogged and could very well cause cases to be tossed because of unreasonable delay."
The union that represents 350 Legal Aid Ontario lawyers, the Society of United Professionals, called the cuts "catastrophic" and "unprecedented," estimating that the cut represented more than a third of Legal Aid Ontario's funding and "will absolutely mean job losses for legal aid lawyers."
Field says LAO will be talking to lawyers who are services providers and get their comments on how they think LAO should be addressing the changes.
"The staff are an important part of our delivery model; that's going to remain a focus for us," he says.
The Canadian Forum on Civil Justice found last year that the average spending amount for people dealing with legal problems is about $6,110. LAO's website says it offers certificates for household incomes of $11,632 to $50,803, depending on the circumstances and household size.
"We have had challenges in the past. Usually, it's because of expenditure increases or demand for services. I think the numbers speak for themselves. Any organization that's faced with a 30-per-cent reduction has some challenges ahead of it," says Field. "Our clients really represent the poorest people in the province. If there are other services that provide access to justice, we support that. . . . We work closely with the Law Foundation to make sure access to justice remains a focus, and we are going to continue to do that."
The Ontario Bar Association called Ontario's provincial budget reduction to legal aid services "drastic" and said on Twitter that it will "continue to push for protection of the most vulnerable and a recognition of the value of lawyer services."
The Law Society of Ontario, which regulates lawyers and has been in the process of rekindling ties with Legal Aid Ontario, said in a statement that it was "gravely concerned."
"The reductions will have a significant impact on vulnerable Ontarians who require legal assistance, and have no other means of obtaining it," LSO Treasurer Malcolm Mercer said in the statement. "This major reduction in such a short period of time will cause increased court delays and threatens to seriously disrupt the administration of justice."
Brampton lawyer and law society bencher Raj Sharda, who accepts legal aid certificates, says the reduced funding does not serve access to justice.
"The financially vulnerable of this province need to receive a more comprehensive provision of legal services," he says.
Ontario's budget change comes amid a provincial cost-saving plan that will affect the justice sector broadly. The province said it expects to spend two-per-cent less on the justice sector between 2019 and 2022 through steps such as combining tribunals and digitizing juror selection, in-custody court appearances and evidence collection.
Ontario is not the only province that has had pushback from the legal community about legal aid cuts. In British Columbia, the Legal Services Society and the government recently announced a funding agreement and narrowly avoided a shutdown scheduled to begin on April 1.
Robertson says the legal aid funding cut in Ontario is an "astonishingly deep" reduction. "That's something the public needs to know when they weigh and measure the reforms that have been announced to the budget," says Robertson. "In my opinion these cuts . . . undermine access to protections of constitutional rights in Canada, because access to legal representation an essential way of ensuring individuals' rights are protected."