Ryerson University has been dealt a major setback in the final stages of its plan for a new juris doctor program.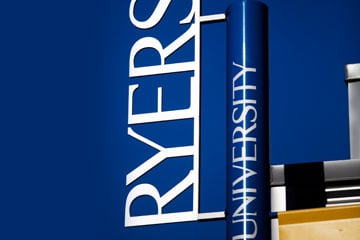 Ryerson University has been dealt a major setback in the final stages of its plan for a new juris doctor program.
Ryerson's law degree program, which was set to open applications in August 2019 and begin classes in September 2020, has been refused program approval by the Ontario Ministry of Training, Colleges and Universities.
Despite entering the final stages of the approval process after receiving the support of the Law Society of Ontario in February 2018, Ryerson required the province's program approval process to move forward, as well as level of provincial funding, called a basic income unit, which was requested at $5,700 per student, according to Anver Saloojee, dean of record at Ryerson Faculty of Law, who spoke to Law Times in August.
On Wednesday, Merrilee Fullerton, the minister of Training, Colleges and Universities, said in an emailed statement that "it was not in the best interest of the people of Ontario to approve the proposal at this time," citing concerns surrounding the use of tax dollars.
"The Ministry considers many factors in making a recommendation to me. Factors like: whether the program duplicates other programs in the province; labour market demand; student demand; appropriate tuition rates, and if the program aligns with an institutions Strategic Mandate Agreement," said Fullerton adding that law "jobs are expected to be more difficult to find, the probability of unemployment is higher, and wages and salaries have recently increased at a slower rate than other occupations."
"However, I am absolutely committed to working with Ryerson University on programs that deliver results for their students, giving them the skills needed in the workforce of the future," said Fullerton.
The manager of public affairs of university relations at Ryerson University, Johanna VanderMaas, told Legal Feeds via email that the school is "very disappointed" and noted that the law school had been approved by three accreditation bodies.
"Ryerson is not looking for new funding but rather to transfer enrolment funding and OSAP, already approved by the government, toward legal education. We will continue to work in good faith with the provincial government to explore a path forward to offer OSAP-eligible legal education that's innovative, promotes access and diversity and produces practice-ready lawyers to meet the growing needs of Ontarians and small businesses across the province," she says.
"I think that's really masking the issue," says Mark Cohen, CEO of Legal Mosaic, a legal business consultancy firm. Cohen has visited and spoken at Ryerson and speaks often about the impact of technology on the legal industry. Cohen says he is "really disappointed" with Ontario's decision.
Law schools need to change to become more closely aligned with the marketplace for legal services, and Ryerson's proposed curriculum would address many issues that are holding back U.S. Law Schools as well, Cohen says.
"Ryerson was to be a very different type of law school with a very different curriculum," he says. "And it was really designed to address and remedy the very problems that were cited as the reasons for voting down the proposal."
While the province highlighted the struggle of law grads finding work, Fernando Garcia, vice president of legal and compliance and general counsel at Cargojet, says while that is a pressing issue, there are also "huge access-to-justice issues" and the Ryerson program was proposing to deliver the kind of lawyer to the community that would serve more of it.
"There's lots of opportunities that could come around. For example, if you can't afford a lawyer, but you have a new type of lawyer that comes out who utilizes legal technology to minimize the cost of providing legal services, you can now, in essence, hit a whole new market that was not being served before because it couldn't afford it," he says.
The rejection of the what Saloojee called the first Toronto-area law school in more than a century — which would have made it the ninth in Ontario and 24th in the nation, based on data from The Council of Canadian Law Deans — comes as young lawyers face a number of challenges, including mounting debt and a job shortage, as Law Times reported in a four-part series this past summer.
Proponents of the school told Law Times the new law faculty could improve the odds for job-seeking graduates.
Anthony Morgan, a human rights lawyer based in Toronto, told Law Times earlier this year that adding more law school slots in Ontario could improve access to legal education for underrepresented groups. Chris Bentley, managing director of Ryerson's Law Practice Program and Legal Innovation Zone, said the curriculum is designed to focus on technology and entrepreneurship so Ryerson's law graduates will have "no trouble getting jobs."
Ryerson's proposed curriculum, designed for 150 students entering the program in the first year, included many of the usual mandatory law school courses, but it also aimed to offer some more innovative options, such as required courses on the business of lawyering, social innovation and the law, legal innovation and access-to-justice solutions, according to Ryerson's April 2017 proposal seeking approval from the Federation of Law Societies of Canada. One-week boot camps at the beginning of each semester would tackle career planning, technology innovation, accounting, taxation and financial analysis, coding and Emotional Quotient/Cultural Quotient (EQ/CQ), according to Ryerson's proposal.
"Do I think we needed another law school? No. Do I think we needed this kind of law school? Yes," Garcia says.
He says the law school concept has to change to be in line with the modern-day lawyer. It is important to be skilled with technology, business development, how to run budgets and other project management tasks, he says.
Ryerson initially set tuition at $20,000 per year for law students, according to a report last year from the Academic Standards Committee of Ryerson's Senate. For the academic year ending in 2017, annual tuition at Ontario law schools ranged from $17,866.37 at Lakehead University in Thunder Bay, Ont. to $37,734.82 at the University of Toronto, according to the April 2017 report seeking FLSC approval for Ryerson's law school. The University of Toronto's fees have been the subject of controversy among a group of current students and alumni, who in early November 2018 called for certain measures of financial transparency from the school.
Despite plans for significantly lower tuition, Ryerson was not without its critics.
"I think the problem is that law schools have become cash cows for universities," said Jan Weir, a lawyer who teaches business law at the University of Toronto's management school in Mississauga, Ont., in August. "Only upper-middle-class kids can afford to go."
It seemed "irresponsible to be bringing in even more prospective lawyers at a time when the current graduating cohorts are experiencing widespread articling position shortages and job shortages," said Bencher Jeffrey Lem in August, after he voted against the proposed school at LSO's Convocation earlier in the year.
Statistics from the law society and from Ryerson's law school approval proposal FLSC show the average debt of first-year Ontario law students is $35,358, which rises to an average of $53,876 in the second year and $71,444.17 in the third year.
Then comes the challenge of finding a job to pay down that debt. A May 2018 report about the lawyer licensing process by the Law Society of Ontario's Professional Development and Competence Committee said only 10 per cent of Ontario law firms currently provide articling positions. An estimate by the Higher Education Quality Council of Ontario projects 1.6 new licensed lawyers for every one practising position in Ontario by 2025.
In October, the law society finished a consultation on four options for lawyer licensing — and the training path for Ontario's future lawyers depends on what Convocation decides. Proposals range from having a "Practice Essentials Course" for aspiring solo practitioners to removing articling altogether and having all candidates complete a virtual law practice program. The LSO's Professional Development and Competence Committee says it will develop recommendations for Convocation's consideration early in 2019 based on the feedback it received.
— With files from Aidan Macnab