Lawyers in formal court dress mingled with pot-banging demonstrators of all ages in a central Montreal square yesterday after some 500 jurists took to the streets to protest against Quebec's
Bill 78
.
The law, passed in efforts to get protesting Quebec students back to class, restricts freedom of assembly, protest, or picketing on or near university grounds, and anywhere in Quebec without prior police approval. The law also places restrictions upon education employees right to strike.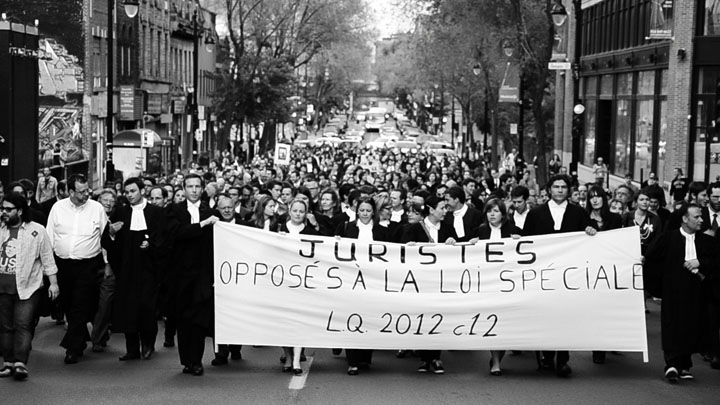 Rousing cheers met hundreds of lawyers and notaries as they filed into Place Émilie-Gamelin — one of the focal points for nightly protests in Quebec's widening political and social crisis — following a solemn march in near silence that began almost two hours earlier at Montreal's Palais de Justice, the main courthouse.
"We are here to express our concern with the lack of confidence of a growing number of our fellow citizens toward our judicial institutions that are there to uphold fundamental individual and collective liberties and the primacy of the law," litigator Rémi Bourget, one of the organizers of the march, shouted through a megaphone.
"We are also officers of justice and many of us will be on the front lines of the fight to have the law declared illegal," said Bourget, calling Bill 78 "a disproportionate attack on our freedom of expression, association, and of peaceful protest."
Yesterday's street protest by legal professionals of all stripes really began last week, a few days after Bill 78 was adopted with a few lawyers sharing concerns about its implications on a Facebook page, Bourget said before the march. That quickly morphed into plans for a formal protest to "remind people of the dignity of our function [as lawyers] and our system of justice" in a "spontaneous grouping that is independent of any organization or political party."
"I am outraged by this law that bullies the rights of association and the individual right to protest that was adopted with the goal of putting an end to the conflict rather than focusing on the problem and settling it," said Nathalie Belley, a solo practitioner and a litigator with 20 years of experience who travelled from Chambly, a city about 25 kilometres southeast of Montreal to attend Monday's march. "It erodes the future of democracy and the idea that a special law can be adopted to control the population at large is scary."
Besides the protest march, hundreds of Quebec lawyers have volunteered their time or sent input for a court challenge on the constitutionality of Bill 78 by some 124 individuals, community organizations, unions, and Quebec's three main student groups that is set to be heard before a judge of Quebec Superior Court this Friday.