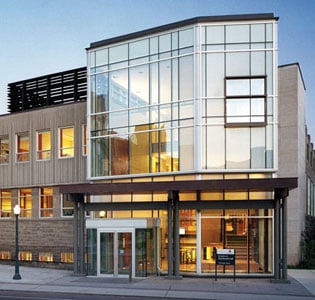 Queen's University Faculty of Law and India's Jindal Global Law School have signed an agreement to set up a student exchange and study abroad program. The program allows JD and LLM students from Queen's to study at Jindal for a term, and LLB and LLM students from Jindal to study at Queen's for a term.

The rising trend of globalization has prompted Queen's University, as well as other institutions, to consider international partnerships. "I think certainly it's responsive to the interests of our students," says Queen's law dean William Flanagan. "For us to thrive [as a country] economically, we need to think of our opportunities around the world."

In addition to the cultural ties that many students have with India, Flanagan also cites India's booming economic growth as a strong reason for this exciting partnership.

"We have a variety of exchange programs with leading law schools around the world: the University of Hong Kong, the National University of Singapore, University of Cape Town, University of Melbourne, and the University of Sydney. . . . I had long been interested in an exchange with a law school in India and had investigated a number of law schools," says Flanagan.

"But this law school came to my attention particularly when I found out that one of our graduates, Jonathan Burton-MacLeod, is teaching at [Jindal]. [Last May], I met with Jonathan and the dean of the new law school [in New Delhi] and was very impressed. They were aiming high to establish a law school of international rank in India."

In November, Queen's University principal Daniel Woolf travelled to India with 14 other Canadian university presidents. While there, Woolf signed a memorandum of understanding with Jindal Global Law School. Flanagan praises the international reach of this global school. Many of its professors have studied abroad themselves — possessing graduate degrees from several international institutions. Much of the faculty is composed of individuals who are foreign to India.

"[Jindal is] attracting some very high calibre people to teach at this law school," says Flanagan. "And I'm proud to say we're one of the first Canadian law schools to develop a strategic partnership with this school."

Headed by donor and Queen's alumnus Andrew Best, Queen's bursary program will give financial assistance to students from Jindal to study at Queen's on exchange.

"We're actually able to offer financial assistance to students coming on exchange, which is unique," says Flanagan. "It's actually the first bursary at Queen's to support foreign students coming to study at Queen's on exchange. And we're very grateful to Andrew Best for setting that up. I think it's going to really make for a thriving partnership with Jindal."

Flanagan is excited to offer this opportunity to students. He sees many advantages for students, outside of a term's worth of course credits.

"Certainly, there's lots of ways to develop this exchange," he says. "But there's nothing that quite replicates the experience of studying in India for our students and the experience for Indian students to study in Canada. To be exposed to the laws of another jurisdiction, a different education system . . . it just provides them with a prospective on the world that they would not otherwise have."

"As they go on to practices, legal professionals who have studied in Jindal or Cape Town or Singapore or Hong Kong or Australia, [the exchange program] gives them some insight," he continues. "And if they've studied lots of the relevant jurisdiction, and if they're engaged in some kind of cross-border transaction or international transactions . . . to have that sense of the other jurisdiction [and] how it operates, I think it can be of immense value."

The first student from Jindal will be arriving at Queen's University on exchange from India this month.