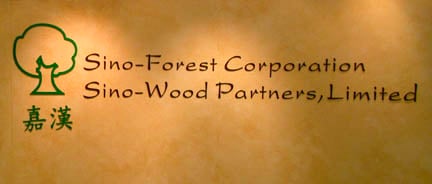 Lawyers representing plaintiffs in a class action suit against Sino-Forest Corp. say a rumoured RCMP investigation into whether executives of the company defrauded Canadian investors will have no impact on how they will move forward with their action against it.
The Globe and Mail reported Nov. 10 that the probe will centre on whether senior executives committed fraud by overstating the value of the company's forest assets and its revenue. However, the RCMP neither confirmed nor denied a police probe of Sino-Forest.

"It's customary for them not to confirm or deny an investigation is taking place," said Dimitri Lascaris, a partner at Siskinds LLP. Siskinds is one of the firms representing shareholders in the class action lawsuit against Sino-Forest. "They may have actually been conducting some sort of investigation for months now. All I can say is based upon past experience, I don't think investors can rely upon law enforcement in this country acting any time soon and so we're going to have to do whatever we can in civil proceedings to come to some kind of remedy."

Siskinds and Koskie Minsky LLP, counsel in the Sino-Forest securities class action, served a statement of claim on the company and others in August. The class action raises questions about how Sino-Forest conducted its business and the manner in which it raised capital from public markets. It alleges Sino-Forest falsely maintained that its financial statements complied with Canadian accounting principles and overstated the size and value of its assets and revenue from the sale of them.

Lascaris said that while he encourages "governmental investigation into matters of this nature," there have been similar investigations with other companies but with little result in the end.

"I think it's fair to say the number of convictions they've secured and time they've taken has been unsatisfactory historically," he said.

Sino-Forest is already being investigated by the Ontario Securities Commission and by the company's own independent committee.

The company, which operated in China but traded on the Toronto Stock Exchange, has been under a black cloud since June, when short-seller Muddy Waters LLC accused the company of multiple acts of fraud. Then in August, the OSC halted trading of the stock and said that insiders at the company, including former chief executive Allen Chan, committed acts that they "know or reasonably ought to know perpetuate a fraud."

Before the fraud allegations surfaced, Sino-Forest had the largest market value of any forestry firm on the Toronto Stock Exchange.