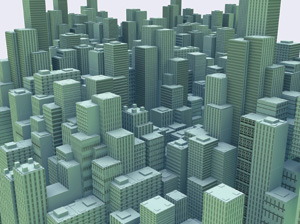 Commercial real estate is entering an unprecedented 13th year of growth with no signs of letting up. It''s a plus for both the real estate lawyers and title insurers who are changing the way that the commercial real estate market protects itself from risk. But lingering memories of the 1980s crash has law firms looking over their shoulders wondering if the boom will turn to bust.
Title insurance executive John Rider can't see any sign of an end to the boom that has been keeping commercial real estate lawyers busy for several years.

Yet Rider, a lawyer who is now vice-president of the commercial division at First Canadian Title, acknowledges there is some truth to the saying, "When people start saying there's no end in sight for this boom, that is the time you run for the hills."

The Canadian commercial real estate market is now in its 13th consecutive year of growth, according to Raymond Wong, national director of research for the real estate services firm CB Richard Ellis. He says this defies the traditional notion that real estate markets follow seven-year, boom-and-bust cycles.
While demand for office space tapered off a little this year in the Toronto market (which represents 50 per cent of all office space in Canada), it is still booming in western Canada. And other sectors, such as the industrial and investment real estate markets, are still going strong, says Wong. The market may take a pause or make an adjustment in the near future, he predicts, "but I don't think we'll experience a crash."

"It's a pretty nice boom," adds Bram Green, a partner in the real property and planning group at McCarthy Tétrault LLP. "The number of transactions is very high. The dollar amounts are very high and when portfolios come out on the market, there are a number of purchasers clamouring to acquire them. It's very competitive."

Like many business law firms, McCarthy Tétrault has been bulking up its commercial real estate practice to accommodate the demand generated by this boom. The firm has been hiring a lot of associates in the past two years, trying to structure the department so that there are plenty of junior or intermediate level lawyers available to work on large transactions and help close deals efficiently, Green says.
It's a similar story at mid-sized firms. WeirFoulds LLP, for example, has hired more associates to give its commercial real estate more depth, draft documents, work on closings, and "move things along at a reasonable hourly rate,"says partner Brad McLellan, chair of commercial real estate and co-chair of the infrastructure and public projects practice group.

"People have been saying now for three or four years that the commercial real estate market is going to slow down and prices are going to drop," says McLellan, "but our experience here is that it's very, very busy."

So what is behind this commercial real estate bonanza? Is it the boom that will keep on generating work for lawyers and business for title insurance companies? Or is there a bubble waiting to burst and what will happen then to the law firms that have bulked up for the boom or the title insurers whose business has been growing by leaps and bounds?

Rider, whose firm's commercial title insurance business grew by 25 per cent last year, says a major influence on today's real estate boom is the presence of pension funds and other institutional investors in the marketplace. He notes that real estate was the preferred option of many investors looking for somewhere to put their money after the high-tech bust in 2000 and 2001, while the Canada Pension Plan Investment Board began investing heavily in property following a change in the rules governing how CPP money could be used.

Alberta — with its economy super-charged by oil and gas — is the epicentre of the current boom, but Rider notes that commercial real estate is thriving from coast to coast. "It's the first time in recent memory that every region of the country is doing extremely well."

The only cloud on the horizon, he says, is a labour shortage in Alberta that it is stalling some development projects and also having an impact on British Columbia because labourers and trades people are migrating east.

Title insurance is playing a huge role in this boom, as it is being used more than ever before in commercial transactions and is helping the marketplace operate more smoothly and efficiently, Rider says.

Real estate investment trusts, for example, rely on title insurance because they need to have transactions closed quickly so that they can be reflected in their unit price when the units go on sale on the markets. If there is a delay in closing real estate transactions, they are forced to halt trading and go through a cumbersome process of re-pricing their units. Title insurance provides them with so-called gap coverage that allows them to consider a transaction closed as soon as the documents are signed and delivered to the registry office, without having to worry about the long delay that occurs in some provinces prior to the title being officially registered.
"This has allowed all kinds of public market deals to flow much more smoothly and easily," says Rider. Lenders also like title insurance, according to Rider, because policies are fully assignable — they can be transferred from one mortgage holder to another. A lawyer's opinion, on the other hand, is only valid for those who hold the mortgage or have an interest in the mortgage at the time the opinion is given.

Title insurance companies maintain that lawyers now see the value of commercial policies and tend to use them more. "It's a tool that has been added to the lawyers' kit bag that allows them to serve their clients better. If we can save them time, they're happy about that," says Patrick Squire, legal counsel for commercial services at Chicago Title Insurance Company Canada.

Green at McCarthy Tétrault agrees with this assessment. "It's definitely being used more than in the past," he says, noting that it is particularly useful with large transactions or loans involving a number of properties in different provinces.

With Chicago Title, Title Plus, and now Lawyers Title Insurance Corporation competing with First Canadian in the commercial title insurance arena, there is definitely more choice available in the marketplace and this can be a big advantage, says Green.

"Competition is good because it gives clients the ability to try and get better prices on title insurance. Also, it may result in title companies being more prepared to insure over certain issues [that they would not have insured over before]."

Sharon Landsman, national director of sales and marketing at Lawyers Title, a subsidiary of the U.S.-based LandAmerica Financial Group Inc., offers another argument in favour of competition in this field. "It's important to have choice and not a good idea for a company to place all their title insurance with one company because, from a risk point of view, it's like any other situation. Would you put all your money into one stock, especially in the light of what's happened to some of the large companies?" she says, suggesting that it is better to diversify your risk and place insurance with various people.

This raises the question of what will happen if and when the property markets turn sour.
Squire at Chicago Title says, "Our risk is associated with lenders' policies. When borrowers go into default, lenders start to realize on the properties and that exposes title defects. When everything's running smoothly everyone's making their payments and the title insurance policy is on the shelf never to be looked at. When the market goes down, our claims will presumably increase."

Nevertheless, Squire says, "All the title companies out there have significant ratings and the financial wherewithal to back up their claims."

Rider predicts that there will also be some positive outcomes for the title insurance industry when property markets decline because people who are not insured will start to see problems when they realize on their mortgages or sell off their properties. They will see that others who did get title insurance are making claims and receiving money. So they will be more inclined to buy title insurance coverage next time.

And what will declining property markets do to the lawyers and law firms that have bulked up for the boom?
Green says it will just mean a change in the kind of work that real estate lawyers have to do. "If the real estate market sours, we'll pick up enforcement work with respect to loans. People may decide to get out of the real estate market and there will be transactions because people are selling properties. There's still always going to be a buyer out there."

McLellan at WeirFoulds is a little less sanguine. "A lot of law firms can still remember the painful times when the real estate market dropped significantly in the late 1980s and early 1990s. Real estate departments had grown too large and firms had to rationalize what they were going to do. I hope that — in our case and at other law firms — we learned some lessons from back then and we didn't expand our departments in too aggressive a way," he says, noting that his firm "has tried to grow in a planned orderly way, thinking it may not always be as busy."
"I would hope, if there is a slow down, it's not the kind of recession we encountered in the late 1980s or '90s," McLellan adds. "Hopefully, we've done our planning in better way than we and other law firms would have done before."