We revisit our conversations with last year's View 2013 interviewees to see how the year panned out.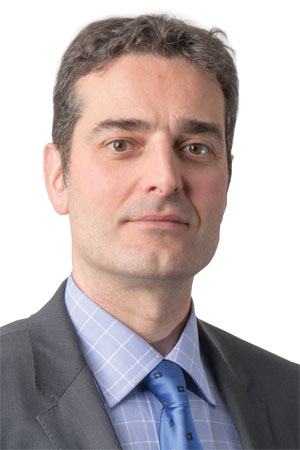 Mirko Bibic, EVP, chief legal and regulatory officer, BCE
Preparing for compliance with Canada's anti-spam legislation was an immense undertaking, involving significant work and investment in 2013, both in our business units and in the regulatory team. We undertook extensive audits of our commercial electronic message and downloading activities, and created a database to track customer consents and preferences with respect to CEMs and downloads. Many business processes and contracting documents had to be adjusted. We also developed an integrated web page that allows customers to easily manage their marketing preferences with Bell relating to telemarketing, relevant advertising, and CEMs across all Bell companies. It was a lot of work but as a result, we're well-prepared for CASL coming into force on July 1.
When we spoke last year, I told you we would be back at it with Astral through the Spring of 2013. Soon after, we announced an agreement securing Competition Bureau approval of the transaction, pending certain divestitures. That set the stage for another CRTC proceeding, with final approval of the transaction in late June. We closed the transaction on July 5 and completed the integration of Astral into Bell Media soon after. But it's indicative of the complexity of these kinds of transactions in as heavily regulated an industry as broadcasting that we'll be working through approvals on the various divestiture transactions into the Spring of 2014, two full years after we first announced the acquisition.
Daniel Marion, Vice president, general counsel and corporate secretary, Thales Canada Inc.
As I predicted, there was further enforcement of the Corruption of Foreign Public Officials Act with its first conviction. In R. v. Karigar, the Ontario Superior Court of Justice convicted Nazir Karigar of agreeing to offer a bribe to a foreign official contrary to section 3(1)(b) of the act and the Integrity in Public Contracts Act (Quebec) had a spectacular impact on companies involved and bidding on large public contracts. We have seen companies advertising their compliance commitment to be seen as good corporate citizens, this will have a long-term effect. Thales Canada maintained the course set many years ago in this area, the processes are in place but we always remain vigilant by streamlining decision-making in areas where we could encounter risks and by maintaining our training.
Although some potential (key) projects were postponed to 2014 in rail signalling we have had our fair share of market opportunities in 2013. With six new lines in China through our joint venture with Shanghai Electric, two new lines in Hong Kong, our first breakthrough in Chile, and on the home front, the Ottawa LRT. In Defense & Security we secured 10 new contracts. In aerospace our sustaining programs are generating stable revenues. The contract in Chile will require the addition of a Spanish-speaking lawyer or contract manager to our team.
Geoff Creighton, SVP, general counsel, IGM Financial Inc.
Things seem to move in one-year cycles. Last year, I mused about the effect of pending anti-spam legislation on IGM's business, and that of other firms that rely on communication with clients or potential clients. That topic is timely again, as Industry Canada released its final regulations recently and the act will come into force in summer 2014.
It appears the government has tried to mitigate the most troublesome features identified by industry, where the net intended to catch "bad actors" was cast far too wide and caught legitimate business activities. For example, the regulations establish exemptions for certain third-party referrals (the lifeblood of many small businesses) and business-to-business communications. The Canadian legislation still starts with a blanket prohibition, so how the exemptions are interpreted and applied (by the CRTC) will be critical.
Last year I also noted the flurry of regulatory initiatives that had been released by securities commissions; that too is timely once more — the CSA has completed a round of consultation on the duties of financial advisors, and mutual fund fees, and recently released its summary of those debates as a precursor to the regulators' own next steps. Stay tuned for more. Finally, when referring to my own company, I alluded to an appetite for possible international expansion — and in the past year, our Mackenzie Investments side has opened an office in Singapore, and our developing institutional capability is opening doors abroad.
So I guess I am either good at prognostication, or got lucky this year.
Anna Fung, Vice president, legal and general counsel, TimberWest Forest Corp.
Hindsight is always 20/20. As it turned out, 2013 was the year we rolled out a new code of business conduct and ethics at TimberWest which reflects current best practices and changes in laws in the competition and anti-trust area as well as in the anti-corruption and anti-bribery field. Both areas are potential minefields for resource industries, and in particular, those that carry on business in foreign jurisdictions. We have initiated a code of conduct annual certification process this year which was preceded by in-person training sessions rolled out to all employees in the organization regardless of their positions. By doing so, we are hopeful we will ingrain in everyone a culture of "honouring our values and doing the right thing" rather than paying lip service to the ethical standards articulated in our new Code of Business Conduct.
As for growth, while our desire to grow internationally has not taken hold this year, we are continually looking at building our business domestically as well as internationally. Opportunities for expansion in the forestry industry are becoming increasingly difficult to land as log prices continue on an upward climb and there is more competition to acquire desirable assets. However, we are looking at other related uses of forestry lands that optimize the potential return from tree to stump and enhance sustainability at the same time. It is an ongoing process of evaluating growth opportunities that present themselves while still attending to our knitting as responsible land and forest owners.
Jane Fedoretz, Vice president and general counsel, CEDA International Corp.
As per the strategic plan we now have all of our operations in Canada. We acquired another company and the deal closed in July. This aligns with our strategic plan as it is a Canadian company located within the region where we do the majority of our business.
We have worked on our compliance program. We established a registry and distribute bi-monthly compliance articles. The CEO of CEDA is astute to compliance matters and as such we are in the throes of developing a customized compliance training program. We also have a licence and are using RealBiz TM shorts, a compilation of ethics and compliance related videos, which have been developed by the Second City Comedy Troupe. They are short vignettes that are humorous, so have a great audience appeal, but send an important and impactful message. At each executive meeting I discuss compliance matters with the executive team, so that they can remain aware of recent developments. I am doing this at the board level as well. We are a small law department (over the course of this year our team shrank even further, so now we are down to two lawyers, me included, one paralegal, and one admin assistant), so we have limited resources and time but I am thrilled with what we have accomplished with this initiative.
Alaine Grande, Chief legal counsel, AstraZeneca Canada Inc.
In 2013, two areas of focus for AstraZeneca were the Comprehensive Economic Trade Agreement negotiations between Canada and the European Union, and the modernization of the Food and Drug Act and Regulations (Canada). On Oct. 18, 2013, the Canadian federal government announced an "agreement in principle" had been reached in the CETA negotiations with the European Union. The life sciences intellectual property improvements included in CETA are, 1) patent term restoration which offers research-based pharmaceutical companies the opportunity to recover up to two years of lost time on their patents as a result of regulatory or product approval delays, and 2) a right of appeal, that allows research based pharmaceutical companies to appeal a decision under the Patented Medicines (Notice of Compliance) Regulations; a right that is currently only available to generic pharmaceutical companies. We believe the improvements to intellectual property protection in Canada brought forth by CETA are very important to our industry and to our country, as they demonstrate support for innovation and will help drive further research and development investment into Canada.
The modernization of the Food and Drug Act and Regulations (Canada) continues to be an area of focus for AstraZeneca in 2014, as the resulting legislative and regulatory changes have an important impact on our industry and our business. Recent events include Health Canada's continuing work on the implementation of a new framework for the authorization of orphan drugs, and the federal government's introduction Dec. 6, 2013, of new patient safety legislation, Bill C-17 entitled Protecting Canadians from Unsafe Drugs Act (Vanessa's Law), which aims to "improve Health Canada's ability to collect post-market safety information and the ability to take appropriate action when a serious risk to health is identified."