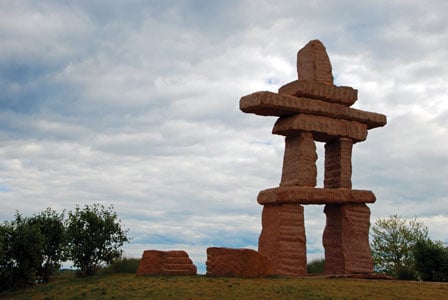 As the wind blowing across Canada's wide-open spaces hits Weather Dancer 1, a wind turbine in southern Alberta that generates enough energy to power about 460 homes, there is a buzz in the air about the past and future of energy. The turbine was built a decade ago, when one of the area's First Nations, the Piikani, predicted the wind of the future would blow on the direction of renewable, carbon-free energy production. And because the idea of renewable energy comes as naturally to the Piikani as their beliefs on respecting the environment, Weather Dancer 1 was aptly named after an integral part of a traditional worship ceremony.
But what made Weather Dancer 1 even more special is that it is the first project of its kind in Canada built by a First Nations company, the Piikani Utilities Corp. Since its inception, Weather Dancer 1 became an example of what Canada's Aboriginal Peoples can achieve through working on renewable energy projects in co-operation with energy companies. Weather Dancer 1, which is a joint venture with EPCOR Utilities Inc., placed the seed for other wind turbines in the area, but more importantly, it showed the way many others are now following.
As Canada tries to be a global leader in reducing carbon emissions by turning its vast natural resources into sources of green energy, a renewable energy industry is quickly growing to meet the demand. That growth is fuelling a new relationship between Canada's First Nations and the energy companies that need access to their reserves and traditional territories to build hydroelectric or wind-power projects. In most cases, in-house counsel and outside lawyers who are forging the relationships, say there is great potential for success but also warn of some common pitfalls.
With internal and external factors driving up the number of proposed renewable energy projects, many potential developments involve negotiations with First Nations, says Ron Stuber, a partner at Fraser Milner Casgrain LLP in Vancouver. "The reasons are apparent: the need to reduce carbon emissions, the need to reduce the use of fossil fuels. Certainly we have in Canada, across the country, very strong renewable resources and the time is right to try and develop, and I think that's why we are seeing more of that."
Because projects often take many years from the inception to completion, a lot of patience is needed on all sides to stick to the process. "It's important to take the time to establish a positive relationship. It's one of the key features with dealing with First Nations that you need to get community engagement. It can be a more involved process than simply negotiating with a commercial organization. Patience is sometimes what it takes," says Stuber, who advises companies on how to properly negotiate agreements involving First Nations and renewable energy projects. "It's obviously important to recognize the particular circumstances and needs of the situation of the project and respect those of First Nations on whose traditional territory the project is located."
William Big Bull, one of the key players behind Weather Dancer 1, served on the Piikani council and led the efforts on that project. He now consults First Nations and companies across Canada on renewable energy projects. He says these projects have huge potential with many involving First Nations because they are on reserve lands or traditional territories. "There is a lot of potential because it is an emerging industry," says Big Bull, adding that as new opportunities arise, getting people who have the right experience to work on these projects is very important, but sometimes difficult. "We need some people with experience working with the industry and First Nations. That's the sore spot of all this work that's going on. There are a lot of people who have the capability, but that's just one of those things where we are working at a deficit."
He adds in the past First Nations have had mixed experiences, but lawyers are often able to step in and help. "We have had some very experienced lawyers who had a background working with the federal government," he says. They might not have been able to speed up the process, but "they helped to streamline and keep the focus on the issues."
The importance of having proper training for lawyers working in projects involving First Nations has not been lost in Patricia Bood, vice president of legal services and general counsel at Brookfield Renewable Power Inc., a company involved in energy project partnerships with First Nations. "It's important to have proper training for new lawyers on how to approach a partnership with First Nations, and on the issues that are most concerning to them. They need to know how we have worked with First Nations, what approaches have worked, what haven't, and why."
With a growing number of in-house counsel and other advisers becoming integral to the process, Bood describes the relationship between corporate counsel and First Nations as having "an appreciation for the unique issues and concerns that are more relevant to the First Nations," adding the consultation process exists not only for the special legal issues, their land rights, and cultural sites, but "we also respect the First Nations' decision-making and consensus-building within their community."
Consensus can be harder to achieve on some projects than others, as things can get complicated when trying to develop new projects, says Big Bull, who as president and CEO of Big Bull's Energy Consulting and a director at the Ontario Sustainable Energy Association has seen many of these frustrations in action. One of the issues he has seen over and over has been political interference both from inside the First Nations and from external forces with getting projects forward. "It puts [band] councils in awkward positions because they rely on in-house advice and a lot of time their own counsel take a back seat, and it becomes a battle between the legal issues as opposed to dealing with some of the fundamentals that need to drive the project," he says.
The solution is being flexible, knowledgeable, and innovative, he adds. "When you are dealing with First Nations, [these projects] have become a very sensitive issue, simply because it hasn't always worked in our favour, and there is a lot of bad experiences out there."
Trying to avoid such pitfalls, when Brookfield first started looking into building the Pehonan Hydroelectric Project on the Saskatchewan River, project leaders knew they had to do something different. Like others looking to invest in renewable energy, Brookfield faced several choices on how to approach the project that would be located either on reserve land or other lands to which the area's Cree nations have a traditional claim. While many investors come up with payment schemes to fund the local communities, Brookfield took a different approach it believes led to a win-win situation for all parties. So when the project is implemented, the James Smith Cree Nation, the Peter Chapman Cree Nation, and the Chakastapaysin Band of the Cree Nation will be partners with the two large investors, Brookfield and North American construction giant Peter Kiewit Sons Co. The three bands of the James Smith Cree Nation will be equity partners, involved in the development and ownership of a long-life power asset and providing a sustainable benefit stream for future generations, according to Brookfield.
Getting to that partnership wasn't always easy, says Bood. There were a lot of negotiations, and the juggling act wasn't just between the companies and the bands. "Talking to the First Nations also involved how to best approach that [situation] from a political and governmental relationship perspective. At the same time, we had to be sensitive to the relationship among the Cree as well, because when you are involving more than one [group], they always have their own dynamic, concerns, and issues that they want to make sure are met."
On the technical side, there was also a lot of dialogue between the company and the First Nations on whether the project would ultimately be on reserve land or what location in the river would be best. Internal discussions also focused on the project's term sheet, which is a summary of the key terms to be expanded later on in a contract. In-house lawyers played an important role in these negotiations, says Bood. "Probably in the past there was more outside counsel advising on this, but because of it being a much more prevalent issue, especially if your business brings you regularly in contact with First Nations issues, it's a legal skill and understanding that you develop in-house that you might not have otherwise."
She adds some discussions for other projects didn't come to fruition when the First Nations wanted a different approach to the relationship — things like money upfront or guaranteed royalty arrangement rather than a partnership that would depend on the prospect of the development like the one set up at the Pehonan Hydroelectric Project, which if completed will be a 250-megawatt facility to be located on the Saskatchewan River.
The project's proponents say its development would increase Saskatchewan's installed renewable generation capacity with proven clean technology that reduces greenhouse gas emissions. Should the project proceed to the construction stage, a partnership between Kiewit and the three First Nations will engineer, procure, and construct the project. Development of the project would increase Saskatchewan's installed renewable generation capacity by approximately 250 megawatts.
In other places, where things haven't worked out, it is easy to be entangled in pitfalls that often include misunderstanding of the impact of the project and not appreciating the benefits, adds Stuber. "I think it's important to take the time to carefully explain and . . . provide as much information as possible within the bounds of confidentiality to try to avoid any misunderstanding, because misunderstandings can lead to difficulties when First Nations may not be aware of the entire commercial nature of the problem," he says. "So I think as much as possible disclosure is important, if you want to avoid mistrust."
Developing renewable energy projects is not always a one-way street with companies approaching First Nations for permission or partnership to develop. It goes the other way too. As was the case with Weather Dancer 1, other Aboriginal Peoples have been able to successfully build projects with First Nations-owned corporations that have then set up contracts to sell the energy to the grid. One of the largest of these is the Umbata Falls Generating Station, a two-unit, run-of-river hydroelectric generating facility that has the capacity to generate 25 megawatts of electricity. It is located on the White River, approximately 330 kilometres east of Thunder Bay, Ont.
The station was developed by Innergex Renewable Energy Inc. for Begetekong Power Corp., the general partner of Umbata Falls LP. Begetekong is majority-owned by the Ojibways of the Pic River First Nation and holds the majority of shares of Umbata, with the remainder owned by Innergex. The plant is connected to the existing Hydro One Inc. feed into the Ontario electricity market administered by the Independent Electricity System Operator, according to the Ontario Power Authority.
Ventures like Umbata Falls were successful because through First Nations' vested interest in them, they were pushed forward, navigating through differing regulations at different administrative levels. Although the project was not on reserve land, the First Nation in the area was able to develop the site through extending its rights to the Pic River First Nation's traditional territory. "The [Pic River] council was very adamant that they respected the right to their traditional territory and used best practices and were successful in finding a partner that appreciated how to do business with a First Nation," says Big Bull. "It's an evolving market and when you put it down to dollars and sense, then people appreciate how it works, but if you are dealing just in theory people are very apprehensive to even consider them."
Projects like that at Umbata Falls are also encouraged under a series of Canadian laws that push for a green economy. In Ontario's case, the Green Energy Act of 2009 focuses on both energy and the need to involve the province's Aboriginal Peoples in the economic development of green projects. It's part of the Ontario Power Authority's Integrated Power System Plan, a 20-year plan that will determine how Ontario's electricity system will evolve.
The act pushes for "the participation by Aboriginal Peoples in the development and establishment of renewable energy projects." It also establishes "procedures for consulting Aboriginal Peoples and other persons or groups as may be specified in the direction, on the planning, development or procurement of electricity supply, capacity, transmission systems, and distribution systems." The act also empowers Ontario's government to "establish measures to facilitate the participation of Aboriginal Peoples in the development of renewable energy generation facilities, transmission systems, and distribution systems and such measures may include programs or funding for, or associated with, aboriginal participation in the development of such facilities or systems."
Having just moved back to his native Piikani and in sight of Weather Dancer 1 after spending a lot of time across Canada dealing with renewable energy projects, Big Bull says at the end of the day finding what both First Nations and investors are comfortable with might be just as important as the amount of money on the table. That will lead to faith in new projects.
"The tribes have found that they have been led down this path in the past where people can't deliver on their promises," he says, adding, that's why it is important to do things properly and avoid "conflict that creates loggerheads."