Nine law firms made recent announcements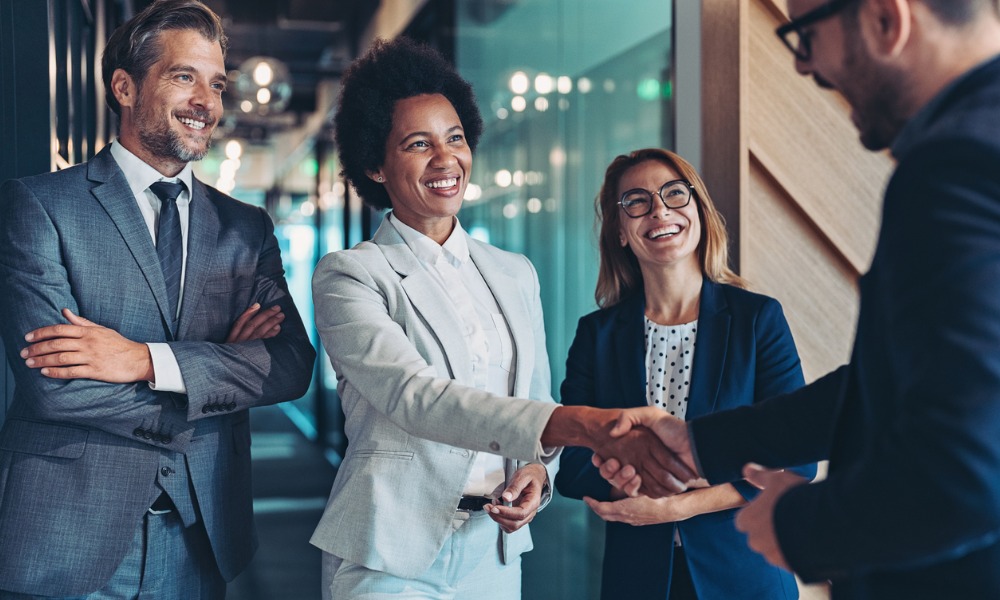 Welcome to this week's roundup of movements among major law firms, in which we sum up significant hires, promotions, departures, and other announcements.
Bennett Jones LLP
The firm welcomed Richard Burgos, Caroline Poirier, and Emmanuelle Demers as partners in Montreal.
Burgos has over 35 years of experience in real estate, mergers and acquisitions, commercial transactions, and corporate finance.
Poirier brings over two decades of experience with large and complex commercial transactions and contracts in the information technology sector, particularly in digital health and telecommunications.
Demers, who has over 15 years of experience, practises in the areas of civil and commercial law and public law litigation.
Сox & Palmer
The firm announced Todd Stanley as managing partner of its St. John's office. He has experience in corporate commercial, energy, and natural resources law.
Fasken Martineau DuMoulin LLP
Darren Lund joined as a partner in Toronto. His practice focuses on estate planning and estate administration matters.
"We are pleased to welcome Darren to the Firm to help our clients, whether they are individuals, families or appointed advisors, in a range of estate planning and administration matters," said Martin Denyes, the firm's Ontario regional managing partner, in a news release.
McCarthy Tétrault LLP
The firm welcomed Bruce Karn as a partner in its business law and construction groups in Toronto.
"Bruce's in-depth knowledge on all the moving parts of projects combined with his in-house background at one of Canada's largest construction firms will be invaluable to our clients," said Éric Gosselin, national practice group leader of the firm's business law team, in a news release.
Mintz, Levin, Cohn, Ferris, Glovsky and Popeo, P.C.
Alex North joined as a partner in Toronto. She has a broad banking and finance practice. She has represented clients such as agents, lenders, and borrowers on both sides of the Canada-U.S. border.
"Alex will play an integral role in servicing our clients on cross-border deals and she will enhance our debt finance practice," said Robert Bodian, the firm's managing partner, in a news release.
MLT Aikins LLP
Jonathan Bourchier, a partner focusing on complex commercial disputes in the Calgary office, joined the firm's executive board.
"He brings with him a strong understanding of Western Canada's legal landscape," said Aaron Runge, the firm's managing partner, in a news release.
The firm also welcomed Jennifer Williams as counsel in Vancouver. She focuses on commercial real estate and development.
Osler, Hoskin & Harcourt LLP
Marc Noël, former chief justice of the Federal Court of Appeal, joined the firm's national tax practice.
"Marc's distinguished tenure on the Federal Court of Appeal, combined with his deep understanding of the Canadian tax system, offers a unique perspective and insight that will enhance our ability to advise and advocate for our clients," said Al Meghji, head of the firm's tax disputes and litigation practice, in a news release.
WeirFoulds LLP
The Ontario-based firm welcomed new partner Benjamin Bathgate as chairman of its commercial litigation practice group.
"Ben has built his career on finding innovative solutions to complex litigation matters, particularly pertaining to emerging technologies where there is very little legal precedent," said co-managing partners Denise Baker and Wayne Egan in a joint statement.
Wildeboer Dellelce LLP
Divya Shahani joined as a partner in the entertainment, media, and sports practice of the Toronto-based firm.
"Divya has extensive experience representing a diverse range of clients in the entertainment industry," said Perry Dellelce, the firm's managing partner, in a news release.
Submit all your law firm news, including appointments, moves and other professional news, to our legal publications by filling out this form.
You may also send information here.