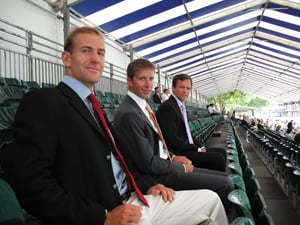 Morgan Jarvis has had two goals for most of his life: excel in his chosen career and become an Olympic rower. He achieved the first goal by finishing three degrees at Queen's University, including graduating from law school earlier this year and securing an articling contract at Gowling Lafleur Henderson LLP in Ottawa. But through it all, he rowed toward his second goal, becoming a member of the Canadian national rowing team and now trying to qualify for the Olympics.
"People at school are busy doing a lot of things outside their classes, and doing really well in school as well. I'm one of those people. I need to get out and do something," says Jarvis. "For me it's important to get to training, and it gets the blood flowing and then I come back and I'm so much more focused in work or school."
Setting high goals for himself came early to Jarvis, while he attended high school in New Zealand, where he started to row and decided that he would pursue a career in medicine or law, which at Queen's University in Kingston, Ont., translated into a bachelor's degree in biology and a master's in molecular medicine, before he decided to go to law school and specialize in intellectual property.
"I didn't like the lab so much . . . and that led me back to the law angle with the intellectual property side and the pharmaceutical industry," he says. "And it seemed like a great area, working with scientists and pharmaceutical companies in the biotech industry, right on top of what's going on in medical research."
Although he lived in New Zealand for 10 years immediately before attending university in Canada, Jarvis is originally from Winnipeg. His family moved across the Pacific Ocean when his father became Canada's high commissioner to that country. The family would be called on to represent Canada again when, despite his busy university schedule, Jarvis qualified to become a member of the Canadian national rowing team. And that's not an easy task considering Canadian rowers don't just show up at the Olympics. They win big. The Canadian team has won 17 medals at the last five Olympics. Canada qualified eight crews for the 2008 Games and won four medals, including a gold by the men's eight. And support for Olympic sports has grown in Canada in recent years, thanks in part to the popularity of the Vancouver Winter Olympics.
"It's a good time to be a Canadian athlete," says Jarvis. "University rowing in Canada is quite competitive and you end up being exposed to people who are in the Canadian national team and you start to see that there is a possibility . . . a dream really, that you realize, because university-level rowing in Canada, the United States, and Britain is just a step away from the national team."
Jarvis and the national team are currently competing and training around the world to qualify for the 2012 Olympics, and
Canadian Lawyer 4Students
caught up with the team in England. "Everything we do in the next two years is to hopefully earn our seats and make our boat go fast in 2012," says Jarvis.
However, while working at Gowlings in the summer of 2008, Jarvis thought he would have to give up rowing, thinking the sport wasn't compatible with his career plan or burgeoning student debt. He accepted the idea of becoming an intellectual property lawyer, and was offered an articling position at Gowlings once he finished law school. "I was at a point where I was OK, I would like to go back and row because I think I've got a shot at making the team in the next Olympics, but I'm not going to throw away my career," says Jarvis. "I've gotten this far and potentially an offer here to article at one of the best firms in the country, right where I want to be in the area I want to work in, or I can go and try in the Olympics."
As Jarvis struggled with his decision, a partner at Gowlings, Frank Mulock, recalls driving home one night listening to CBC Sports on the radio and hearing about Jarvis and his prior rowing successes. Mulock says he recognized the summer student's name immediately. Soon thereafter, Jarvis started finding newspaper articles on his chair about how well the Canadian team was doing at that summer's Beijing Olympics. Jarvis says the Gowlings team asked why he had given up rowing and encouraged him to get back into it. "They were totally supportive of me rowing," he says.
That feeling became even more obvious when Jarvis asked Gowlings if it would put off his articling contract for two years, and firm representatives immediately agreed. "Absolutely, from Gowlings' point of view, we just want him to do the very best that he can with respect to his endeavours to get on the Olympic team or to just take his rowing as far as he can," says Anne Mundy-Markell, Gowlings' director of student and associate affairs. "We have every expectation that Morgan will go right to the top. He was a fabulous student, hard-working in every way, and we expect he will take those same qualities forward in his work on the rowing team."
Gowlings always encouraged Jarvis to keep up with law as well, providing a mentor in John D. Harris, another Ottawa partner, who like Jarvis was a member of the national rowing team. The two touch base every few weeks and speak both about law and rowing. "He's a very good young lawyer, so we are very happy to have him article with Gowlings when he is finished with his Olympic aspirations," says Harris. "He wants to keep up with his knowledge and kind of build on his skills while he is pursuing his rowing, because he very much realizes that it is a sabbatical from the practice of law that he is taking. He has got that clearly in his mind. He's got a good balance."
In fact, law and rowing go hand in hand for a lot of lawyers and law students. One of Jarvis' closest teammates, Tim Myers, just finished his second year of law school at the University of Western Ontario. "The thing I keep seeing is that the kind of people that row are very similar to the kind of people that excel at law school, and the two complement each other wonderfully," says Myers. "I met Morgan in the fall and we've been rowing together quite a bit, and I guess it is an unspoken bond. I think we both appreciate how committed we are to both rowing and [law] school, because it is a very heavy load to train like we do while we are at school and expect to be able to compete. We both know what we have had to do to be rowers at this level."
In the end, being on a team in rowing and a law firm are similar, says Jarvis. "You deal with the top people in their fields. And each of them push themselves as far as they can to achieve not only their personal goals, but also the team's goals."