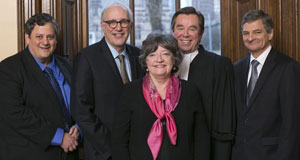 The Law Society of Upper Canada has picked Ryerson University and the University of Ottawa Faculty of Law to be the providers of its alternative licensing law practice program.

The LPP, which was developed by the law society to address the lack of articling positions in Ontario, is a three-year pilot project that will enable an alternative route to licensing for law graduates.

On Nov. 21, the LSUC announced Ryerson will provide the English program and the University of Ottawa will provide the French program, both starting in September 2014.

"Ryerson University has a long track record in providing experiential learning for other professions and other occupations," says LSUC Treasurer Tom Conway. "What really struck us about their approach is they bring to the table great innovative techniques [and] cutting-edge approaches on training and applied learning."

"The University of Ottawa is an academic institution that has its origins in a French-speaking university," he adds. "They have expertise in providing legal education in the French language and there's a large concentration of French-speaking law students in that environment."

The fact Ryerson doesn't have a law school did not concern the law society.

"[The LSUC has] a pretty good idea of the kinds of skills that lawyers practising in their first three to five years need in this millennium," Conway tells 4Students. "So what we were looking for is an institution that would be able to provide that training in a way that you really couldn't get in a traditional articling program."

The Ryerson program will consist of a four-month course in the fall and a four-month placement in the winter. Students will work at simulated law firms where they will be exposed to a variety of practice areas. Some of the content will be available online to give students the flexibility to learn outside of the classroom. It will also incorporate practice management, professionalism, and ethics. Students will be supervised by practitioners and assessed regularly.

The program will also offer a variety of placements, including law firms, in-house positions, the public sector, and in areas such as family law and criminal law that typically can't afford to hire articling students.

And since cost is always top of mind for students, Ryerson seems confident it will be able to secure paid placements for students.

Avner Levin, chairman of the law and business department at the Ted Rogers School of Management and academic director of Ryerson's Law Research Centre, says Ryerson is not contemplating that placements be unpaid.

"We want to make it clear that this is a four-month placement, you're not talking about a 10-month expensive articling experience, so I think we're going to have several conversations with potential placements about what the costs would mean for them. We think that for a variety of reasons it is extremely important to make sure that these placements are going to be paid," he says.

The law society estimates the total licensing fee for those who choose to do the law practice program will be $5,887 per student. In an effort to reduce the burden on students, the law society passed another motion at Convocation last week for a $1-million lawyer licensee contribution to reduce the fee to $5,311 per student.

Going another route, the law society also unanimously approved Lakehead University Faculty of Law's integrated practice curriculum, which incorporates experiential training throughout law school.

This way, students can obtain their licence in three years once they pass the bar exam without completing articling or the law practice program.

"Lakehead has developed a curriculum ideally suited to integrate skills training with the teaching of substantive law," Bencher Janet Minor, chairwoman of the professional development and competence committee, told Convocation.

Also, Lakehead won't charge its students any more to become licensed in three years.

"We can do all the intensive training, which is necessary, because we're small," says Lakehead law dean Lee Stuesser.

To make up for the difference, students will need to complete more hours of law school. According to Stuesser, it's equivalent to one extra semester, which works out to three additional hours per week.

"[I]n first year, almost all the law schools have more hours and then they reduce them in second and third year," he says. "We've looked at it and said, 'Look, if you can survive first year and do well and have a heavy load, we're going to continue that load in second and third year.'"

Skills-based tutorials and classes will be taught by law professors and practitioners in each year of law school, and in their third year students will also complete a four-month work placement in Northern Ontario.

Conway says other law schools don't necessarily have to do what Lakehead is doing, but the law society is open to any innovative ideas.

"We have said to all of the other law schools that if they're interested in talking to us about doing the same thing [as Lakehead], we're open for that discussion," he says. "That's not to say that we are critical of the way all of the other law schools are doing things. There's absolutely a place for the traditional approach to teaching lawyers, but we are not prepared to say that is the only way."

The law society will soon begin working with the providers to develop the content of the programs and figure out how to monitor and assess them.

"We want to know at the end of this process how candidates are doing in either stream, and really have a much better, clearer understanding than we've ever had before about how effective our licensing programs are," says Conway.