Shoppers Drug Mart and Telus are among the companies being honoured for exhibiting best practices in governance in the areas of diversity and ethics.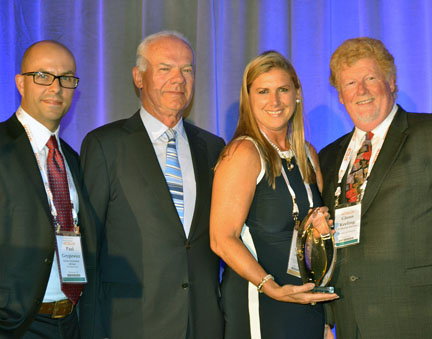 Winners of the first annual
Excellence in Governance Awards
were announced Aug. 18 by the Canadian Society of Corporate Secretaries at a ceremony in Halifax. It was attended by about 300 Canadian governance practitioners and leaders from the corporate, non-profit, Crown, and public sectors.
"In this first inaugural year, we received an impressive 80 nominations across all industry sectors," said CSCS president Lynn Beauregard. "We couldn't have been more pleased with this outcome and I believe that this validates that these awards are indeed a very important and welcome program for the Canadian governance community."
Peter Dey, chairman of Paradigm Capital, considered Canada's "godfather of corporate governance" for the 1994 Dey Report, was also honoured for his contribution to corporate governance in Canada.
The other winners included:
• Best overall governance: BCE — Alain Dussault, corporate secretary
• Best approach to board and committee support: Tarion Warranty Corp. — Lesley Ross, corporate secretary
• Best sustainability, ethics, and environmental governance program: Telus — Maria Preovolos, associate general counsel and assistant corporate secretary
• Best practices in managing boardroom diversity: Shoppers Drug Mart — Adam Grabowski, vice president, legal affairs
• Best use of technology in governance, risk, and compliance: BMO — Neil Puddicombe, vice president and corporate secretary, BMO Financial Group
• Best shareholder/stakeholder engagement: Canada Council for the Arts — Michelle Chawla, corporate secretary and director, strategic initiatives,
• Joyce Borden-Reed CSCS distinguished contribution award: Joan Wilson
• CSCS Peter Dey governance achievement award: Peter Dey, chairman, Paradigm Capital
• CSCS Peter Dey governance achievement award: Anna Tudela, vice president, regulatory affairs and corporate secretary, Goldcorp Inc.
Honourable mentions:
• Best overall governance: MTS Allstream — Pierre Blouin, Chief Executive Officer & Paul Beauregard, chief administrative officer and corporate secretary
• Best approach to board and committee support: Mountain Equipment Co-operative
• Best sustainability, ethics, and environmental governance program: Port Metro Vancouver — Dean Readman, director, legal services and corporate secretary
Canadian Corporate Counsel Association representatives Grant Borbridge of Emergo Group of Companies; Cathy Cummings, CCCA; and Terri Uhrich, K+S Potash Canada reviewed all submissions and determined the shortlist of nominees.
One of the awards judges, Richard Leblanc, an associate professor of law, governance, and ethics at York University said he looked for "intention but also results" when reviewing the submissions.
For example, with Shoppers Drug Mart in the category of "best practices in boardroom diversity," the retailer had women and minority representation that was fairly high, says Leblanc, but they also had women chairing key committees and didn't have "over-tenured" directors, which he says promoted refreshment of the board compared to other boards with long-serving directors. In another submission a bank had a woman who had been on the board for 20 years.
"I look at intention, outcome, and sustainability. I saw that with Shoppers," says Leblanc.
He also focused on leadership and diversity. "You can say you have women on the board but are they in leadership positions? It's also about ethnicity, age, gender and when the rubber hits the road do you do it? I think Shoppers was a good example of that."
In "best sustainability, ethics, and environmental governance" category, which went to Telus, Leblanc says he was looking for tangible commitments to employees, to the community, to customers and the environment.
"That means meaningful metrics that are measured, of relevance to stakeholders and assurance of the numbers so you're not gaming the metrics. The field is immature — it is not as mature as financial metrics are," he says.
Leblanc says because there is no diversity or climate legislation in Canada it means there is no firm obligation requiring boards to focus on these areas, but he thinks there should be a push from government driving adoption of these kinds of best practices.
The panel of expert judges included Leblanc, Brendan Sheehan of The Illawong Group; Gigi Dawe of the Canadian Institute of Chartered Accountants; Stephen Griggs from Smoothwater Capital Corp.; Davies Ward Phillips & Vineberg LLP partner Carol Hansell; Sylvia Groves of the Governance Studio; Andrew MacDougall of Spencer Stuart; Paul Schneider of Ontario Teachers' Pension Plan; and Elizabeth Watson of Watson Inc.