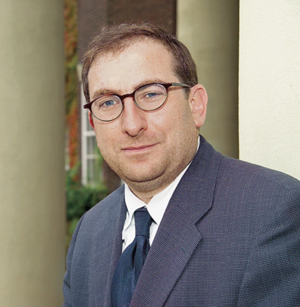 Lorne Sossin is about to start his third stint at York University as he takes over as dean of Osgoode Hall Law School this summer.
Sossin, who will replace interim dean Jinyan Li, will start a five-year term on July 1.
"I am thrilled to be joining the faculty at Osgoode for a third time," says Sossin. "It seems like good things come in threes. This will be my third tenure at the school, and I am extremely excited to be named dean."
Sossin is a professor at the University of Toronto Faculty of Law, where he was associate dean from 2004 to 2007. Besides teaching at Osgoode, he was an associate-in-law at Columbia Law School. Before teaching, he was a litigation lawyer at Borden & Elliot (now Borden Ladner Gervais LLP) and at one point worked as a law clerk to the former Supreme Court of Canada chief justice Antonio Lamer.
Sossin admits to having mixed feelings about leaving U of T after spending the last eight years there.
"I have some mixed emotions about leaving a place like the University of Toronto's law faculty, especially considering how good the school has been to me," he says. "But everyone at U of T has been extremely supportive of my decision to go to Osgoode."
Sossin holds doctorates in law from Columbia and political science from U of T. During his academic career, he has taught administrative law, public administration, professional regulation, civil litigation, ethics and professionalism, and legal process.
Sossin says he wants to build bridges between Toronto's two law schools. In particular, he hopes their close proximity will encourage students at both schools to work more collaboratively.
"Great ideas thrive when they're collaborative," he says. "I think it's important to build bridges between Toronto's two law schools because there is great opportunity for students to learn in a more experimental way."
Sossin notes there will also be an increased focus on simulated real-life situations in the classroom, something he believes can better prepare students for the complexity of a legal career.
"It's no secret that I love teaching and research," he says. "I took a lot of time to think about this opportunity, and now is the right time. I am extremely proud and excited that I have been offered this opportunity."
Meanwhile, York president Mamdouh Shoukri says he's pleased Sossin accepted the offer.
"He brings many strengths that will help build York's reputation and ensure that our students receive the best legal education in Canada," he says.