Starbucks has named Gowling LaFleur Henderson LLP as the recipient of its International Excellence in Diversity Award for 2012 — the first Canadian firm to receive the award.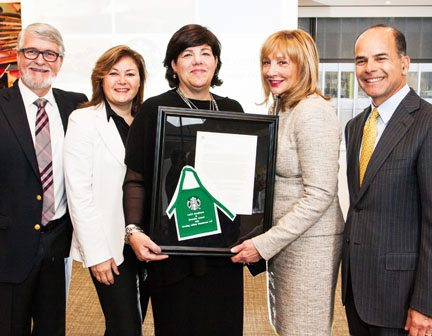 Presented by the coffee company's law and corporate affairs department, the distinction recognizes Gowlings for its efforts to enhance diversity and promote inclusion — both within the firm and across the legal profession.
"In all categories, Gowlings consistently demonstrated a deep commitment to diversity," said Lucy Lee Helm, Starbucks' executive vice president, general counsel, and secretary in a statement. "In 2012, the firm's percentage of women attorneys and partners was best in class among our international law firms. Their efforts are deeply impressive and demonstrate true leadership in enhancing diversity and creating critical opportunities for diverse legal professionals."
Some of the categories Starbucks measured included:
• The number of diverse professionals from Gowlings who have worked on legal matters for Starbucks;
• The number of diverse professionals granted partnership status at Gowlings in recent years;
• The firm's overall support for diversity initiatives and programs, both internally and externally;
• The existence of an organizational structure that reflects a strong commitment to diversity, including flexible work options and formal mentorship programs.
Gowlings represents Starbucks in numerous areas in all of its offices across Canada and in Moscow. Susan Rosen, the firm's client team leader for Starbucks says the coffee giant requires Gowlings to engage a diverse roster of lawyers to work on its files.
"Starbucks recognizes that it takes a diverse team to effectively serve a diverse clientele, and they're committed to upholding a culture where diversity is valued and respected. This extends not only to their own organization but to all of their external service providers worldwide, including law firms," says Rosen.
Starbucks has conducted an annual diversity survey of its legal service providers around the world since 2009.
The results give Starbucks the ability to compare the diversity efforts of law firms. Previous award recipients include Morrison & Foerster LLP, Baker & McKenzie, and Littler Mendelson PC.
Sharon Mitchell, Gowlings' chief operating officer says clients regularly ask about diversity within the firm's ranks.
"Sometimes it's in the context of an RFP; other times it's just part of a client's overall evaluation of our firm. We're always happy to provide this information because we understand how critical diversity is to an organization's success, and we feel the exact same way."
Diversity is increasingly becoming a factor for companies when engaging external counsel, although Canadian firms well behind their American counterparts on this issue.
"Yes, we're definitely seeing this more often. Increasingly, general counsel — especially in the U.S. — are asking us to provide some background into the diversity of our teams. Ultimately, they want law firms to reflect the diversity in their own organizations, and Gowlings is well positioned to do this," says Mitchell.
Over the years, Gowlings has supported a range of diversity and social responsibility initiatives. It is a founding member of the Law Firm Diversity and Inclusion Network, and one of the original signatories to the Law Society of Upper Canada's
Justicia Project
, aimed at retaining more women in legal private practice. The firm has since spearheaded the Justicia Project on behalf of the Law Society of Alberta and the Law Society of British Columbia.