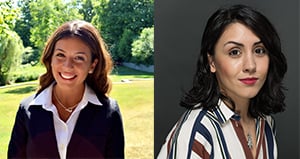 In an age where fashion and lifestyle blogs rule the Internet, two 1L students at Osgoode Hall Law School are using theirs as a platform to examine legal issues in the fashion industry.
Alessia Monastero and Saba Samanian, both in their first year of study, launched
Unprecedentedly Chic
Jan. 8. The blog, aimed at legal professionals and non-legal professionals alike, showcases current legal issues plaguing the global fashion industry, focusing on intellectual property, environment and labour law, with updates at least four times a week.
"In terms of the legal aspect of the blog, we found that's something that really distinguishes our writing from other people in the industry or who have fashion blogs," says Monastero.
The duo came up with the idea for
Unprecedentedly Chic
while bonding at a local bakery, wanting to combine their shared interests of fashion and law.
While the blog focuses on legal issues in the fashion world, with the intent of "encouraging discourse and conversation," a small portion of the site's content is about beauty, food, clothes, travel and music. This section was incorporated to make the blog more approachable for readers who aren't interested in legal content.
"As law students, we have a lot of dense readings and they're often about court decisions. We understand those readings because we're in law school. But if we threw that book at someone else, they wouldn't have a clue what to do with it," Monastero says. "We thought, 'What if we could take these concepts and these readings we're learning in class and twist it in a way that efficiently and effectively portrays that content but is also fun to read so people will actually want to visit the blog?'"?
Samanian adds that making the blog's content approachable and "fun" is part of a greater goal to make
Unprecedentedly Chic
"accessible to everyone." Using humour, puns and eye-grabbing titles are just some of the ways the stories are written to appeal to the average reader — those unfamiliar with law.
"Our biggest reason for launching the blog was to raise awareness [on these legal issues]," Samanian says. "We want to reach as many people as possible."
Although
Unprecedentedly Chic
is still in its infancy, Monastero and Samanian are already planning for its future. They would like to eventually monetize the blog, whether it's through selling products or holding events, and to contribute financial donations to
pro bono
law clinics with the proceeds.
In the future, they would also like to accept blog contributions from seasoned lawyers to provide a deeper insight on the topics.
The blog may serve as a unique source in providing fun stories about current legal issues in the fashion industry, but it also gives its authors an outlet to explore their interests.
"Law school is such a competitive environment; that doesn't mean it's a hostile environment. But you're always looking over your shoulder," Samanian says. "I think part of the reason that we're both so passionate about the blog is that it lets us create something in which we both have an interest. [Alessia and I] are constantly pushing each other forward."