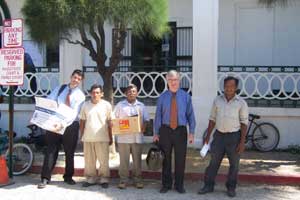 Years of work by University of Toronto law students recently came to fruition when a human rights challenge began in the Supreme Court of Belize.
The students are working on a case for Mayan farmers, who have been kept from accessing land they have used for hundreds of years and believe belongs to them. The farmers' struggle began in 2001, when the Belize government started handing out leases and grants for land within a protected Maya Indian reservation.
Since then, Maya villagers say they have been barred from accessing lands which they have farmed for decades and which their families have lived on for generations. The result has been division and distress in a community that is dependent on the land for its survival.

The Inter-American Commission on Human Rights has criticized the government for opening the area to oil and logging companies.

Students and faculty from the U of T's International Human Rights Clinic have for the past four years travelled to the Central American country to gather evidence, research local laws, and consider comparative law from other jurisdictions, including Canada. The efforts have been led by the clinic's director, Noah Novogrodsky, aboriginal law scholar and U of T Prof. Darlene Johnston, and acting international human rights project director Sarah Perkins.

Paul Schabas, a senior counsel at Blake Cassels & Graydon LLP in Toronto, became involved in the case in 2006 and is working on the case pro bono.

"The faculty of law is proud of the extraordinary commitment that faculty, students, and our law firm partner, Blakes, have made to this case," said Dean Mayo Moran. "The Supreme Court of Belize will now have the opportunity to set an important precedent in the area of indigenous rights of the Maya of Belize and U of T's Human Rights Clinic will play an important role in the court's deliberations."

On April 23, Novogrodsky, Schabas, and Belizean lawyer Hubert Elrington filed the claim at the Supreme Court in Belize city, on behalf of five Mayan farmers who live in the Sand Pedro Columbia, Toledo district.

The Maya farmers will ask the Supreme Court for a declaration that their village lies within an Indian reservation that the Government of Belize is required to protect in accordance with the laws of Belize, and for recognition of their collective and individual property rights in the reservation lands. They also seek an order prohibiting the government from acts that interfere with the protected status of the reservation such as further leasing and sale of land.

"I am delighted to be able to provide much-needed assistance on this important case to people who would otherwise have no ability to get access to justice," said Schabas.