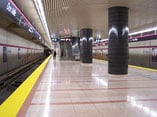 A proposal in Canada's largest city to complete a huge subway project through a public-private partnership could bring the trend of municipalities using P3s to build new infrastructure to a whole new level.
Toronto Mayor Rob Ford announced last week he wants to build a new subway extension by asking a private partner to help finance, design, and build an extension to the Sheppard Avenue subway line. The mayor, who was recently elected on a platform to cut spending and build subways instead of light rail, says he is turning to the P3 model as the best way to complete the project on time and on budget — the reason citied by most municipalities engaging in this type of funding plan.

While the P3 model has gained a strong foothold among Canadian municipalities in recent years — building things like arenas and hospitals — the sheer size and cost of the proposed Toronto subway project makes it a first in Canada.

Ford has $8.15 billion in provincial transit funding to work with, but there are other projects that need funding, so the city will need to get some additional private money for the deal.

"I can't really get into details," Ford said last week, answering reporters' questions on how he would tap into private funds. "It's in the works, things are going well."

The project has led to a local political debate, with some opposition on city council but also from labour groups like the Canadian Union of Public Employees, which says a P3 project for the subway would not end up saving the city money.

Advocates of the P3 model, like the Canadian Council for Public-Private Partnerships, say they have public support. Citing a recent Ipsos Reid poll, the council says two-thirds of Canadians support the use of P3s to deliver infrastructure and some public services.

However, beyond the politics, the debate over the Toronto subways is likely to shed light on the complexity of P3 infrastructure projects and their funding.

Governments see financing P3s as a key challenge, says Judy Wilson, a partner at Blake Cassels & Graydon LLP, who specializes in P3s.

"Funding is a key issue as governments are attempting to manage their financing costs," she says. "In the next generation of P3s, governments are trying hard to minimize whatever financing costs they have in the transaction."

For in-house lawyers, P3s usually mean multiple layers of legal work to reach and maintain agreements with all of the parties involved, says Janis Vanderburgh, senior counsel at York Region Rapid Transit Corp.

Like its neighbour to the south, York Region is also trying to build subways, and it is trying to raise funds from the provincial and federal governments for a subway extension into its territory north of Toronto. "Subways are really complicated . . . they are expensive to build," says Vanderburgh.

Read more about this topic in the upcoming April issue of InHouse, which offers an in-depth view of municipal P3s in Canada.