A team of researchers led by two Queen's University professors is trying to learn more about the work experiences of law school grads who identify as lesbian, gay, bisexual, transgender, two-spirit, and other sexual minorities.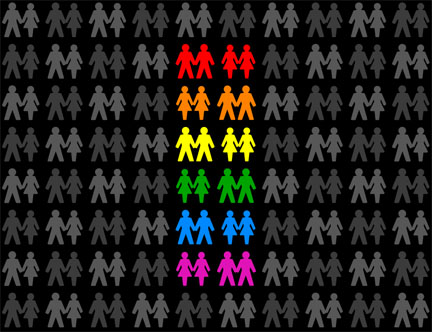 If you have an LLB/BCL/JD degree or equivalent from a Canadian or foreign university, and self-identify as a member of a sexual minority, Audrey Kobayashi and Kathleen Lahey hope you will complete the survey. The Queen's professors are launching the confidential online survey, the first of its kind in Canada, on Sept. 23 in
French
and
English
.
The survey is being done in collaboration with researchers from College of New Caledonia, Queen's University, University of Calgary, and University of Windsor.
The researchers want to learn more about people who identify as sexual minorities and their experiences after they graduated from law school. The confidential survey focuses on the realities of continuing issues of "invisibility, disclosure, bias, and acceptance."
"The concept of employment equity requires that employers remove all barriers to full participation in the workplace for everyone who has historically been marginalized or oppressed," says Kobayashi.
"This project will allow us to gain a deeper understanding of the experiences of LGBTQ people entering or leaving the legal profession, and to understand the circumstances where barriers continue either to deny full participation, or to keep people from living their gender identities openly."
They hope to find out, for example, whether there are differences according to different gender identities, whether different types of legal professionals, or types of law firm, are more open or have gone further in removing barriers to full participation.
"Everyone deserves not only fairness, equity, and justice, but also to be able to live comfortably in a work environment that is conducive to full participation and welcoming of all employees," says Kobayashi.
Lahey says while Canadian law societies, professional associations, and law schools have a strong record of addressing these issues, even major professional surveys have failed to obtain enough responses to thoroughly examine how LGBTIQ individuals have fared in relation to the legal profession.
"It's not for want of trying," says Lahey, who worked on the first survey of gender, race, sexual orientation and immigration status in the early 1980s.
"We were able to get a lot of responses in but the problem is the rate of response on the part of people characterized by their sexual orientation and gender identities is really hard to get — we got a one per cent disclosure rate in 1981. When the Law Society of Upper Canada did a similar study in 2004, they only came up with a one-per-cent disclosure rate."
The researchers decided to make it national because they felt even a provincially inclusive study would not necessarily get enough responses.
"We're looking to get as clear a sense as can be obtained on how people negotiate the public/private divide in the profession," says Lahey. "We have worked hard to try and give people a chance to identify themselves as accurately as possible using a method of self-identification and we are attempting to measure the degree of outness in everything from personal life with family and social acquaintances through to different categories of people one encounters in the work context."
Similar studies in the United States and the United Kingdom in the 1990s and 2000s were able to document the persistence of widespread bias against queer lawyers and evaluate workplace and organizational policies.
The survey, which takes about 30 minutes to complete, will be distributed to various organizations via the Canadian Bar Association, the law societies, law schools, and some large law firms, goes live Monday and is open until Oct. 21.