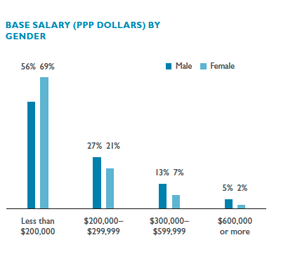 If almost half of all lawyers working in-house are women, why does it appear that 69 per cent of them are earning less than their male colleagues?
According to the
2015 Association of Corporate Counsel Global Census
released last week, 69 per cent of women report earning less than the weighted (purchasing power parity) salary of $200,000, while only 56 per cent of men reported earnings below that level. Women who are members of an underrepresented or minority group in their workplace (71 per cent) have the highest percentage making less than PPP $200,000.
The PPP is a World Bank technique used to weight currencies and compare across countries where the cost of living is different. The amounts are normalized in U.S. dollars.
The ACC Census included responses from more than 5,000 in-house lawyers in 73 countries, including 172 responses from Canada.
"We found this year that women were more likely to occupy the lower salary categories compared to men, who were more likely to occupy the higher salary categories — regardless of the number of years they had been in a particular position," said Veta T. Richardson, ACC president and CEO.
"The gender salary divide was particularly stark given the nearly 50-50 breakdown of men and women respondents that we feel mirrors the overall demographics of the profession."
While some suggest it could be that women in more junior positions answered the survey compared to men who answered, the numbers raise the question as to why there is such a difference.
"I don't believe that to be the case in Toronto," says Jonathan Veale, managing director at boutique legal recruiter Vision Legal.
While Veale says all of his references are "purely anecdotal," he says the mandates he sees are driven by title and compensation band alone.
"I just don't see differences from a gender perspective."
However, Cheryl Foy, general counsel at the University of Ontario Institute of Technology, says the issue is complex and there are "multiple factors" including a systemic undervaluing of women's work.
"Overt and less overt discrimination against women and minority groups is alive and well," says Foy.
As well, she says women continue to bear the lion's share of the responsibility for domestic and childcare responsibilities even if they are the breadwinner, and this means women may need more flexibility in the workplace.
"A need for flexibility is often wrongly perceived as a lower degree of commitment or contribution," she says.
Foy says women also often admit they are great at going to bat for others but not for themselves and that results in lower compensation.
"I repeatedly advise women in my profession to think of it from the perspective of the employer: if you demonstrate good negotiating skills for yourself, they know you'll be good at negotiating for the organization," she says.
All of those factors need to be addressed, she says, to make positive change when it comes to the role of women and minority groups in the workplace.
Toronto recruiter Sherri Pinsler, of The Heller Group, says she is seeing women at low- and high-level positions in-house and with the mandates she works on "the pay is the pay is the pay" and compensation doesn't differ based on gender.
That said, it could become an issue if someone is already in-house and as Foy notes, how someone negotiates when they come into a company can influence what salary level they are at, and long-term it can become difficult to catch up and lead to a pay equity issue.
"I would say, in fact, we've had a lot of mandates where we're noticing companies across a variety of industries saying to us 'make sure you present a diverse slate of candidates.' I find people are actually looking to correct imbalances," says Pinsler.
Sometimes, pay differences can also occur if the person started in-house and progressed up, compared to someone who came from private practice and were brought into the company at a higher rate for similar work.
"All that said, I did hear anecdotally a very senior in-house lawyer say she heard other people in her company who were men were at a higher pay level, so I would say it's out there, but we are noticing companies being very cognizant of promoting women and the pay scale is the pay scale," says Pinsler.
The census also tracked salaries by industry, with defence and pharmaceutical industry in-house counsel earning the highest base salaries and in-house counsel from the research and development, trade association, and educational services sectors making the least.
On average, in-house counsel reported working 49 hours a week, in excess of the typical U.S. and European workweeks of 40 and 35 hours, respectively. Additional hours may be a reaction to increased workloads, as 49 per cent of in-house lawyers reported that their workloads had grown over the past year, while 42 per cent said they had stayed the same and 9 per cent said their workloads had decreased.
The survey revealed that 40 per cent of in-house lawyers work in a company that experienced a merger or acquisition in the past year, and outside counsel consultation for M&A activity grew significantly compared to the last survey in 2011.
Despite the growth in outside counsel hiring for M&A work, litigation, employment and labour, and intellectual property were the top three areas where in-house consulted external counsel.
When it came to the top challenges for in-house lawyers, complying with privacy, cybersecurity, and corruption laws topped the list.