The Human Rights Tribunal of Ontario on Friday is set to hear a case about the province's policies on issuing drivers' licences to refugees.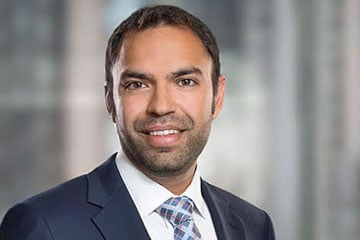 The Human Rights Tribunal of Ontario on Friday is set to hear a case about the province's policies on issuing drivers' licences to refugees.
Shyesh Al-Turki, the applicant, claims that Ontario's policy of imposing the one-year waiting period between an intermediary and a full graduated driver's licence discriminates against refugees that are experienced drivers, based on ethnic origin, place of origin and citizenship, according to a Notice of Application filed with the Human Rights Tribunal of Ontario. The case is Shyesh Alturki v. Her Majesty the Queen in Right of Ontario as represented by the Ministry of Transportation 2017 HRTO 1424.
Newcomers to Ontario who were experienced, licensed drivers in another country may normally skip a requirement imposed on inexperienced, learning drivers: a year of supervised driving experience prior to taking a driving exam, according to a statement by the International Human Rights Program at the University of Toronto, which is helping with Al-Turki's case. To bypass the one-year waiting period, newcomers are required to provide "documentary evidence that they have held a valid driver's licence in their home country for at least 24 months out of the past three years," the university's statement said.
"Refugees from war-torn countries often cannot access these documents," the university's statement said. "In cases of collapsed regimes or civil war, the relevant offices may not exist. Refugees also cannot return to their countries of origin or approach an embassy or consulate for fear of their lives or of losing their refugee status in Canada."
In Al-Turki's case, the licensing agency in Aleppo was destroyed in the war, the notice of application said. Al-Turki, who has a wife and 10 children and whose home and material belongings were destroyed in Aleppo, received one year of federal government assistance, according to the notice of application.
At the heart of the case is the waiting period between the G2 licence and full G licence, says Hassan Ahmad, a lawyer representing Al-Turki who is also doing doctoral research on human rights at the University of Toronto.
"People need to have driving experience when they come to Ontario if they want to get exemptions from the wait period; we're not disputing that," Ahmad says. "If you want to get an exemption to get your G licence, though, you also have to produce what is called a written authentication, and that's the policy at issue that we are saying it discriminatory."
With a G2 licence, drivers face certain limitations, including limits on blood alcohol levels, night driving, number of passengers and age of passengers, according to the official Ministry of Transportation Driver's Handbook.
"The requirement to have to get written authentication from your home licensing embassy or consulate — while it may be easy for immigrants that come to Ontario and can easily go back to their own country — for refugees, we are arguing that the government has not sufficiently considered the practical circumstances under which refugees come to Ontario," Ahmad says.
Al-Turki, who now lives in Mississauga, Ont., left Aleppo, Syria as a result of the Syrian civil war in 2016, with a Syrian driver's licence valid through 2018. Al-Turki received his intermediary driver's licence in January 2017 and did not receive his full licence until March 2018, leaving a few months between the end of government assistance and his full licensure.
"My client barely speaks English. He's taking classes right now to improve his English, but you can imagine the position he's in. You could say to him, 'Well, why don't you just go work in a Walmart? Why don't you just go work in a McDonald's?' Well, last I checked, you have to be able to have some basic English language skills to even apply to those jobs. . . . The difference with a driving job is that you don't need to have those same language skills," Ahmad says.
Ontario's policy on driver's licences differs from those of other provinces, and the Ontario government could remove the requirement of written authentication of foreign driving experience for refugees and replace it with a certified French or English translation of a valid foreign driver's licence. Some provinces have exceptions specifically for refugees and others have blanket policies, Ahmad says, and in the case of Ontario, there would be no need for legislation changes, since it would change a policy instituted in 2006.
A Ministry of Transportation spokesman did not immediately respond to a request for comment.
"Other provinces, including Alberta, Manitoba and British Columbia, only require documentary evidence regarding past driving experience where the foreign driver's licence lacks requisite information, such as issue date, photograph or date of birth. On the other hand, Ontario requires written authentication that is practically impossible to obtain from war zones and countries in conflict," the university said.
"My client, for instance, was working in construction for a little while. He actually got hurt on the job. He can't do anything that requires physical activity," Ahmad says. "He worked as a driver part of the time in Syria. It's what he feels comfortable with. I understand that not everybody gets the exact job that they want.
"But given my client's, and other refugees', experience and education levels and language skills, driving is one of the suitable jobs for them and they don't have the eligibility, the opportunity," Ahmad says. "For all the lawyers out there wondering 'What's the adverse effect, it's the lack of opportunity."