A greater focus on technology and strong leadership from the judiciary are both key to improving access to civil justice, according to a series of reports released yesterday by the National Action Committee on Access to Justice in Civil and Family Matters.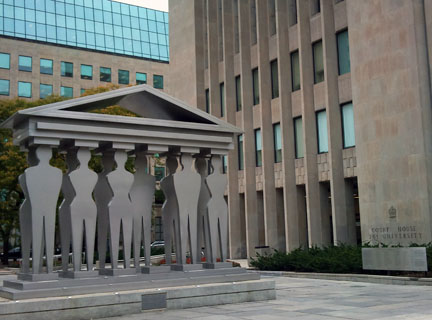 The reports and their recommendations will form much of the basis for discussion at the CBA's Envisioning Equal Justice Summit that takes place in Vancouver over the next couple of days.
"The role of technology is an important feature of the committee's thinking," says Trevor Farrow, chairman of the Canadian Forum on Civil Justice who participated in the creation of the reports.
Technology is seen as a way to make the system more fair, just, efficient, and streamlined, Farrow tells
Legal Feeds
. While there are strides being made in some provinces, Canadian courts generally lag behind those in other developed nations.
"It is trite to say that technology is changing the world," notes the report on court processes. "While lawyers and judges are working hard to keep up, it is not very controversial to say that, as a general matter, courts and the legal profession have some work to do to catch up to the current technology movement."
Suggestions for improved technology in the courts include creating interactive court forms, developing and encouraging the development of e-filing and e-courts, and encouraging teleconferencing and videoconferencing, particularly in remote areas.
But the reports also suggest access to legal information to better inform citizens — who should be the primary focus of all access to justice initiatives — of their rights and obligations can be relatively easily achieved through more online legal information.
"The key justice system stakeholders in each Province and Territory should collaborate to explore and realize the access to justice benefits of web-based legal services and on-line dispute resolution models," says the report on access to legal services.
Online information can be the basis for public legal education and information initiatives that are particularly important with the growing number of self-represented litigants in the courts. Providing them with solid legal information up front will benefit not only those who don't have legal representation but the whole court system as unrepresented litigants will be better able to manage their cases.
While the reports laud changes already underway in many areas, there is still some way to go to make the civil justice system responsive to those who use and need it.
Primarily in the courts, there needs to be a "culture shift." And judges must be at the forefront of that shift and be active in sharing changes and improvements with judges in other courts and jurisdictions.
"Judges in this country have a high degree of respect from the public and stakeholders in the justice system," says Farrow.
That level of respect gives them great power to pull the system back or move it forward, he says. But being the trenches every day, judges know what is happening and many have good ideas for ways to make the sytem better.
The report suggest some examples of leadership initiatives
Judges and court staff should actively work together to find ways of improving communication to deal with specific problem areas or issues that are in need of reform (scheduling, trial management, document management, etc.).
Positive examples of public engagement and public education by judges (and court staff) should be encouraged in order to "speak out for justice" (including at new judge ceremonies, opening of the court ceremonies, at schools, colleges and universities, etc.).
Internal initiatives, potentially including annual awards and/or other forms of recognition for staff ideas in the area of improving court performance, should be considered and welcomed.
But it is not just up to the courts. Every player in the system can have a role to play from the government, to lawyers, social services, the courts, and others.
"We see need for change all along the justice continuum," says Farrow.
Asked if he thought these reports would end up sitting on the shelf collecting dust like so many others on improving the civil justice system, Farrow says he's optimistic that substantial change is on the way.
"Now, I think there's more a national discussion than ever before," he says. "People are really starting to take seriously the need for change."
He notes the push is coming from Chief Justice Beverley McLachlin down through the whole justice system and beyond. "It is so broadly based, it has wide support across the country and deeply within the system."
All four reports from the National Action Committee on Access to Justice in Civil and Family Matters are available on the Canadian Forum on Civil Justice's web site.