Did you fancy yourself as one of the elegant and aggressive Bay Street lawyers from the '80s CBC series
Street Legal
? Or are you more of an Alice De Raey from
This is Wonderland
, the tenacious Osgoode law school grad thrown into a chaotic world of criminal law?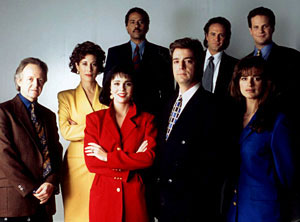 According to a Robert Half Legal survey, many U.S. lawyers still have their hearts pinned on
L.A. Law
two decades after the American legal drama featuring lawyers from a swishy Los Angeles law firm went off TV. The show, which follows the personal and professional lives of the law firm's staff, is still top of mind with 24 per cent of lawyers deeming it their all-time favourite TV legal drama.
"
L.A. Law
was credited for driving up law school enrolment more than 20 years ago, and the television program remains a sentimental favourite within the legal community," Robert Half Legal said.
With 16 per cent of lawyers choosing it,
Law & Order
was second on the list, followed by Boston Legal, favoured by 13 per cent of lawyers.
The more recent series
The Good Wif
e, an unquestionable first choice for Toronto lawyer Bill Trudell, was fourth-most popular lawyer show with 11 per cent of votes, according to the survey.
"Are you kidding?
The Good Wife
, of course!" Trudell says when asked about the best legal show.
"The conflicts around the same clients being shared and former partners appearing against each other is silly but there is a familiar rawness to the practice and life issues, [like] the joy of winning, pain of losing, mental illness, hard work, betrayal, protecting each other and our families, and the whirlwind of events we try to control but simply sort of manage. . . " adds Trudell. Although he admits Julianna Margulies' good looks do much to boost the show's popularity.
But a quick Twitter survey by
Legal Feeds
also rendered some Canadian favourites. University of Calgary law dean Ian Holloway's response was a patriotic, "
Street Legal
. No question!"
Criminal lawyer Alison Craig said
This is Wonderland
is "the only realistic one" she's ever seen. Appellate lawyer Allan Rouben says, "The British do this stuff really well." His favourites are
Kavanagh QC,
for its "excellent courtroom scenes," and
Rumpole of the Bailey
for the good humour.
Lawyer James Morton's favourite
Perry Mason
is fifth-most popular, according to the Robert Half survey. The fictitious defence lawyer "was never flustered, always believed his case, knew the law, and best of all had Della and Paul as backup," says Morton.
When it comes to portrayal of the industry, the Robert Half Legal survey found 31 per cent lawyers think legal dramas glamourize the profession and 28 per cent said these shows are "too far-fetched." Another 14 per cent said the shows in fact misrepresent the law.
While everyone loves to vouch for their favourite show, barely anyone actually sees their own lives on the screen with only one per cent of lawyers saying the shows "hit too close to home."
In response to
Legal Feeds
' query, Canadian lawyers on Twitter also gave the nod to
Matlock
,
Law & Order
,
The Practice
, and
Boston Legal
.
Take our poll below and tell us which is your No. 1 pick.
Create your free online surveys with
SurveyMonkey
, the world's leading questionnaire tool.