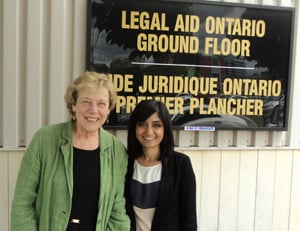 My 10 months of articling are almost up and I have to confess — my experience was good, bad, and even ugly at times, but there was a silver lining. I spent my articles at Legal Aid Ontario with five months in clinic law, one and a half months in criminal duty counsel, and finishing off with three and a half months in family law.
The good

Like all of my peers who did their articles at LAO, I was exposed to diverse learning experiences. Articling students at LAO are expected to rotate through different areas of legal service. I went through three very different practice areas, facing a new learning curve in each. I was also exposed to different buildings, multiple legal communities, and a breadth of supervisory and management styles. I met a wide network of legal players, including tribunal adjudicators, judges, and state agents. I also assisted clients in English, French, Spanish, and Hindi. Luckily, the constant learning was well suited to my personality — I tend to get bored easily.

My supervisors and articling principal threw me into the deep end — the best way to learn to swim — and encouraged me to take ownership of my articles. They delegated considerable responsibility to me and expected me to work independently. In my first five months of clinic law, I carried a mixed caseload of income security, employment, and immigration files. By the Monday of my second week, I had to manage my own settlement conference and I was in charge of all the talking (though my supervisor was in the room).

After that, I moved into criminal duty counsel, assisting youth and other unrepresented accused persons in court. Interestingly, I learned a lot about the business side of operating a criminal law practice. I gained valuable perspective about billing practices between legal aid and the private bar.

For my family law rotation, I assisted unrepresented parties and clients who had been granted a legal aid certificate. I completed a spectrum of forms and legal documents (pushed a lot of paper) and appeared frequently in court.

The bad

The job took an emotional toll. During my first week in the criminal rotation, I shadowed bail hearings for people charged with child pornography. When I heard the allegations, my eyes instinctively welled up with tears — not exactly proper courtroom behaviour.

Likewise, my family law rotation included participation in child-protection matters, where the opposing party was the Children's Aid Society and/or the Office of the Children's Lawyer. I would worry about how the children in these cases would turn out given their upbringing and traumatic early life experiences.

The ugly

It was hard to avoid judging the lifestyle choices of my clients. I wrestled against my own stereotypes and prejudices. Some days were worse than others. When I helped clients itemize their expenses on their financial statements, for instance, I came face-to-face, literally, with the truth that many clients who receive social assistance spend a portion of their limited income on alcohol and tobacco. Accepting that without judgment was a challenge.

I also learned that many people's day-to-day realities differ significantly from mine. One client, accused of using crack cocaine, came from a family with a reputation for extensive use of the substance. She denied the accusation but was frighteningly knowledgeable about the exorbitant street price of crack cocaine. She was also able to paint a grim, detailed portrait of an underground society in which crack cocaine is the drug of choice.

The silver lining

I hope to stay with LAO after my articles and find a nexus between my passion for the law and my first passion — languages. My work there was meaningful and rewarding on many levels. I learned about the actual practice of law and witnessed how people who cannot afford to pay for a lawyer interact with our justice system. I helped vulnerable and marginalized people advocate for their legal rights. I got satisfaction from a stimulating and diverse caseload that engaged my analytical and interpersonal skills.

Just as importantly, I found the work environment at LAO very friendly and collegial. The hours were fair and I was compensated well. Despite some of the emotional aspects, there truly is work-life balance at LAO and I know some of my articling peers at other firms cannot say the same.

Student-at-law Anita Goela was awarded a Connecting Articling Fellowship, funded by the Law Foundation of Ontario, for her articling term at Legal Aid Ontario.