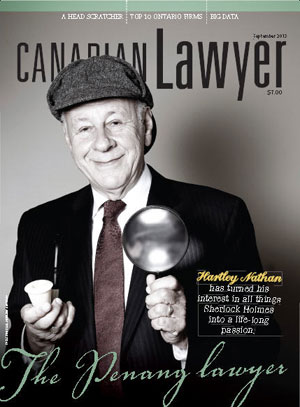 Beside the name plate outside Hartley R. Nathan's 21st-floor downtown Toronto office is a small white ceramic plaque with the number 221B.

221B Baker St. is of course the London address of fictional detective Sherlock Holmes. By day, the 74-year-old Nathan is a senior partner in Minden Gross LLP's business law group, but by nights, weekends, and whenever else he can squeeze it in, he writes and lectures about the legendary detective.

Nathan is the co-author with friend and lawyer Cliff Goldfarb, of Gardiner Roberts LLP, of a new book set for a fall launch: Investigating Sherlock Holmes — The Jewish Connection and Other Inquiries. Together they've written more than 30 papers over the years on Holmes. Nathan also penned a monograph on Jack the Ripper (Who Was Jack the Ripper?) in 2011. He is, obviously, a fan of the Victorian era and many of its fiction writers.

The first paper he wrote examined whether Holmes' sidekick Dr. John Watson ever lived in Toronto. Nathan found a Dr. John H. Watson who lived at 99 Avenue Rd. and in reviewing a title abstract he says it fit perfectly with Watson during the time period. "I had to figure out what he was doing in Toronto at that time and there is a gap in the stories then. I figured he came to Toronto during that time. I had to figure out why he came here. I said he committed an illegal operation in London and had to leave. It was written up in the papers and we built our reputation on that," he says.

His passion for Holmes has been sustained for more than four decades. In 1971, a friend gave him a two-volume set of the annotated Sherlock Holmes — the complete 60 stories with notes by William Baring-Gould. That Christmas, there was a series of lectures on detective literature and the origins of Holmes at the Toronto Central Library when it acquired a substantial collection of Arthur Conan Doyle's writings. "Like all boys growing up we read Sherlock Holmes stories as cute detective stories," says Nathan.

But the interest that day in the library went beyond amusing detective tales. "They passed around a sheet to see if anyone wanted to start a Sherlock Holmes society," he recalls. He signed up and within two months the Bootmakers of Toronto was founded. The group's name is derived from the Hound of the Baskervilles (Nathan's favourite) in which Sherlock Holmes pulls a boot out of the Grimpin Mire and inside he finds the words: "Meyers, Toronto."

The first president of the group was Derrick Murdoch, a mystery story reviewer for The Globe and Mail, the second was True Davidson, then-mayor of East York, and the third was Nathan.

He also managed to recruit Goldfarb — who was also at Minden Gross at the time and is five years younger than Nathan — into the group, giving him the option back in 1971 of either becoming his right-hand man and taking on the role of assistant secretary at the Ontario Bar Association, or helping him set up the Bootmakers. "I chose Sherlock," says Goldfarb with a laugh, adding it "sure as hell" sounded more interesting than the other option.

Goldfarb also has a 221B plaque outside his office door and it became a stop on the firm tour given to prospective hires.

While he and Nathan are "good friends," their personalties are quite different. He describes their relationship as "tolerant" with each fulfilling a different role in their writing relationship. "Somehow we have never had an argument."

Goldfarb founded the Friends of the Arthur Conan Doyle Collection at the Metro Reference Library. "It's been a life-long interest. I'm probably the kind of personality who needed to have something like this to distract myself when I'm not happy being a lawyer," he says.

Nathan's interest in Sherlock Holmes eventually expanded into peripheral areas such as Jack the Ripper because the characters share the same time in history — 1887/1888. There are at least two or three movies where Holmes and Jack the Ripper are involved — including the 2001 Johnny Depp flick From Hell. In Nathan's opinion, the best film version of the books is 1979's Murder by Decree with Christopher Plummer and James Mason. For the record, he favours the British Jeremy Brett Sherlock TV series over the BBC's new take with Benedict Cumberbatch.

Much like other literary societies, Nathan says the Bootmakers looks at the Holmes stories and prepares analytical papers on various elements. "Dorothy Sayers, who was a mystery story writer in England, called it 'playing the game,'" says Nathan. "The idea being that you look at Sherlock Holmes as a real person, Dr. Watson as the one who wrote up the stories, and Conan Doyle who had them published. We try and identify the characters in the stories with real people and real events in history.
Conan Doyle was a man of his times and he often wrote about events of that period and put them into the stories. The idea is to figure out who he is talking about."

Most of his papers have been published in the Baker Street Journal, the journal of the Baker Street Irregulars, or Canadian Holmes, the Bootmakers' magazine that has been going since the early '70s. The Baker Street Irregulars was established in 1934 and together with the Sherlock Holmes Society of London, England, they are the two pre-eminent groups of Sherlock enthusiasts. In 1982, Nathan was invited to become a member of the BSI and given the nom de plume "the Penang lawyer." It is a reference from the Hound of the Baskervilles when the story opens with Holmes and Watson examining a walking stick called a Penang lawyer. "They were trying to identify who the stick was left by and it appears Dr. Mortimer left it the night before, and he came to collect it," says Nathan. "On the Penang lawyer were the words 'to Dr. John Mortimer from his friends at the CCH, 1884.'"

Nathan was asked to present a paper at the BSI meeting held the first Friday in January, which commemorates Sherlock Holmes' birthday. The paper he gave was: "Who was John Mortimer and why 1884?"

"Sherlock Holmes says CCH means Charing Cross Hospital and it was given (to Mortimer) as a departing present by the staff. 1884 was the year of the Irish Outrages in England where they were bombing buildings including Charing Cross Station trying to gain independence from Britain," says Nathan adding his research revealed Mortimer was asked to leave because he was Irish.

Together Nathan and Goldfarb have written nine papers on the Holmes-Jewish connection, which is the basis of their new book. "We've become the specialists in any Jewish connection with the stories," he says. For example, in the Musgrave Ritual, Holmes catches some jewel thieves and they say, "Ikey has peached," meaning he has gone to the police. "We posed the question who was Ikey? We examined where he would have got the name and it was no question it came from Ikey Solomon, who was a jewel thief and general scoundrel in the early 1800s."

A paper they wrote in 2012 was called "Sherlock Holmes in the Hands of the Jews" and they analyzed a number of Conan Doyle's stories. In The Silver Blaze it is noted that Sir Robert Norberton "is in the hands of the Jews." They analyzed British literature from Sir Walter Scott in Ivanhoe through Charles Dickens' Oliver Twist in his characterization of Fagin to H.G. Wells and examined them for any anti-Semitic language. "We determined that in Conan Doyle using terms like 'in the hands of the Jews' he was not anti-Semitic but using clichés of the day."

While Nathan enjoys the detective work involved in uncovering details about literary characters, he prefers his chosen field of the law over any aspirations to become a sleuth himself. "I like the research because you learn a lot about history and it's not that different from researching legal papers," he says. "You need to find an interesting topic, you have to go through the cases and consider the arguments on both sides. I admire the different detectives portrayed in the various stories, but I don't think I have those qualities. In writing about literature you have to make sure your scholarship is right in the same way you research a legal problem. I found my legal training to be very useful."

His legal practice has been primarily focused on corporate law with an emphasis on director and shareholder governance. With new not-for-profit legislation in Ontario and federally he has been doing more work with not-for-profit corporations. He is currently updating Nathan's Company Meetings along with Goldfarb, who specializes in not-for-profit law, and will be integrating material related to non-profits into the 10th edition. He is also co-author with Mihkal Voore of Carswell's Corporate Meetings: Law and Practice on the law of company meetings in Canada. "It's definitely a burgeoning area," says Nathan.

Between his love of the law and all things Sherlockian, his time is often consumed by research and writing. "I have a very patient family," he says of his wife Marilyn, a travel agent, their children Cindy and Brad, and two grandchildren Shawn and Erin. "I work on it mostly at night and on the weekends and holidays, but it's not so much a chore as a pleasure. One gets motivated by deadlines," he says. "I find I can work at night watching the Blue Jays or holidays and still have time for family."

His love of Holmes might be closely matched by baseball. He coaches his grandson Shawn in midget hardball and sports an impressive looking ring on his right hand featuring a baseball — a ring from a game that means a lot to him. "I've been playing fast pitch softball since 1995," says Nathan who plays first base. "In 1996, we won the championship. It was the 1996 B'nai B'rith Pioneer Division Champions. The kids I coach often ask me what the ring is worth and I say, 'About $3 in material, but I was on third base with two out, bottom of the eighth inning, down one run, we were in extra innings, and the best hitter hits the ball into centre field, and I score the tying run and he scores the winning run. So what's that worth?" he says with a big smile.

What about the game of law and the state of the profession today? He is quick to offer his opinion: It's tough and requires specialization. "It's becoming more and more complicated to practise law today. It's an age of specialization — students have to stream themselves fairly early into a specific area because the generalist can't keep up with all the changes in the law and runs a big risk in solicitor's negligence in trying to keep up with everything. There is more and more pressure on young lawyers to put in their hours and quality of life is suffering."

He also thinks the court system is too expensive for the average litigator. "I hear constant complaints about the cost of fighting a case. I think the arbitrators are doing the right thing in trying to get involved and settle cases," he says.

He has also noticed there is not the same level of trust with other lawyers as there used to be. "When I started practising law, you could take somebody's word but now you have to verify it with an e-mail. The pace of practising law has increased so dramatically that you're expected to return e-mails instantly and revising and drafting documents have to happen almost as soon as you get them."

Nathan was the gold medalist when he graduated from Osgoode Hall Law School in 1963. After completing his articles, he clerked for Justice G.A. Gale, then chief justice of the High Court of Ontario, then earned an LLM with distinction at University College in London, England. When he returned to Canada a year later, he started working as a litigator, but soon realized he didn't enjoy it. "Spending two years in litigation was not fulfilling," he says. "Cases took forever and you ended up sitting in court for hours and I wasn't happy in that field so went into corporate law and it's where I've been ever since," he says.

So has his love of Sherlock Holmes served him well in his law career? Nathan believes it has. "Clients just don't walk in off the street when you're on the 21st floor of a building, but when you're introduced to people it's useful to say you have interests outside the practice of law. The exposure Sherlock has had recently means just about everybody knows who the character is."

Goldfarb agrees his work on Sherlock hasn't hurt his career either. He recalls the firm being asked to submit a proposal to provide legal services to a non-profit and when they won the competition the client later told him while she thought their fees were "OK," it was something else that had swayed her vote. "She said she had heard Hartley and I give a paper at the Bootmakers. She said, 'I always wanted when we hired an outside law firm to work with us that they would have a sense of humour."

With these authors you get a little of everything.