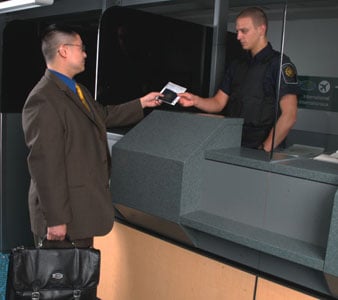 Businesses who hire temporary foreign workers need to prepare for tougher regulations scheduled to come into effect in April 2011, say immigration lawyers.
Changes imposed by the Canadian government include more scrutiny, tougher penalties, and a shorter time limit for work permits. The maximum time allowed for temporary workers to be in Canada has now been set at four years. Under previous rules, there was no limit for extensions.

And companies would be banned from hiring any temporary workers from abroad for two years if they are found to be in violation of the rules, including people they need just for a few days. However, the new rules would not affect temporary workers with permits under NAFTA or other international treaties.

"These changes affect all temporary foreign workers in Canada, from general labourers to executives, and current and future employees," says Jonathan Leebosh, an immigration lawyer with Egan LLP. "Businesses in Canada need to understand the impact of these new regulations in order to maintain access to the global labour market."

He adds employers must review their current immigration policies and procedures, and develop well-planned strategic approaches to their non-Canadian worker usage.

"Businesses need to be diligent about immigration compliance across their operations. Under these new regulations, a single violation can see a company banned from accessing the global labour market, which few businesses can afford during the ongoing war for talent," says Leebosh.

The regulations would also put stronger demands on assessing the genuineness of an offer of employment, including the employer's ability to meet terms like payment of wages offered. That part of the changes, which the federal government says is there to protect temporary foreign workers by holding employers accountable, has the support of the Canadian Society of Immigration Consultants.

"Temporary foreign workers come to Canada in a very vulnerable position because they are dependent upon their employer," says CSIC chairman Nigel Thomson. "These new rules will help ensure that employers play by the rules."

Immigration Minister Jason Kenney says the changes are there to protect temporary foreign workers from potential abuse and exploitation.

"We owe it to them, their employers, and all Canadians to ensure that the program is fair and equitable," he says.

With the economy no longer booming, particularly in the West, temporary foreign workers face increased pressures for working in Canada. Earlier this month, Alberta suspended two programs that had made it easier for temporary workers to get into the province, citing abuses and the diminished need for workers in the current economic climate.

These were the latest in a series of changes to immigration regulations affecting companies and immigrants. A ministerial instruction issued by Kenney last month also mandates that everyone wishing to immigrate to Canada as a skilled worker must take an official English or French language test — even if they were born and educated in English- and French-speaking countries.