Canadian Lawyer 4Students goes right to the top and seeks some words of wisdom from law firm managing partners around the country. We asked these law firm leaders for their thoughts on the following burning questions:
1. What advice could you give to young lawyers heading into the profession?
2. Who inspired you?
3. How do you deal with the stress of your job?
4. Other than good marks, what qualities do you look for in your summer and articling students?
5. What is your favourite thing to do when you have time off?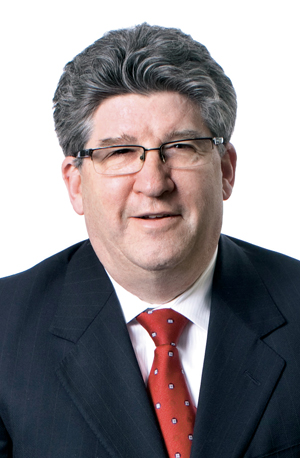 Peter R. Forestell, Cox & Palmer, Saint John, N.B.

1. Take a couple of your early years of practice to discern which areas of law you can be passionate about then focus on marketing yourself in those areas. If you don't have a passion for your practice, then it's just a job and not a career.

2. As a young associate, the senior partners in my firm were terrific mentors. They were wonderful lawyers, teachers, and superb role models. They were also a very collegial group and great fun. Those partners were very generous to their young associates and they gave me outstanding opportunities. I learned so much from just watching them in action. Today, I consciously emulate them in my practice and I try to repay their generosity by spending a lot of time with, and providing great opportunities to, our present-day associates.

3. Stress, what stress? One of the most important talents a lawyer can acquire is the ability to handle stress appropriately. For me, it helps immeasurably that I love what I do. But when I leave the office, I try to actually leave the office behind and I am very fortunate to be able to relax with all of the diversions that come with being part of a large, extended family.

4. There are many intangible qualities that we look for in students — qualities that, for the most part, can't be taught — they either have them or they don't. Two of those are superb people skills and a good work ethic. A student with strong people skills has good common sense and will be able to work with many different (and sometimes difficult) personalities and adapt to different situations. A student with a good work ethic will be passionate about the work and have good instincts about what needs to be done and how to get it done.

5. I occasionally embrace my other creative passion — cooking for my family. It's very relaxing, especially when accompanied by a good bottle of wine!
Kim Thomassin, McCarthy Tétrault LLP, Montreal

1. The practice of law is demanding, but rewarding. To succeed as a lawyer requires passion for your work and a commitment to lifelong growth and learning. Find a mentor, someone you trust and admire. Learn from their experiences. Be proactive. Don't wait for people to come to you with a project. Knock on doors and offer to help on projects that interest you. Don't be afraid to ask. You'll be surprised by the positive answers you receive.

2. My parents. My mentors.

3. Going back to my daughter at night relieves any stress. Otherwise, I try to go for a walk or exercise, read something totally disconnected from my day job.

4. At McCarthy Tétrault, attracting top students who will contribute to the development of our firm is essential to our long-term success. We cultivate a diverse and exciting professional environment that offers many opportunities for success. We are looking for students who are genuinely interested in our practice and our clients, who can work in a team-based environment, are smart problem solvers, have a strong desire to learn, are highly motivated, and demonstrate initiative and judgment.

5. Play outside, practise sports, any activity with my daughter, invite friends over for good food, good wine, read, see a movie.
Nora Osbaldeston, Miller Thomson LLP, Toronto & Markham, Ont.
1. As a first-year associate my mentor said to me that from the get-go I had to be responsible and accountable for my own career; that I should not expect to be given anything as a matter of right. My mentor instilled in me that I had to work hard, do my best, be patient, and earn my stripes. And he was right of course. He gave me good advice. I also think that to excel in the profession you need to be true to yourself. You can't pretend to be something that is not you in the workplace and keep it up over time. So you need to find a practice and firm that is right for you.

2. My dad. I have watched him my whole life treat people with genuine interest and respect. While he is a very decisive person, he is always mindful of the impact he is having on others in his decision-making. He is a tremendous enabler (and I am using that word in a good way). He has inspired me to work hard, appreciate how lucky I am, appreciate those around me, and lead in a respectful way.

3. I am a good time manager and can delegate. I am very organized. My transaction-based practice and role as managing partner means that I am mostly working in teams. Having good people around me takes away the stress of my job. I never feel like I am alone (although that doesn't mean that I don't feel responsible or accountable). Other than not having enough time on my hands at times, I don't find the job itself stressful. I find it energizing and rewarding.

4. As a firm we look at intellect of course; we assess intellectual depth and capacity on the basis of the student's academic record and achievements, their ability to solve problems, communicate effectively, and establish priorities. We look at their interpersonal skills and evidence of compatibility with the firm and its clients; their perseverance when faced with difficult issues, whether or not they have a positive attitude, and an ability to build relationships internally and outside the firm. We look at their motivation; their drive, enthusiasm, and initiative. We assess their maturity in addressing challenges; their ability to exercise judgment and take responsibility. We assess their attitude; whether they can accept constructive criticism. We want students who are well-rounded. And finally, we want someone who shares the firm's values.

5. I like to spend time with my friends and family. I like to be active. I took up running 10 years ago and have run marathons. I don't run that distance anymore but I do enjoy getting outside several times a week to run for health. I also keep healthy by weight training three times a week. Staying healthy and strong is necessary for my job. I am an avid golfer. I love it not only because it enables me to challenge myself, but also because it allows me to spend time with friends and family and clients for several hours in the outdoors. On the community side, I am a founding member and continue to volunteer for Lake Ontario Waterkeeper, a grassroots charity with a focus on the law and clean-water initiatives. For me it is all about not just sitting around.

Andrew Kent, McMillan LLP, Toronto
1. My advice for junior lawyers is to have fun, make the most of the resources available, and continue to give back to the community, for example, through teaching, mentoring, and pro bono opportunities. Junior lawyers should also continue to access their external networks, by attending conferences and events and keeping in touch generally, as former classmates and professors will now be your colleagues and it is important to develop good contacts and build relationships early on in your career.

2. There have been lots of people, both within and outside of the profession. It is amazing how many people can teach you very useful things about trying to lead a good professional life as well as a good personal life.

3. We are very fortunate at McMillan to have a team-based approach to practice. Working on sophisticated and complex matters like the CanWest restructuring is much easier when you have a dedicated and capable team working together. The firm has also invested significantly in technology, which helps me to work more efficiently and remotely when necessary. But staying physically active, keeping things in perspective, and getting away
from it all from time to time are vital steps.

4. McMillan seeks students who are motivated to succeed, have strong interpersonal skills, and intellectual ability. The practice of law is demanding, requires teamwork and is service-driven, so these qualities are very important for success as a lawyer.

5. I enjoy travelling and spending time with my family.

Alan Farrer, Thomson Rogers, Toronto

1. You should use your first five years to learn the basic skills of your craft. That foundation will support all the learning and growing you will do in the next 40 years of practice.

2. My partners and associates at Thomson Rogers. I have spent 30 years here because of them.

3. Perspective is everything.

4. Willingness to learn and people skills.

5. Turn off my BlackBerry and enjoy the time with my family.