Canada's treatment of mentally ill female prisoners is "cruel, inhuman, and degrading," says a
report
released yesterday by the University of Toronto Faculty of Law's International Human Rights program.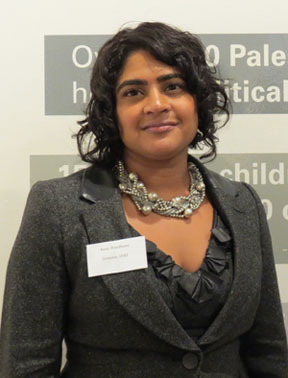 The probe into Canada's corrections system was conducted as a result of the death of 19-year-old inmate Ashley Smith, who died from asphyxiation after tying a ligature around her neck in October 2007 at the Grand Valley Institution in Kitchener, Ont. Smith had been transferred 17 times during approximately one year of incarceration.
"Smith's death was a direct result of the interaction between her mental health issues and the prison environment, and the failure of the Correctional Service of Canada to respond appropriately to her mental health needs," states the report.
IHRP director Renu Mandhane, along with 2L students Elizabeth Bingham and Rebecca Sutton, set out to prove that Smith's case was not an isolated incident. They met with female prisoners at Grand Valley and found they also faced the same kind of "inhuman" treatment.
According to their research, at least one in three federally sentenced women suffers from a mental-health issue and close to half have attempted to harm themselves. Corrections Canada's treatment of these women is discriminatory and violates the rights to liberty and security of person, health, access to justice and information, says the report.
"The lack of treatment for mentally ill women, especially in light of Ashley Smith's in-custody death, is to me, still really quite shocking," Mandhane tells Legal Feeds. "We're five years out from her death and I can't believe that things have not significantly changed."
Mandhane says one of the problems is that the public doesn't hold Corrections Canada liable. "Corrections tend to operate outside of the public view. They aren't accountable in the same way as some of the other parts of the justice system," she says. "[T]here's so little public understanding of what goes on in our prisons that we don't hold the government to the same standard as we do in terms of the protection of rights of, for example, accused people in criminal court."
She is hopeful that the report will spur Corrections Canada to be more accountable to the public for its treatment of mentally ill prisoners, but she's not overly optimistic.
"[G]iven what I've learned through the researching of this report, I really don't think that the correctional system can be adequately fixed to house mentally ill women without violating their rights," she says. "If it could, Ashley Smith's death would've prompted that, and the fact that it hasn't just gives me no faith in their commitment to protection of the human rights of these women."