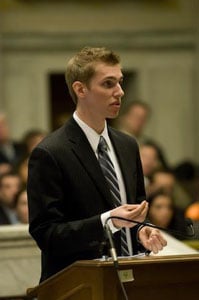 A University of Ottawa civil law graduate has fulfilled his dream of landing a prestigious Rhodes Scholarship from England's historic University of Oxford.
Jean-Christophe Martel, who graduated from the Ottawa school's civil law program earlier this year, joins an elite list of Rhodes Scholars, such as former Canadian prime minister John Turner and ex-U.S. president Bill Clinton.
The honour adds to a long list of feats Martel has amassed throughout his academic career. He previously claimed the University of Ottawa silver medal for the second-highest average in the civil law program, and won the 2008 Laskin Moot in constitutional and administrative law with partner Guylaine Loranger.
His volunteer work includes a 1,400-km bike trek from Gatineau, Que. to Gaspé that raised $4,000 for the Canadian Cancer Society.
Martel says he has dreamed of becoming a Rhodes Scholar since visiting the campus.
"There's a magic at Oxford because everything centres on studies," he says. "At Oxford, students are like royalty."
He also plans to profit intellectually from his peers.
"I expect to participate in many discussions with other students, lots of debates, lots of conflicts of ideas, and I think we all stand to learn a lot from these exchanges, maybe even more than we learn in class," said Martel.
His next move is to complete the New York bar exam, before arriving at Oxford in October 2010. Martel expects to spend one year working on a bachelor's degree in civil law, and is thinking about then pursuing a master's degree in philosophy.
He is among five recently named 2010 Rhodes Scholars from Canada's Quebec and Prairie regions, and was the only law student in the regions to get the nod.